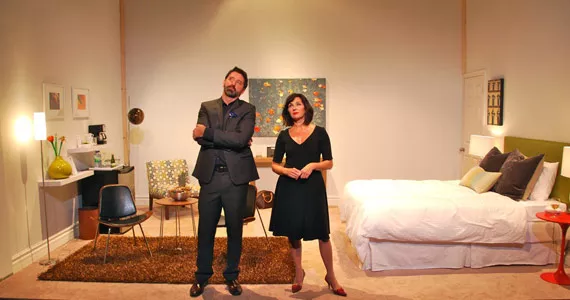 Vision and elbow grease. It's taken a lot of both to transform the former Acadian Lines bus terminal on Almon Street into The Waiting Room, Halifax's newest black box theatre.
The vision belongs to Kazan Co-op, a theatre company founded in 2011 with a mission to produce compelling contemporary Canadian works. "We started thinking about how difficult it can be to find rehearsal and performance space in Halifax right now," explains Kathryn MacLellan, Kazan's artistic director. "The theatre community just recently lost the Shakespeare by the Sea building as well as The [North Street] Church, so we started looking around for something to fill the gap."
The bus station offered a large, welcoming space in an easily accessible location at a reasonable price. An epic painting party transformed its yellow walls into theatre black, and with the addition of lighting, risers with room to seat 50 and curtains to form the "black box", The Waiting Room was born.
Considering the kind of human stories that often unfold in a space like a bus station, it seems fitting that the theatre's inaugural show, running to November 15, is Heaven Above/Heaven Below. The play was written by Linda Griffiths, a much-celebrated Canadian playwright and actor who passed away in September. Daniel MacIvor directs and MacLellan and Matthew Lumley star. The play's style is described by MacIvor as "hyper-realism," by Lumley as "experimental theatre veiled in realism" and by MacLellan as "voyeuristic."
The story is told as one 70-minute scene that unfolds in real time. No one involved with the production is willing to give too much of the plot away, except to say it's a conversation (fueled by drugs and alcohol) between former lovers who cross paths at a wedding 20 years after their last meeting. "It's a journey towards forgiveness, on both sides," says MacIvor.
The actors say it's the kind of universal story that will resonate with pretty much everyone. "I like to say it's a play for everyone who's looked back on a relationship and wondered, 'what if?'," says MacLellan. "I think of it as a kind of study of human behaviour," adds Lumley. "It's a story that ebbs and flows, where the characters are intimate and then suddenly pull away.
"And if it works, if we do it right, it's like the audience will be breathing with us."
---
Heaven Above/Heaven Below
Opens Thursday, November 6 at 6:45pm
Runs to Saturday, November 15 (no show Monday, November 10)
The Waiting Room, 6040 Almon Street