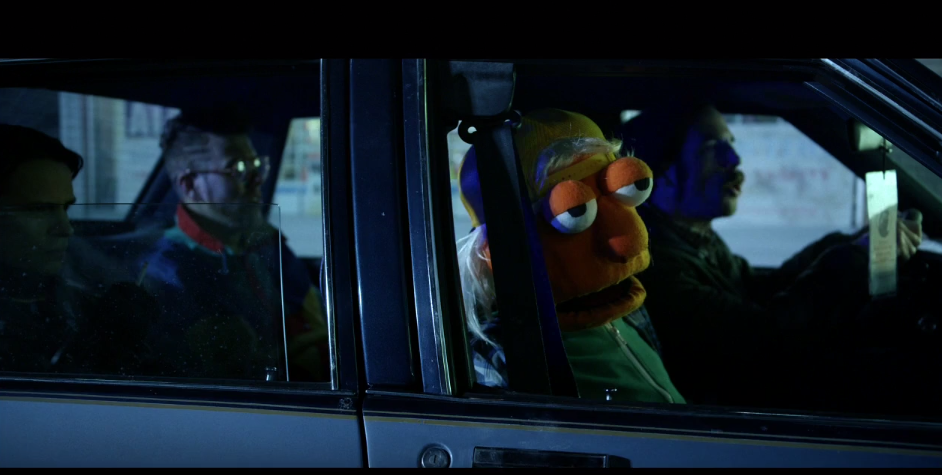 After watching wrestling promos all Saturday morning, as is my custom, I finally checked out local short film sensation, Foam Drive Renegades, which video-hosting site Vimeo recently named a must-see Staff Pick. Written and directed by Adam DeViller, co-written by Matt Chisholm and produced by Melani Wood, Foam Drive Renegades is Heat meets Sesame Street: a realist crime drama featuring a convenience store, some goons and a puppet in the crosshairs.
"When Matt first pitched the idea to me, it sounded like a formulaic and run of the mill street drama, but then he brought up the puppet and I burst out laughing," says DeViller. "I've always loved the street crime genre, like Menace II Society and Reservoir Dogs and Matt's more into, like, fantasy, like Meet the Feebles and Labyrinth, so the idea of taking two familiar movie styles and putting them together seemed like a really great opportunity to make them fresh."
Filmed on the coldest three nights of January 2013, Foam Drive stars Chisholm, Glen Matthews, Kevin Kincaid, Gordon White, and Rhys Bevan-John as Reggie, a PCP-addled pin-cushion designed by Henry Townsend and inspired by a Chappelle's Show sketch of loser puppets.
"But my favourite part of the film is probably the music," says DeViller, "Cam Smith made the opening and closing scores, and Adam Burke (s/o Judge Bitch) did the robbery music, and there's also a track by Pat Stay, who has an approach to rap that is very '90s west coast, which is pretty much the time and place when you're talking street crime movies. It was just all perfect."
Foam Drive premiered at Montreal's 2013 Fantasia Film Festival, winning Best Short honourable mention at AFF before Best Short at the Boston Underground Film Festival in March. Since the online debut, the flick has attracted reviews and attention for its performances and mix of genres.
"It's familiar but it's different and that's something Matt and I try to do every time we write. We want it to feel like something you've seen before that's also totally unique and new," DeViller says. The team will begin filming a door-to-door salesman-themed short, Bad Morning, this fall.
Foam Drive Renegades from Adam DeViller on Vimeo.