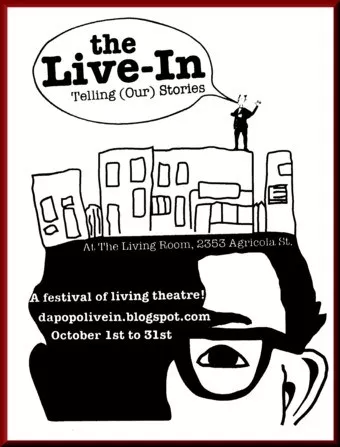 The DaPoPo Live-In is an annual month-long celebration of theatre in Halifax. It is a breeding ground for new ideas. It's a testing ground for fledgling plays. It offers workshops on everything from physical theatre to storytelling. There's food and fun for people of all ages.
Last night I attended the reading of Black Dragon Mountain by Roy Ellis. Unstaged readings are often the first time a playwright gets the chance to hear the dialogue outside of his or her own head. It's a chance for the writer to observe what works and what doesn't, and to watch an audience react to his brain child. It's a crap-shoot for the audience…the chance to be present at the birth of a masterpiece or a work that's headed back to the drawing board.
Black Dragon Mountain is a combination of both. Ellis is a wordsmith who weaves a vibrant tapestry of sex, violence and discovery. He is part poet, part pornographer, which is a combination that may well be difficult to bring to the stage. The six actors on stage definitely delighted in Ellis's delicious words, and the story obviously held the audience's interest even with a bare-bones reading.
There are still plenty of events left at the Live-In, which ends on October 31 with a reading of the psychological thriller Shadows on Oak Island and party. I urge you to check in and share in the telling of our stories.
http://dapopolivein.blogspot.ca/2012/09/chronologicalevents-list-september30.html