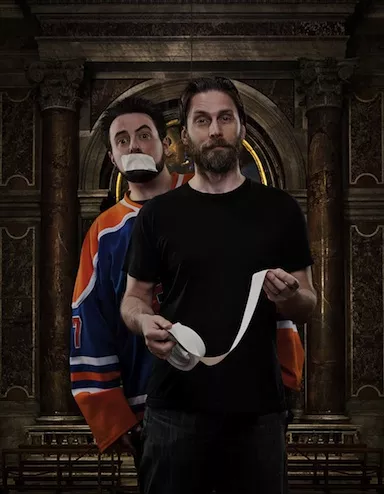 Well, Kevin Smith successfully pulled off his Halifax hat trick on Friday and brought the ridiculously funny Scott Mosier along for the ride. They talked The Beachcombers, sharks, nazis, Harry Potter and even belted out an admirable rendition of our national anthem.
Smith was a peach, as always, and was pumped to be back in what he calls "the heart of Canada" but for me, Mosier was the champ that night. The producer-extraordinaire (and dual citizen of Canada and the US) laid a beating on The Friendly Giant and was pretty consistently pee-your-pants hilarious.
Hear what you missed here, SMODCAST #200 recorded live at the Spatz.
Oh, and Smith announced at the end of the night he'll be back in May with his other, other partner in crime Ralph Garman for a night of Hollywood Babble On.