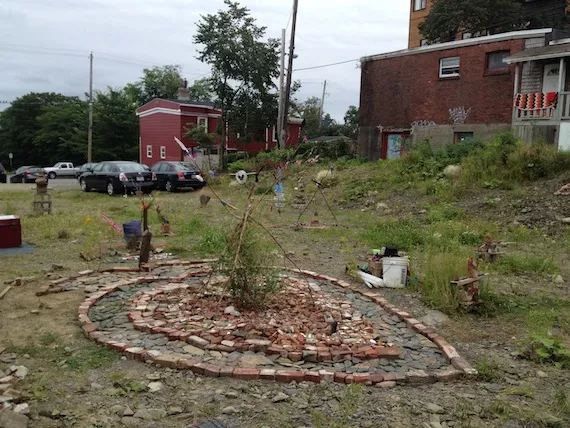 A blighted vacant lot on Gottingen Street is being transformed into a monument to Raymond Taavel.
"I call it a healing garden, but really what it is is a grief playground," says artist Brian Pace, who started the garden at the former Mitchells Environmental Treasures site. Gay rights advocate Taavel was killed nearby, last year.
Pace is quick to say that he never knew Taavel. Rather, says Pace, building healing gardens came from his own experience with grief.
Pace was born in Ecum Secum, and went to NASCAD in the 1970s before moving to Toronto.
"Most of my contemporaries died in the '80s," he explains. "I went to the west coast and did a lot of healing work, but when I went back to Toronto five years ago, all the ghosts were there, from all the wars, from all the places we lived, the streets we walked on. So I started going out to Leslie Spit, a 'clean landfill' that extends out about eight kilometres. For the first year and a half, I started writing out my blues and writing poetry. And then I started kinda picking up the pieces and started building. And then a journalist discovered what I was doing, and then the city bulldozed it. And they continued to bulldoze it like six or seven times, while I continued to build. "
He's been building healing gardens ever since.
"It's all intuitive," he says. "It's kind of like an architectural dig. I'm sort of digging through history and picking up pieces. The materials speak to me if I spend enough time here."
Pace says four or five hundred people have stopped by to see what he's up to. "People drop in, volunteer. They start making things. It becomes a confidential sharing space, where people—because I'm a complete stranger, just making this—people tell me things they wouldn't tell their friends. That started to happen. In the actual physicality of doing it, and thinking about the people who the people who are no longer with us, there's a feeling that transcends."
One woman, he says, never comes onto the garden, but spends hours looking over the fence onto it, smoking a cigarette. "All she ever says is, 'Raymond's spirit is here with you.'"
He shows me around the garden. The centrepiece is vaguely native in feel, with feathers and ornaments hanging on branches propped up. There's the site where Pace buried a rat someone had thrown over the fence. Elsewhere, someone had defecated on a "thank you" sign created by some unknown person. "I cleaned up the shit and the press shows up," says Pace. In one corner, Pace is digging out around a large boulder to turn it into a seating area. "Blessed be" is written in stones along a rise in the dirt-covered rubble. A German artist staying at the Backpackers hostel next door brought stones from Parsboro.
I tell Pace the site is slated to eventually become an affordable housing project, and that pleases him. "This is as impermanent as life itself," he says.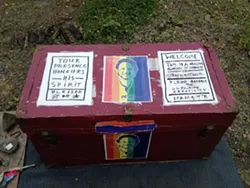 Before I go, Pace insists on telling me about two white butterflies he's seen repeatedly since starting the project 12 days ago.
"This morning, Raymond's lover came by, because he's been noticing than this," says Pace. "And he said, when Raymond's parents came to visit, two white butterflies came into the house, and he said, 'oh my god, it's Raymond!' I call these butterflies Ra and Ta, the first letters of Raymond's first and last name.