An exiting weekend awaits as Mexican girl-punk band Introtyl tears it up at Gus' Pub, a whole celebration of Viola Desmond takes over the north end and the Dartmouth Makers help start your holiday shopping.
The Dartmouth Makers 2018 Winter Market
Friday, Saturday
The famed market stocked with all-handmade-everything returns to Christ Church Hall just in time for your holiday shopping session! more deets
Celebrate Viola: Spoken word night
Friday
As part of the weeklong celebration of Viola Desmond's 10 dollar bill entering circulation, the north end is hosting a slew of sweet events. Here, a collection of local poets—including Andre Fenton and Afua Cooper—share pieces on civil rights and Viola's life at The Local. more deets
Ha!ifax ComedyFest Presents: Best of the Fest
Saturday
Funny person Orny Adams tickled crowds at the 2015 Ha!ifax Comedy Fest, so it only makes sense the festival's IRL highlight reel would bring him back to town as a headliner. Head to Spatz Theatre for a set that's high-energy and satirical—and see why the comic has over three comedy specials to his name. more deets
The Changeling: Chimes of Bedlam
Thursday, Friday, Saturday, Sunday
The Villain's Theatre's fall performance sees the troupe tackle what it calls "one of the most darkly funny and shocking plays of the Renaissance" with a new adaptation of the tale of an affair and murder at London's infamous asylum, the Bedlam Hospital. See the story of violence and sexual obsession dive into gender politics and mental health as it storms The Bus Stop Theatre's stage. more deets
The Inherited Reign
Thursday, Friday, Saturday
John Player has been exploring power structures in our increasingly militarized world for almost a decade. Here, the artist uses watercolour and oil paints as an act of resistance, a challenge to the current ideal of masculinity and as "a search for an alternative" in our imperialist, settler culture. See it at The Anna. more deets
Close to the edge... The Work of Gerald Ferguson
Thursday, Friday, Saturday, Sunday
Billed as a "comprehensive overview of Gerald Ferguson's practice," this AGNS show sees some of the artist's signature works displayed from the gallery's vaults, underscoring why he's routinely included in iconic showcases of conceptual art. Hot tip? While you're at the Art Gallery of Nova Scotia, make sure to see Kent Monkman's Shame and Prejudice reframe Canadian history through historical paintings crafted with an Indigenous lens—and read more about the show in The Coast this week. more deets
car(ry)ing
Thursday, Friday, Saturday
An interdisciplinary group showcase exploring "the personal and communal acts of carrying and caring that are necessary to reconnect with both physical and cultural landscapes," car(ry)ing sees The Anna's Room 2 filled with work by 19 artists as they "navigate the blurry lines between the natural and constructed historical sites of Kejimkujik National Park & National Historical Site, Port Royal, Fort Anne, Fortress of Louisbourg and Halifax Citadel," the artists' statement explains. more deets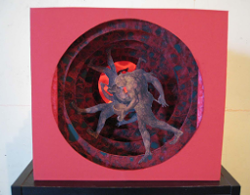 Ex Libris
Thursday, Friday, Saturday, Sunday
This weekend's your last chance to see James MacSwain's latest, an exhibition of paper-based works that mourns our pre-internet brains as it explores the era of books. Catch it at Hermes.
more deets
Russell Louder's Glam Cave feat. Petra Glynt, Marthas
Thursday
PEI's trans musican, artist and party-thrower Russell Louder returns to the Mod Mansion with their brand of experimental electronic dance pop and rollicking Glam Cave party—a safe space celebration of marginalized and the under-represented performers—for a good time worth busting out the glitter for. more deets
Viola Desmond Tribute Concert
Saturday
An all-star night at The Marquee sees MAJE, Keonté Beals, Roxy & The Underground Soul Sound and Cyndi Cain—among others—pay homage to Viola Desmond's legacy with this free showcase. more deets
Introtyl w/Exotoxic, Root Cellar, Chaotic Christ
Thursday
Introtyl brings face-melting guitar and moody, edgy feels all the way from Mexico City for your head-banging pleasure, offering a so-rare-we-can't-believe-it chance to catch a snippet of Mexico's girl-rock revolution without a ticket to the land of milk, honey and Mayan history. It all goes down at Gus' Pub. more deets
Kaia Kater
Sunday
Montreal's Kaia Kater—whose sonic stylings are, according to
The Guardian
, "where bluegrass meets Nina Simone"—brings a new album to The Carleton, along with a backing band and ever-expanding sound.
more deets