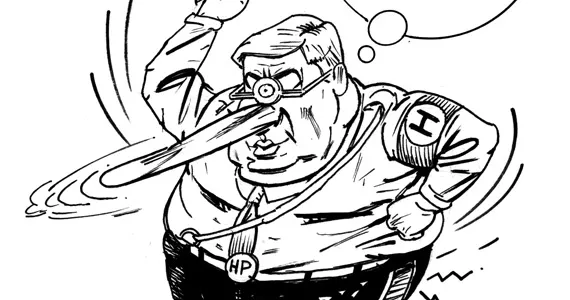 Lock 'em up and throw away the key. Hand over billions to Lockheed Martin. Slash social programs. Deny climate change and kick Canuck democracy in the ass. That's what the Conservative-Reform-Alliance party stands for and here are five solid reasons to vote against them on May 2.
1. Slashing social programs: Buried in the Conservative budget is a pledge to cut federal spending over the next few years from 16 percent of gross domestic product to 12.9. That would mean huge cuts to social programs, but the Conservatives aren't saying what's on the chopping block. Unfortunately, Canadians have been through this before. Economist Armine Yalnizyan of the Canadian Centre for Policy Alternatives points out that in 1995, Paul Martin slashed transfers to the provinces for health care, higher education and welfare. Federal spending fell from 16 percent of GDP to 12.7. Re-elect the Conservatives and we're in for a rerun of that horror movie, slashing social programs while the Conservatives hand over billions in tax cuts to oil companies and banks.
2. Buying fighter jets: The Conservatives claim that buying 65 Lockheed Martin fighter jets will cost $17.6 billion over 20 years. The parliamentary budget officer, Kevin Page, says it's more realistic to price the F-35 jets over 30 years. He calculates a total cost of $30 billion. Meanwhile, an American expert at the Center for Defense Information predicts the final figure will likely be even higher---at least double what the Harperites claim. In a brief to a parliamentary committee in December, Winslow Wheeler urged Canada not to rush into the deal, especially since full testing of the F-35s won't begin for five years. His message: Don't buy before you fly. Unfortunately, if re-elected, the Harperites surely will.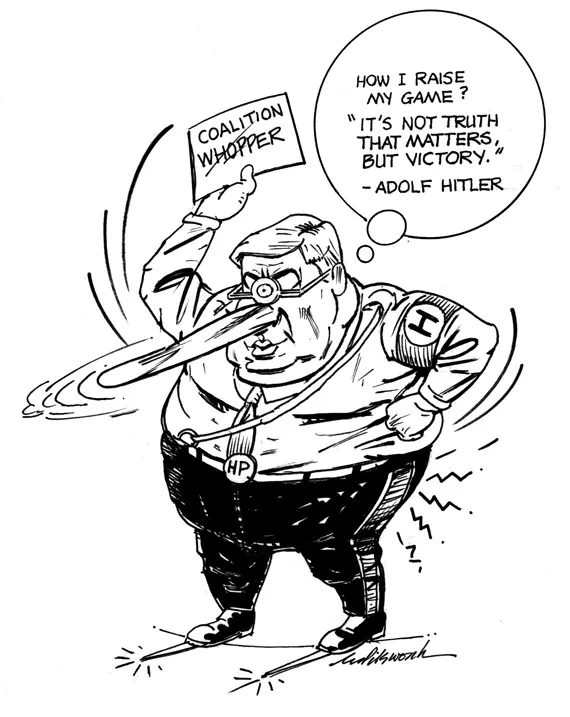 3. Flouting democracy: The Conservatives made history by being voted in contempt of Parliament---twice. They contemptuously refused to release detailed cost estimates for their plans to build jails, buy jets and fork over billions in corporate tax cuts. Cabinet minister Bev Oda tried to mislead MPs into believing that bureaucrats, not Conservative politicians, had denied funding to Kairos, a highly respected church aid organization. The Harperites had already been formally censured for withholding documents on Canadian complicity in the torture of Afghan detainees. As though this weren't enough, Harper himself shut down Parliament in 2008 because he faced defeat after stupidly trying to deny election funding to his opponents and refusing to acknowledge the worst economic crisis since the Dirty Thirties. If re-elected, you can count on the Conservatives to continue their contemptuous, bumbling ways.
4. Denying climate change: The Conservatives have made Canada an international laughing stock for their refusal to abide by the provisions of the Kyoto treaty on reducing greenhouse gas emissions and for their repeated attempts to derail any further binding emissions targets for industrial countries. In 2008, environmental groups awarded Canada the "Fossil of the Year" award for disrupting climate-change talks in Poland. As the 2009 climate change conference in Copenhagen was set to begin, Britain's Guardian newspaper called Canada "the dirty old man of the climate world." No wonder. Canada's greenhouse gas emissions had soared to more than 26 percent above 1990 levels, yet the Conservatives stoutly defended pushing full speed ahead with developing the Alberta tar sands. Columnist George Monbiot wrote that Canada was steadily turning itself into "a corrupt petro state." With an environmental record like theirs, the Conservatives hardly deserve another term in office.
5. Losing the moral right to govern: Four senior Conservatives (two of them senators) are facing charges of knowingly violating spending limits in the 2006 election. We'll see how the case goes in court, but it's worth noting that the Harperites came into office promising a new era of accountability. Instead, we've had secrecy, denial, obfuscation, plans for reckless spending on jails and jets and a barrage of lying. Time to throw the rascals out.