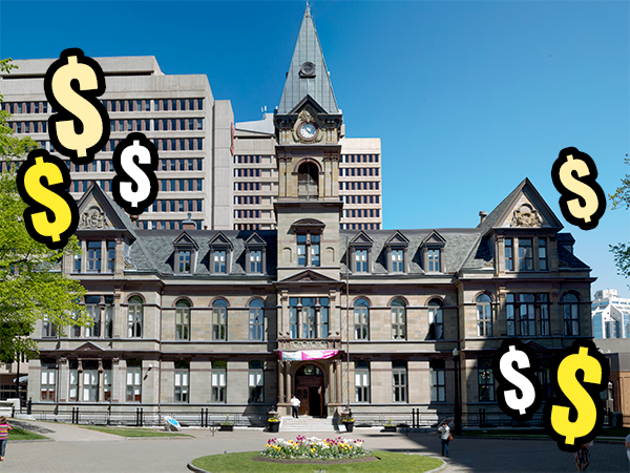 Regional council kicked off the new year with budget talks this week. Councillors heard from Jane Fraser, HRM's chief financial officer, about how the dollar bills the municipality has, earns, spends and loans are all connected—and a new tax rate.
Fraser explained what allows HRM to make money moves: The operating budget (revenues minus expenses—keeping the lights on), debt (loans for new projects that have a long shelf life and are more like a new roof than regular toilet paper) and reserves (funds earmarked for specific kinds of spending—often spent when combined with money from other levels of government).
Inflation plus added pressure from wages—the number-one expense in HRM's operating budget is compensation—new projects, the Integrated Moving Plan and Moving Together Forward Plan mean HRM has to spend more than it's earning to make everything happen—and keep everyone happy.
As CAO Jacques Dubé said at the first meeting, "Capital needs will outstrip our funding"—but instead of opting for a significant tax rate hike to afford the spending, staff recommends taking on almost $13 million in new debt to pay for some of the bigger-ticket-more-than-20-years-of-life items. Taking on debt allows for a small (0.001 percent) increase to last year's tax rate—1.5 percent or $30 increase to the average tax bill. As well, an unreliable but significant bump in the deed transfer tax—the money HRM gets when someone buys property—is contributing to keeping the rate low.
But keeping plans as they are right now means no wiggle room for money to fund all the projects councillors have asked staff to reconsider that were left out of this year's capital budget, from libraries (see below) to sidewalks. The wishlist, known as the parking lot, will return to council in March, after councillors have heard about the individual business units' budgets.


---
The big number: $27 Million
The number of dollars Halifax Regional Municipality has spent on capital projects (AKA renovations, replacements) in its libraries since amalgamation. $20 million was spent on the now-five-year old central library, and $7 million across the other 13 branches. Staff budgeted $1.25 million for capital upgrades in the 20/21 budget, and councillors moved an additional $2 million—that would speed up upgrades to the Keshen Goodman Library—to the budget parking lot (AKA the mommy please list).