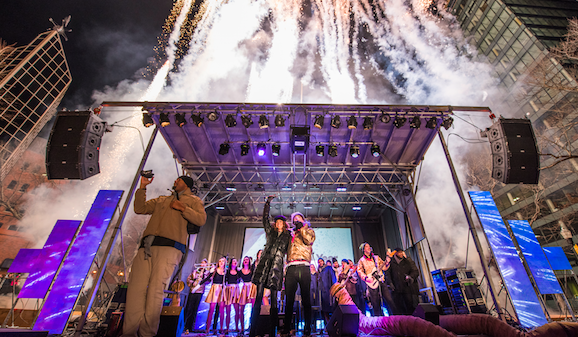 Great news if you're looking to catch the festivities at Grand Parade on December 31 but don't want to stand out in the cold all night. Halifax's annual midnight countdown party will once again be rocking the airwaves.
Today, Halifax Regional Council accepted a proposal from Eastlink to broadcast the municipality's New Year's Eve celebrations for the next three years, "subject to the negotiation of terms and conditions."
From 1993 to 2013, the party at Grand Parade was broadcast through a collaboration between HRM and CTV. That ended last year when "CTV could not confirm their participation within the required timeline or budget," reads today's staff report, prepared by manager culture & events Elizabeth Taylor.
According to HRM, the city received numerous complaints over social media and 311 about the lack of a televised component last year. In response, a search began to find a "title sponsor" to help cover the broadcast costs.
Eastlink was the only applicant, but has declined title sponsorship in favour of a "Presented by" slogan on all promotions. So Eastlink will get to broadcast the event on its community channel, and HRM can "potentially offset some costs associated with the delivery of the event" by finding additional corporate sponsors, such as Greco.
The budget for HRM's annual New Year's Eve event is $70,000. Eastlink values the cost for their in-kind broadcast contribution at $107,900.
"I think ASN, ATV missed an opportunity to broadcast this," said councillor David Hendsbee, using some outdated station IDs. Hendsbee also asked staff to ensure some live-streaming element is included in this broadcasting, otherwise "those with Bell Aliant services will probably be excluded."
While the motion passed unanimously, councillor Steve Craig cautioned about the upcoming review of community television policies being undertaken by the Canadian Radio-television and Telecommunications Commission. The CRTC is currently assessing the ongoing effectiveness of its community television policy, and reviewing the overall state and funding of local television programming. A public hearing on the matter is set to begin January 25, 2016.
"There are changes coming, and we ought to perhaps consider whether we want to make some submission or some support…when it comes to community channels," Craig said. "It's important we do not lose this medium, so our citizens can view this when they can't make it to City Hall."
In 2014, the municipality hosted its first non-televised New Year's Eve concert event in 20 years, featuring Carson Downey, Neon Dreams and the Emmy-winning, Kanye West collaborating, Miri Ben-Ari. No musical acts have so far been announced for this year's festivities.