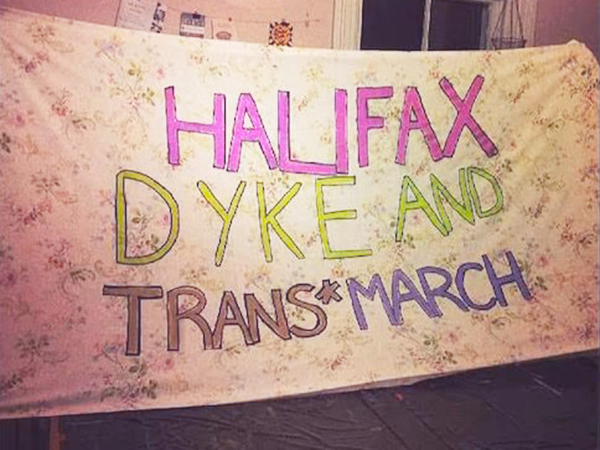 Pride month in Halifax is made up of more than just parties in colourful packages—and the Dyke and Trans March on July 28 is one of several events that prove it.
Frank Heimpel, the outreach coordinator at South House Sexual and Gender Resource Centre, hopes the Dyke and Trans March will provide space for folks to be "fucking angry," "super proud," or somewhere in between. "If they just want to see all their exes in one spot, they can do that," they add, laughing.
In the past, individuals and collectives such as Rad Pride—known for organizing and promoting alternative, 2SLGBTQ+-focused events—have taken the reins in organizing past incarnations of the Dyke and Trans March. This year, Heimpel explains, Nova Scotia Public Interest Research Group (NSPIRG) and South House are coming together to make the march more community-led and supported. "It isn't owned by any one person or organizing group."
The idea to for this year's march came from NSPIRG's summer student hire, ven cain, who used to be involved with Rad Pride. Heimpel says when there was discussion that it should continue, there was still an apparent want—and need—for such a march in Halifax.
It's important "not to just see Pride season as the celebration," says Heimpel, "but also to remember the context of 'life's still hard for a lot of folks' and what are we doing to address that?"
While folks of all orientations are welcome to join in, the Dyke and Trans March aims to prioritize the voices of queer women and trans people of all genders, looking at the ways in which they experience different forms of harassment and marginalization.
First, participants will rally and listen to speakers in front of the Halifax Central Library. They will then begin the march, making their way from Spring Garden to the Mi'kmaw Native Friendship Centre on Gottingen Street. The Facebook event describes it as "equal parts bitter and glitter." A protest-celebration hybrid.
Events such as the Dyke and Trans March go beyond (as Heimpel puts it) "capitalism with a fun rainbow." Heimpel points to other community-led events happening in the city, including a Dolly Parton karaoke fundraiser and Queer Arabs of Halifax's annual dance party.
"If we want to celebrate Pride then we have to celebrate all aspects of Pride and support, tangibly, people of colour and trans people," says Heimpel.