The photo is colourized and a little fuzzy, but the image is crystal—two girls wait for their drinking cups to fill, the picture of Victorian trim-and-tidiness, in front of the grotto, the old concrete and granite recessed drinking fountain at the Halifax Public Gardens.
Their attire—white, puffy-sleeved dresses, stockings and straw hats—suggests a picnic. But, who knows, maybe they're taking a break from a brisk game of tennis. The gardens were the location of the first public lawn tennis court in Canada. And the grotto was constructed close by, in 1876, to quench the thirst of players and garden strollers alike. The grotto was supplied by Freshwater Brook, which then ran along the southern perimeter of Spring Garden Road.
Today, what was once a tennis court is staid grass—the "family lawn." Freshwater Brook has vamoosed, the accidental victim of early 1990s blasting during the building of the new Halifax Infirmary. And though the grotto lives on, when I turn the tap—the decidedly un-Victorian rough-plumbed shutoff valve that thrusts haphazardly from the recess—nothing comes out. The grotto is no longer a drinking fountain, only a giant stone edifice to a time gone by.
"We all remember they used to be everywhere," says planner and Waterfront Development Corporation vice-president Andy Fillmore. "No one should be designing public spaces these days without bathrooms, and without clean drinking water."
I remember lots of drinking fountains. Don't you?
But no one quantifies these little losses. No one counts them. Not really. And not here, certainly. Drinking fountains were always just part of Halifax's built environment. Until, suddenly, they weren't.
Drinking fountains were one of the municipal perks that got a boost during the Victorian era, when concern for public amenities was high. London, England's first drinking fountain—and we're not talking public pumps, here, but human-specific fountains designed to sate passersby—was built in 1859; New York's, the same year. Halifax's grotto may have been this city's first. Or maybe not. The horse troughs that now reside at the Granville Mall originally had options for human drinking, too, says Noticed in Nova Scotia blogger Stephen Archibald.
Of course, you can't get a drink there now. And, for a second, try to think of where the closest public drinking fountain is, if you're sauntering along the Granville cobblestones. The Ferry Terminal? The law courts on Upper Water? Inside the mall?
Alas, the city doesn't maintain a map of its drinking fountains. There is no drinking fountains master plan. I would love to tell you how many fountains there are in Halifax. Truly, I would.
The city worked hard to get me a list. There were 21 on the face of it, some out-and-out public, some inside buildings no random flâneuse would ever get to access. I printed the list and went on a recce with my empty bottle.
There are outdoor fountains at Albro and Chocolate Lake Beaches, but they're locked behind a gate unless a lifeguard's on duty, so no good at night or from September 1 through June 29. Birch Cove Beach's fountain is on the side of its change room, but nothing comes out, even though the adjacent shower is working.
Bedford's DeWolf Park fountain is broken, or so I thought, since I pressed it and it stayed dry. As I walked away, a kindly Bedfordite directed me back. "You have to press it a few times. Like, you have to almost pump it." She was enthusiastic about my mission. "I was somewhere the other day, and I was so thirsty. And where I was, you would expect that there would be a fountain. I asked and they said no. Ridiculous."
Maybe she was at the new Dartmouth bus terminal, which was not on the city list, but I went anyway because I assumed that was a mistake. I mean, what kind of city builds a new central bus terminal without a drinking fountain? Ours, three huddled transit employees informed me.
Nothing at the Alderney Ferry Terminal, either, a woman behind a desk said ruefully. The water that comes out of the taps in the bathrooms at both transit hubs is pre-heated and unpalatable.
Speaking of obvious places for drinking fountains where none exist, shouldn't the Halifax Common Skatepark have a fountain? Didn't it used to? In any case, it doesn't now, parents at the nearby playground and a pool lifeguard confirmed.
The drinking fountains at the Metro "Scotiabank" Centre are only for ticket holders. The ones inside municipal depots, only for employees. Don't bother going for a drink at the David P. McKinnon police headquarters on Gottingen Street. "Do you have a drinking fountain?" I asked, innocently, wagging my empty bottle at a woman behind the accident reporting desk.
"No. Uh-un."
The award for congeniality goes to the dude working the desk across the street at Centennial Pool, where there are only fountains on the pool deck. Undeterred, the employee ushered me to a room off the lobby and offered me my choice of filtered hot, cold and boiling water. He even offered me a ceramic mug.
Drinking is easy at the new Central Library, the Canada Games Centre and St. Margaret's Centre, with clean, out-in-the-open fountains. Not so much at the Dartmouth Sportsplex, where I had to ask for directions and tunnel down a main floor corridor. Ditto the Sackville Sports Stadium, where I had to ask for help, get buzzed through a turnstile and venture down a deserted hall. The vending machines at both these facilities, however, are in the main lobby.
Halifax's best fountain for making a viral video is at Sir Sandford Fleming Park, AKA the Dingle. It's a stacked-stone plinth-style fountain (classy!) with two concrete steps for children (thoughtful!). Except the water comes out in a two-foot-wide arc that peaks more than five feet from the ground. You can try to fill your water bottle once you stop laughing, but you will need to stand several feet from the fountain in a rain jacket. Drinking from it is like sticking your face in a sprinkler.
It was a hot, sunny evening when I went to the Dingle. People walked the perimeter of the tower, toed the water, strolled and ran. Halifax boasts myriad public spaces like this—ripe for exercise and leisure, but missing the tools.
I'm ballparking one city-operated outdoor fountain, during July and August only, for every 78,000 Haligonians. Don't all line up at once, now.
As essential as water is to living things, drinking fountains—the surest way for humans to access water in an urban environment—aren't required by provincial building code regulation, says Service Nova Scotia's Tracy Barron. Where they are installed, at least one must be barrier-free, with a spout not too high and a control not too hard to push. But there's no onus on developers or builders to actually put them in.
This narrative plays out much the same with public bathrooms and pay phones. Victorian do-goodery has run its course in Halifax, and in other once-progressive cities, too. Where private and commercial alternatives exist, these basic requirements for using the city end up as afterthoughts or oversights, or, by way of a more evil view, an easy slice off municipal budgets.
At Bedford's BMO Centre, there are four NHL-size ice surfaces, beach volleyball courts, meeting spaces and a licensed concessions stand. According to the facility's website, more than one million people a year come through the doors. But there are no public drinking fountains. Athletes can fill water bottles in the change rooms; spectators who want tap water can ask at guest services to have their bottles filled, or, the canteen will give them cups.
This happens rarely, says BMO general manager Bill Cruickshank. "I would put it in the one percent—the people who show up with an empty water bottle."
Most, he says, bring full bottles. OK, but one fill isn't much if you're there to watch a day-long tournament. (Coincidentally, this thirsty predicament is how I originally discovered this story.) I guess most parched hockey-lovers buy from the vending machines, which live on the main and second floors.
Last year, Cruickshank says, canteen profits were about $10,000. All that money is returned to the city, not Nustadia, the centre's independent management company. Cruickshank couldn't say how much the vending machines bring in off the sale of bottled water.
Halifax spokesperson Brendan Elliott says drinking fountains simply weren't considered when the BMO Centre was built. After requests in recent years, the city has twice investigated the possibility of adding drinking fountains for the public. The verdict?
"Physically impossible."
"We would have to run separate cold water lines to that area and it would be cost-prohibitive," says Cruickshank.
In the early days of drinking fountains, water typically spouted out and down from a faceplate or sculptural feature—not the easiest to drink from. So, many public fountains had small cups tethered by chains for thirsty passersby. (There's no record I could find of the cup situation at the Public Gardens grotto.)
It took half a century for germophobia to outclass thirst and for shared cups to get the heave-ho. The next evolution of the drinking fountain, around 1900, was a stream that shot straight up from a small hole. No cup—good, right? Wrong. Instead, people opened their mouths over the stream, inevitably spitting back into it, or they sucked—shudder—straight from the hole. I'd take my chances with the communal cups.
Sense prevailed by the 1920s, when the slanted jet drinking fountain was developed in the US. Eureka! No cup. No suck. Water came out of these puppies at a 45-degree angle, keeping the appliance mercifully spittle free. The inventors even added a terrible-named but much appreciated "orifice guard" to keep lips and fingers away.
You should know: what comes out of Halifax taps is excellent for the drinking. If you're sipping municipal water, a product of the pristine Pockwock Watershed, from your home or anywhere else in the city, you're drinking water that meets or exceeds national standards and is tested at every step along the delivery chain. Older municipal buildings have filters installed to ensure quality and good taste, says Brendan Elliott. If you're drinking off-grid in a municipal facility—that is, not Halifax Water water—you're still getting a top-notch drink. Staff test the water in some facilities, for example, the Prospect Road Community Centre, daily.
Yet, Canadians bought 2.4 billion litres of bottled water in 2013. That's 68 litres for every person in the country. Agriculture and Agri-Food Canada regulates the Canadian bottled water industry, and it splits non-carbonated bottled water into two categories—spring water, which is from an underground source, and processed water, which is municipal tap water that is treated and bottled.
Aquafina, a Pepsi product, and Dasani, owned by Coca-Cola, are the most common brands found in vending machines around the city. Both fall into the processed category—treated tap water.
"Bottled water is a very frivolous purchase," says Ecology Action Centre water coordinator Jocelyne Rankin, "something that shouldn't be necessary."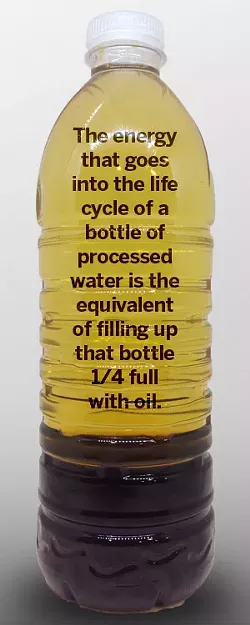 It's not only that it's unnecessary and expensive—it's also a source of greenhouse gases. Bottled water must be packaged and transported to stores. It's often refrigerated, transported home by car, and refrigerated again. Rankin cites a Pacific Institute study that suggests the energy that goes into the life cycle of one bottle of processed water is the equivalent of filling up that bottle one quarter full with oil.
Not all bottles get recycled, either, Rankin says. Some wind up in landfills or the ocean. The Canadian Bottled Water Association notes on its website that bottlers are using less plastic than in the past and more post-consumer recycled materials.
And Elliott says Halifax's first-rate waste diversion system means 90 to 95 percent of bottles in HRM are recycled. Still, less waste is a far cry from no waste.
Drinking fountains boost people's use of the city, they aid exercisers, their installation in school settings has been shown to decrease the risk of childhood obesity. The water that comes out of them is high quality and, compared to commercial beverages, dirt cheap.
So why would people drink bottled water except in an emergency?
Rankin has a one-word take on it: marketing. Bottled water companies started selling heavily in North America in the 1990s and have managed to convince consumers that bottled water is best. Municipalities produce water that's equal to or better than bottled from quality and taste standpoints and much cheaper. But multinational corporations spend million on campaigns to push their products. Cities, Rankin says, "are not in the business of really marketing their own water."
It used to be, you could walk right through the main doors of Halifax City Hall and wander unaccosted to the first floor bathroom. There were security guards, but they weren't much in the business of haranguing. Today, there is a locked barrier just inside the main doors.
There's one security guard on duty the day I come sniffing for a drink, checking off my drinking fountain list from the city.
"Sure!" the smiling guard says when I ask if there's a spot to fill up. He buzzes me through the gate and leads me down a hall to a cooler just outside the bathroom. "There are cups there, too," he says cheerily.
How many people come looking for water? "Not that many," he says. I'm not surprised. No one in Grand Parade would know there was a fountain in here. There are no signs. A peek inside the door at the guard and barrier would tell most people not to bother asking.
That said, you won't find a bottle of processed water in City Hall unless you bring it in yourself. There are no vending machines that sell water. No freebie bottles for staff.
This is a nod to council's 2010 directive to phase out bottled water.
The city has done a great deal to wean employees off bottled water. It has ensured tap water is high-quality and tastes good in all municipal buildings. Public works staff have been provided with stainless steel thermoses they can fill up and take into the field. At large public gatherings, the city provides filling stations.
The exception here—and it's a big one—are those third-party-run facilities like the Dartmouth Sportsplex and the Sackville Sports Stadium, where drinking fountains are hidden—or, in the case of the BMO Centre, missing—and vending machines and concessions are prominent.
"That would be their decision as a board," says Elliott. But as far as municipal messages go, this one is clear. Bottled is the go-to.
Another spot the city celebrates bottled water is Sackville Landing, the one tiny swath of municipal-owned waterfront land which comprises the extension of Sackville Street, near the wave sculpture.
Here, a small line-up of vending machines offers water and a host of sugary drinks on a blistering day. It's lousy with kids ignoring the signs not to climb the wave, infested with dogs, crammed with tourists. Waterfront Development's Andy Fillmore, who's also the Liberal candidate for Halifax in the upcoming federal election, states the obvious: "These people are getting hot and sweaty and thirsty."
It's a fact Fillmore plans to do more about than offer expensive processed tap water. Waterfront Development is installing a drinking fountain in early August at the corner of the tourist info building. He calls it a "kind of a quiet reaction" to having to buy water, "which is just all kinds of wrong." "Evian," backwards, Fillmore reminds me, spells "naive."
The new drinking unit—one of a team along the waterfront, if it goes well—will be five feet high and cost $8,000. A scruffy Scottie-mutt mix on a leash trots by. "Good timing," Fillmore says. The new unit will have a drinking fountain, bottle filler and a dog bowl.
"It's all part of our activation of the waterfront," he says, noting the addition of colourful chairs, and plans for hammocks. "We are all about activating. But we are also all about egalitarian—making sure everything is accessible to everyone."
And that's just it. Public drinking fountains are for everyone, equally—free, fresh, unlimited. It isn't about money. It's about access. As kind and accommodating as the security guard at City Hall was, as welcome as the receptionist at Centennial Pool made me feel, having to ask for water is a barrier. There's a chance I could have been turned away. The water at the Sackville Sports Stadium may be free, but when it's beyond a turnstile and down a hall, it's not exactly for everyone.
Ample public fountains, Fillmore says, represent "a different relationship with water and a different ethos about how you serve the public in public spaces."
Fountains come and fountains go. And as tricky as it is to pinpoint the loss of these amenities from public spaces—wasn't there one in Point Pleasant Park!?—it's just as easy to miss their return.
The city's Brendan Elliott says the four-pad arena that's on the books for Dartmouth will have a minimum of one fountain on each floor. "It is actually in writing."
The city is looking at installing a fountain at the Halifax Common entry off the new North Park roundabout. There's one going into the new building on the Emera Oval, too. "We are definitely making it a priority to have safe drinking fountains in all of our major builds and renovations."
And the grotto, too, may again quench thirsts at the Public Gardens.
In 2010, Halifax conservator Kellie McIvor wrote a heritage asset report and rolling maintenance plan for the gardens. "The grotto," she says, "is definitely on our list." The city can't guarantee that it will get included in the 2016-2017 capital budget, but it is on the list for future capital work.
Judith Cabrita, chair of the Friends of the Public Gardens, is cautiously supportive of the idea of restoring the grotto, stressing that her organization works for preservation and conservation of the garden, fitting its Victorian origins. (I declined to enquire if tennis will be returning to the family lawn.)
"It's a respite, a place for solace, a place for recreation," she says.
Besides, back in the 1970s, a drinking fountain was installed on the south side of Griffin's Pond, which remains there today, in delicious working order.