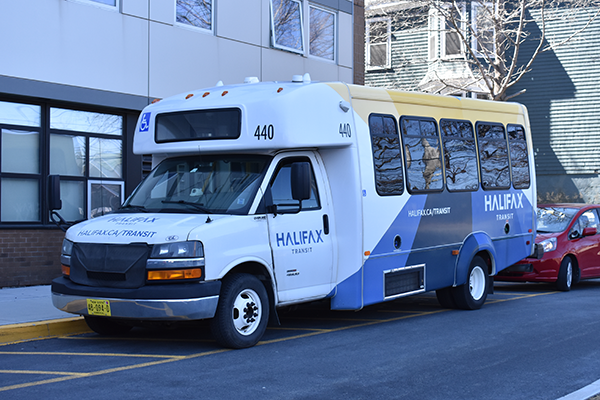 A few dozen residents turned up for a Tuesday evening town hall discussion on accessibility in HRM at Cole Harbour Place.
The Advisory Committee on Accessibility town hall panel included representatives from Halifax's winter operations and recreation teams, 311 contact centres and more.
Attendees made a point of discussing the state of Halifax's accessible transit system, Access-a-Bus.
Patricia Hughes, manager of planning and scheduling for Halifax Transit, told the audience that Access-a-Bus provides up to 15,000 rides a month. A software upgrade back in April 2018 has helped get the numbers up.
"We were able to move from 1.8 trips per hour to 2.07," says Hughes. "It doesn't sound like a lot, but we're able to provide a lot more trips and fill a lot more clients' requests."
The municipality is still working on how to schedule the Access-a-Bus service more efficiently. Right now Hughes says up to 100 reservations of the bus are cancelled every day.
"We have a lot of trips that get cancelled last minute so it impacts our ability to provide more service," she says.
But Vicky Levack, a disability rights advocate and the vice chair of the advisory committee on accessibility, says people can't predict cancellations.
"I think that's just part of life. You can't penalize people for cancelling at the last minute," Levack says. "I myself have done that. People get sick or things come up in their lives."
Users have to book the Access-a-Bus service at least 24-hours in advance, but it's recommended to book seven days ahead. Levack, who lives in Purcells Cove, says she relies on Access-a-Bus but the scheduling is far from ideal.
"I only got a bus here tonight because I agreed to be dropped off here at 2pm and the meeting wasn't until 6pm," she adds.

The conversation at the Town Hall also turned to accessible taxis.
Hilary Hayes with the Department of Planning and Development, said the municipality now has 14 wheelchair accessible taxis and is working to get more.
"We hear a lot from our residents that it is not acceptable and not enough," she told the audience.
But accessible cabs are more costly to purchase and maintain, and currently the cost is on the drivers. The city is looking at ways to provide funding to increase the financial incentive—which right now is very low—for people to drive accessible taxis.
Hayes says transit is working with the province to get a necessary charter change which would enable it to make the changes. Improvements to accessible taxis were included in the city's overhaul of taxi industry rules and regulations, but not the main focus.

Levack says meetings between the accessibility committee and people in power should happen more often. She thinks governmental red tape is preventing faster progress on accessibility issues.
"It sounds like a lot of people's hands are tied because of legislation and rules. I think we really need to look at that legislation and rules... and rewrite it," she says. "There's no way we're going to get everything done that needs to be done unless we're given more power."
The accessibility committee normally meets monthly at city hall and serves to increase awareness of accessibility perspectives within city hall decisions, but it's beholden to the executive standing committee taking up any of its concerns and sending them through to be considered at regional council.