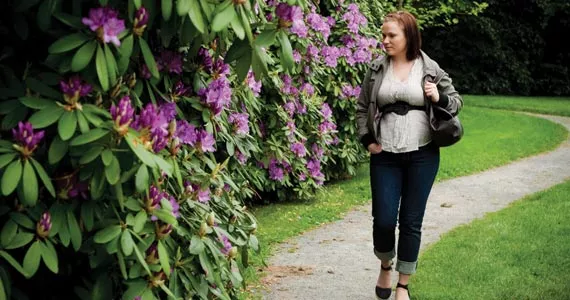 To start way at the top of the peninsula, take the 18 or 82 bus up to Fairview Cemetery, at the north end of Windsor Street. Its appeal largely rests on being the burial site of 121 victims of the Titanic sinking in April, 1912.
From there, take the bus back down down to Almon, walk west on Almon to Robie and down Robie half a block. At Coastal Coffee (2731 Robie Street) enjoy rich, breakfast-y delights, or if you're vegan, try the reasonably priced Mary's Place Cafe (2752 Robie Street). You could also head a little further down Robie to jane's on the common (2394 Robie Street), an award-winning restaurant with a great brunch and dinner menu of locally sourced food.
A walk across the Halifax Common heading south will have you passing the Common skatepark, the hub of the local skate scene, and The Museum of Natural History (1747 Summer Street, museum.gov.ns.ca), where they have a gopher tortoise named Gus who's older than baseball.
From there choose one of two options: The first: walk up to the top of The Citadel. History buffs might be into paying for entrance to see the courtyard and barracks---it's much bigger than it looks---but the view from the top over the city alone is worth the walk up. Or, option two: If you miss The Citadel and head down Summer Street, you'll see on the right the Camp Hill Cemetery, where the mortal remains of heroic politician and writer Joseph Howe are buried along with beer legend Alexander Keith. People have been interred here going back to 1749 and as such it retains an impressive gothic atmosphere.
Across the street from the cemetery are the Public Gardens, also accessible from The Citadel for easy access from either, a gorgeous Victorian greenspace open from May to October. On the south side is the Horticultural Hall, summer residence of an Uncommon Grounds cafe.
From there you can head south on South Park Street and Young Avenue toward Point Pleasant Park. It's about a 25-minute walk directly from Spring Garden Road to the edge of the park. If you need to fuel up, turn left on Fenwick and eat at Darrell's Restaurant (5576 Fenwick Street), which serves the shockingly good peanut butter burger.
This would be a bit of a detour, but you could also turn left a bit sooner for food: take Morris Street, head over to Barrington and get gourmet pizza at Morris East (5212 Morris Street). Head south on Barrington, you'll pass Bearly's House of Blues and Ribs (1269 Barrington Street)---which is pretty much as its title describes---and the stately Henry House (1222 Barrington Street) with its large selection of beer, excellent patio and new third floor. Further south on Barrington is Boneheads BBQ (1014 Barrington Street), for lovers of smoky, southern meat dishes. From there it's only a block back to the huge homes on Young Avenue and down to Point Pleasant Park.
The park is a large, partially wooded area that goes right down to the water on three sides. Plan to spend an hour in there strolling or running, you'll find lots of locals with their dogs, a series of gradually decaying fortifications, sealed cannons that will never see a ball, lovely views of the harbour and even wild berries in season. If you're feeling like a refreshment, there's an ice cream stall in the lower parking lot, and a well-stocked convenience store at the corner of Point Pleasant Drive and Tower Road.