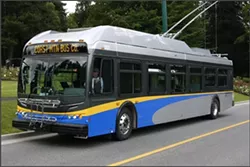 City council was poised to approve the purchase of 22 new buses Tuesday, but the matter was put off for two weeks to make "minor" changes in a staff report, says deputy CAO Mike Labrecque. The changes will not affect purchase price, the number or kind of buses, nor the vendor, he says.
The bus buy is part of a larger prospective purchase of up to 80 buses over the next three years. Council must approve each installment of that purchase, and this year's buy was initially going to be for 19 buses, but the budget allows for 22.
The new buses will be 12.2-metre New flyer buses, costing $406,422 each, or $9,324,508 collectively, including HST, which will be refunded to the city. They are not the "double" buses, but rather the standard bus size. They are wheelchair-friendly "low floor" buses with 36 seats each, plus standing rooms.
Eleven of the buses will replace older inaccessible 60-foot buses with 49 seats, which will be scrapped. Five more buses will be added to enhance existing bus routes. The remaining six new buses will be used on a new "feeder service" route, probably up Mount Hope Avenue, that will service the Woodside Ferry Terminal, and are needed to meet new demand created by a new ferry, which will arrive in 2014 and allow the Woodside ferry to operate all day.
The buses won't arrive until early next year. Exact routing for the new buses will be spelled out in a service plan that council will adopt as part of its April budget negotiations.