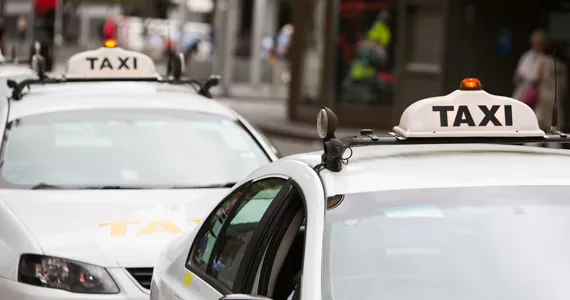 For the third fourth time in as many three months, a taxi driver in Halifax has been accused of sexually assaulting their passenger.
The latest incident happened July 17. It follows an incident the previous weekend when Halifax Regional Police responded to a call from a 20-year-old woman who'd allegedly been "touched in a sexual manner and kissed by a cab driver without her consent."
Both the caller and the cab were located in the 1800 block of Barrington Street and the driver was taken into custody. A 44-year-old Halifax man will be in court on September 8 to face charges.
The two most recent cases fit a pattern of crimes from the last two years that has councillors calling for new oversights and the industry's leaders calling for dashboard cameras inside vehicles.
By chance, a cab I took this week already had a dashboard camera set up. The driver told me he bought it for $100 at Best Buy as a way to make his passengers feel safer and also protect himself against theft. But even that system isn't perfect. It only records while the car is on, and he only keeps the video files for a week before deleting them.

Aside from cameras, Halifax Taxi Drivers Owners Association president Dave Buffett told CBC's Maritime Noon this week that better education is needed for drivers. 

"For me it's astounding, it's absolutely astounding, that any adult would not know that's inappropriate. Absolutely astounding...But we do have a multi-national driving pool and there are drivers from areas where that might not be as unacceptable as it is in Canada, and there's where the education component is necessary."
—Dave Buffet
On April 29, Seyed Mirsaeid-Ghazi was charged by Halifax police for sexually touching a 21-year-old passenger in his cab back in October of 2015. A week later on May 6, a woman was reportedly assaulted in a black van that picked up her around 3am on Argyle and Prince streets. The woman fled and hid until the vehicle left the area.

Then on June 8, a 25-year-old woman was assaulted after being picked up by a cab at the corner of Grafton and Blowers. Police said the driver later dropped the woman off and tried to kiss her before telling her there was "no charge" for the ride.
And that's just this year. In May of 2015, Bassam Aladin Al-Rawi was charged with sexually assaulting a passenger when police found an unconscious woman, naked from the waist down, in his backseat.

Search warrants obtained by reporter Sherry Borden Colley state that two other female passengers have made sexual assault claims against Al-Rawi.
Al-Rawi initially had his license suspended, but it was reinstated by HRM's Appeals Standing Committee with stipulations that he's limited to the hours between 6am and 6pm and required to have a camera.
Have you ever felt unsafe in a taxi? Tell us about it by emailing news@thecoast.ca. 


tweet this
Likewise, Ahror Mamadiev had his taxi license revoked after being found guilty of sexual assault in August, 2014 (he was given a conditional discharge) but the standing committee allowed him the chance to reapply for the license this September.

Those are just the cases that have been reported. Like any type of sexual assault, the number of unreported cases is quite possibly far higher. Then again, maybe not. We'd like to try and get a better understanding of the problem but we need your help.

Have you ever felt unsafe in a taxi? Has a cab driver ever touched, assaulted, harassed or creeped you out while you were in their vehicle? Tell us about it by emailing news@thecoast.ca. 

Are you a cab driver who feels the industry needs more regulation (or better enforcement of the regulations that do exist) to protect drivers and keep passengers safe? We want to hear from you as well.


All names and any identifiable details will be withheld, but for extra security there are plenty of disposable anonymous email services available online.