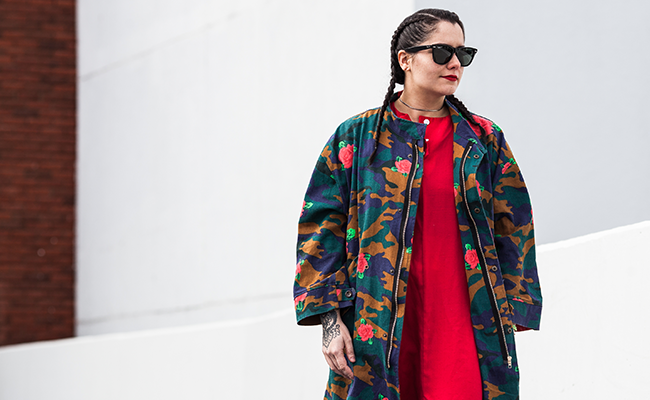 Name: Ashley Wells Age: 29 Occupation: Barber, Oddfellows Barbershop Spotted: Halifax Shopping Centre Wearing: Coat, from Korean shop online; dress, Value Village; choker, Urban Outfitters; undershirt, Tommy Hilfiger; fishnet socks, ASOS; Doc Martens
How would you describe your style? I currently love so much of men's street wear. I am also heavily influenced by hip hop music, and Japanese fashion.
Where do you derive inspiration from when putting together an outfit? Nineties Meg Ryan—she is my style icon—and early 2000s J.Lo and Alicia Keys. 
How does living in Halifax affect your fashion choices? I like to think about is as if I'm heading to a dress-up party. Living in Halifax you never know what the weather is going to be like, so always lots of layers!
Name a current trend that you just can't get on board with? I actually love so many kinds of fashion, as long as people are confident in their style then everything and anything goes in my opinion!
Local hotspot for gems?  Elsie's is great! Guy's Frenchys and Value Village are my usual hot spots.