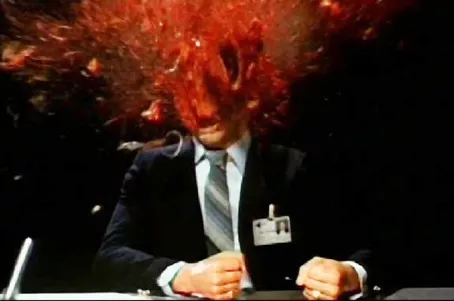 halifax brain explosion (sorry, gross)

This year's lineup for Pop Explosion has confirmed what everyone already knows anyway: Music in and around Halifax is really really great right now. Pretty much every local band you love is on this list, rounding out the earlier announcements of heavy-hitters like the Hold Steady, New Pornos and Sloan doing "Twice Removed." Someone has been paying attention! It is also one of the most diverse line-ups we've seen in awhile. You want dirt rock? There's C'mon for you, jerk! Metal? Shitloads. From Black Moor to Martyr. Do you like dancing and drinking? There's Tupperware Remix Party and Isis from Thunderheist, and the Silly Kissers, and The Golden Dogs who haven't been to Halifax in billions of years, and oh my Gah I have to calm down or something's gonna rupture. And do I really need to sell you on Cursed Arrows or Teenanger at this point? Really?
Would it be brash to say this is my favorite Pop Explosion lineup ever? It's my favorite one. Ever. Also, it bears mentioning that you can see nearly everything below for FIFTY GODDAMN DOLLARS! Fifty dollars. That's the cost of two weekends' worth of booze. Or two weeks of smokes. Or food for like, a day. You should look at that lineup again and really think on that.
edit: sorry, all our links stopped working. please google the bands we mentioned above. Google all of 'em!

A Sight for Sewn Eyes Acres & Acres Air/Fire Amos the Transparent Andrew Watt And The Glory Glory Baby Eagle Bad Vibrations Basia Bulat Bike Rodeo Bird World Black Moor Bloodhouse Boats Boxer the Horse BROKEN OHMS Burning Love Burnt Church C'mon Chanteuse Cold Warps Construction & Destruction Contagium COP SHADES Cousins Crosss Cuff the Duke Cursed Arrows d'Eon Dance Movie Daniel Romano Dilly Dally DJ James Reid Dog Day DOIN' DAMAGE DUZHEKNEW Elephant Stone English Words Erin Costelo Famous Players Fistfight Forest City Lovers Freelove Fenner Fuck Montreal Ghettosocks Ghostkeeper Glory Glory Man United Gramercy Riffs Great Bloomers Great Lake Swimmers Grimes GWAR Handsome Furs High On Fire Holy Cobras Hot Panda Huron Imaginary Cities In-Flight Safety Infernaeon Iron Giant Isis from THUNDERHEIST IT KILLS Jason Collett Jon McKiel Kylesa Language-Arts Last Call Chernobyl Laura Merrimen Long Long Long Martyr Meat Curtains Mess Folk Milks & Rectangles Mobile Deathcamp Modern Superstitions Monogrenade My Brightest Diamond Myles Deck and the Fuzz North End Metal All-Stars North of America Old Man Luedecke Orchid's Curse Panic! Pat Lepoidevin Play Guitar Pop Winds Quaker Parents Quivers Racoon Bandit Radio Radio Random Recipe RatTail Rebekah Higgs Rockets Red Glare Secret Guest Shotgun Jimmie Silly Kissers Silver Dapple Sloan So Cow Soaking Up Jagged STYROFOAM ONES Tasseomancy Teenanger Ten Kens The Casualties THE DARCYS The Extremities The Famines The First Aid Kit The Friendly Dimension The Gertrudes The Golden Dogs The Grass The Hoa Hoa's The Hold Steady THE MODERN MEN The Mountains & The Trees The New Pornographers The Pack A.D. The Pink Noise The Superfantastics the WHITE WIRES The Wilderness of Manitoba The.Daisy.Anthesis Three Sheet Tokyo Police Club Torche Tupper Ware Remix Party Twin Peaks Ty Segall Vilipend We Are Action Windom Earle Wolf & Cub Wordburglar Young Rival