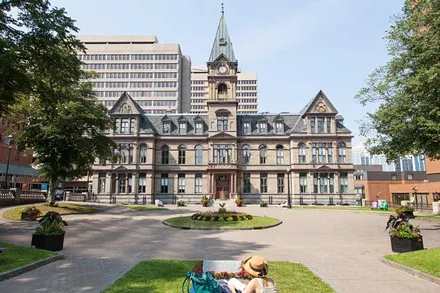 Regional Council has a sobering decision in front of it: find a way to cut services or live with raising taxes.
The warning was part of broad fiscal discussions held during Wednesday's committee of the whole meeting, where manager of financial policy and planning Bruce Fisher told councillors that HRM's expenses (and inflation costs) are outpacing expected revenue.
According to Fisher, it's not sustainable for HRM to continue funding current and planned municipal services and also keep taxes flat over the next four years. Something's got to give, even if that's not a popular decision for a newly-elected city council to make.
"Taxes are a big emotional issue, but it is just the price you pay for your services," said Fisher.
To compensate for the expected financial shortfall, staff are hoping to raise taxes by 1.8 percent and 1.6 percent, respectively, over the next two fiscal years—resulting in an additional $34 on the average single family home. Based on staff's projections, that could work out to a 5.6 percent increase—or $103 more per home—over the next four years.
At the same time, staff is recommending HRM constrain any increase in service costs and try to reduce departmental expenses.
All in all, it wasn't the best news for councillors who campaigned on lowering taxes or increasing municipal services.
"A lot of us said a lot of crazy stuff during the election," said Halifax South Downtown councillor Waye Mason. "We wrote a lot of cheques that we might not be able to cash."
All of those figures are predicated on multiple assumptions about the next four years, including the Conference Board of Canada's prediction that wages across the municipality will somehow increase annually by an average of 2.3 percent. That's not great news either for HRM, given that staff is also worried about Halifax's increasing payroll burden.
Compensation already takes up 50 percent of HRM's budget, and salary growth over the next four years "is not to be taken lightly," according to Fisher—particular as city hall is set to renegotiate six of its seven collective agreements next year.
"We've had good growth," said mayor Mike Savage, "and there is a cost to that growth."
Taxes have remained flat in HRM for three of the last four years. Property taxes actually decreased last year, but rising home assessments negated any savings. The proposed tax rates by staff for next fiscal year are actually down slightly—from $0.813 to $0.807 per $100 of assessed residential value. 

The actual finalized rates won't be determined until next year after all departmental budgets are approved. Spokesperson Brendan Elliott says HRM is "hoping to rely on the assessed value of homes to go up enough" next year that the tax rate can remain the same. Fingers crossed.
Budget discussions will pick up again next month, continuing until April. Fisher's presentation to council is below.