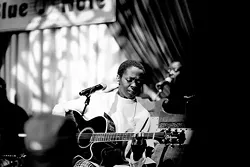 The TD Halifax Jazz Festival dropped its 2016 (and 30th anniversary) lineup this morning and it's a doozy. In addition to the already-announced City and Colour, Metric and–swoon–Ms. Lauryn Hill main stage shows, the festival promises acts for die-hard jazz fans and newbies alike.
Visitings acts include Kendrick Lamar collaborator/ex-Suicidal Tendencies bassist Thundercat, Polaris Prize nominated singer-songwriter Basia Bulat, Laila Biali, OG disco freaks Chic, Julia Holter, New Orleans' The Preservation Hall Jazz Band and Canadian jazz legend Oliver Jones.
Plenty of locals round out the lineup, including Cyndi Cain, Shirley Jackson, Roxy & The Underground Soul Sound, Adam Baldwin, Gypsophila, The New Bridge, Keonte Beals and Reeny Smith.
You can check out the full festival roster here.
Festival passes ($129-$229) are sold out, but you can pick up individual show tix here.
The festival runs July 12-17 at the waterfront main stage and various venues around the city. #HJF30