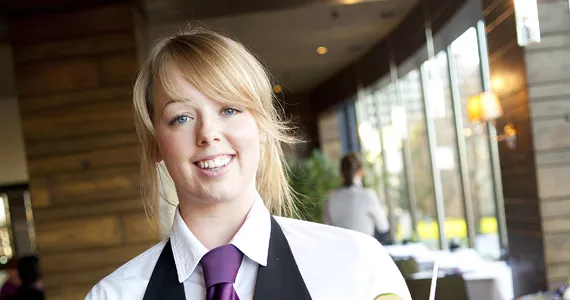 Sometimes I think lobby doors scare people off," says Luis Clavel, nodding toward the bright lobby of the Atlantica Hotel. These aren't the gilded lobby doors of hotels from Toronto to New York and Paris to Hong Kong, doors behind which you're not surprised to discover some of the best restaurants in the world. The Atlantica's sliding glass doors are unexceptional, a glaring contrast to the restaurant inside.
It's easy to judge a hotel restaurant in a smaller city, sight unseen. Holiday buffets and "kids eat free" can turn up noses. But Clavel and his peers at restaurants like Gio, Stories and Trendz are doing their best to turn these notions around.
It's been almost a year since Seasons by Atlantica re-launched after bringing Clavel on board as executive chef. His previous gig saw him turn Cafe 101 at the Holiday Inn Harbourview into an unexpected culinary gem. It's a bit of a repeat performance at Seasons.
"We try to keep up with what the rest of the world is doing," says Clavel. "Accessible pricing is a must, and so is an approachable menu. But do we sous-vide? Absolutely. We sous-vide to perfection."
A restaurant that has long been known to do things to perfection is Gio, a restaurant that pushes the envelope as much as it creates a welcoming menu of familiar flavours.
"You want to keep the doors as wide as possible for as many people to come in as possible," says chef Vince Scigliano. "But when we're cooking we get inspired by funky food that not everybody is going to like. You've got to find that happy medium. You don't want to go too over the top, but you don't want to go too run-of-the-mill, chicken-on-a-Caesar-salad kind of thing."
"Gio has always played this game of 'We're not a hotel restaurant,'" says Shawn Lewis, Gio's manager. "We know we're owned and operated by the Prince George, but from day one we've always come out and tried to go beyond the hotel standard."
Clavel thinks the logic is simple. "Take away the rooms, and we still have a restaurant. It's only when you aren't doing a good job that you become a 'hotel restaurant.'"