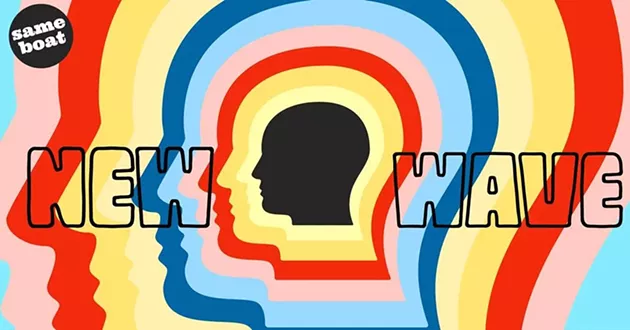 Same Boat presents: New Wave
By Same Boat
Same Boat bills its sketch comedy show,
New Wave
, as "like a seventh installment of Shrek if Kids in the Hall wrote it." While invoking KITH sets a pretty high, nigh unreachable, bar, that's a pretty apt description of Wave's mixture of absurdity and exuberant vulgarity.
In fact, there's an "adult cartoon" vibe to many of these skits. In one piece a performer appears wearing Mickey Mouse gloves; in another, the same performer is a waiter named "Kermit," with voice to match. There's death and blood and amputation, but none of it is to be taken seriously in its dialed-up-to-eleven buffoonery.
How much you'll like the show depends on whether or not this is a style of performance that you enjoy. (I certainly do, although even I might draw the line at "shart" and "talking asshole jokes"—though to be fair these specific jokes depended as much on bizarre juxtaposition as scatology.)
All three performers are gifted and willing to make fools of themselves in the service of comedy. If detectives named "Spanky" ("Spanky is my name, and spanky is my nature") solving condiment-involved murders is your bag, then this is the show for you. - Martin Wallace
The Bus Stop Theatre Co-op
2203 Gottingen Street
$10/$7
Saturday, August 31st at 7:10 PM
Sunday, September 1st at 7:00 PM
Monday, September 2nd at 11:59 PM
Saturday, September 7th at 11:35 PM
The Guy & Archie Show
By Guy Earle & Archie Gillis
As I sat late last Saturday night in the back room of the Fickle Frog, I thought "I've been in this situation too often." The entire audience consisted of four people (including me—a media comp who the ticket-taker greeted with "I've been expecting you," and some Saturday night dude who I think snuck in without paying. The situation wasn't helped by the venue double booking, so that Guy and Archie had to wait for the band in the main room to take a break before performing.)
And that, my friends, is a goddamn shame. Archie Gillis *is* a "Blues master" and the small audience was treated to renditions of All Along the Watchtower and rarely played Stones songs filled with Gillis' dynamic and tasty licks, as well as some (lyrically peculiar to say the least) original songs. Guy Earle, the "stand-up" of the duo, is a fine musician in his own right, usually playing rhythm but occasionally contributing a solo of his own. (His stand up material was mostly of the lukewarm R-rated dad joke variety, but was brief and worked best as a way to transition between songs.)
This is less a "Fringe show" to my mind, than another case of some really good musicians tucked away in the back room and not getting the attention they deserve (a perpetual part of most cities' late night scenes, in my experience.)
It looks like a couple of their future shows have been cancelled, so see them while you can. Even if your fringe experience is taking a different route, sometimes there's truly nothing better than sitting in that back room of the bar, relaxing and feeling that music sending delight right through you. It's how I've spent many a late night, and this time, how I think you should too. - MW
The Fickle Frog Pub
5675 Spring Garden Road
$10/$7
Thursday, August 29th at 8:00 PM
Friday, August 30th at 11:00 PM
Saturday, August 31st at 8:00 PM, 10:00 PM
Sunday, September 1st at 8:00 PM
Tuesday, September 3rd at 8:00 PM CANCELLED
Thursday, September 5th at 8:00 PM
Friday, September 6th at 8:00 PM, 10:00 PM
Saturday, September 7th at 8:00 PM, 10:00 PM
Sunday, September 8th at 8:00 PM CANCELLED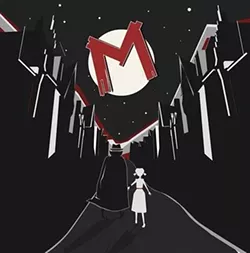 M: The Berlin Murders
Fringe heavy-hitter Dan Bray (co-author of 2018's
Herbie Dragons
and 2017's
The Return to Baker Street
) adapts a 1931 film about the search for a serial child killer.
Viewers are met at the front door of the Bus Stop Theatre at dusk and led around back, past actors already in character: a newsie shouting "Extra!" a detective interviewing a suspect, a blind person selling white balloons. The backlot venue is perfect for this story, making the action more immediate and intimate. Darkness falling around us (all performances start at 8 pm) adds a delicious creep factor.
The subject matter feels a little outdated in a world where the danger most children face is not going to come in an anonymous stranger on the street, and were I to quibble I'd say I'd love to see this staging interrogate that idea and the misguided moral panic it creates a bit more. But the dialogue is slick, the cast on point and the narrative gripping. Wear long sleeves against the mosquitoes and September (!) chill, and book your tickets early, its a small venue that is sure to sell out. - NM
Bus Stop Parking Lot
Behind 2203 Gottingen Street (via Maitland)
$8/$5
Friday, August 30th at 8:00 PM
Sunday, September 1st at 8:00 PM
Wednesday, September 4th at 8:00 PM
Thursday, September 5th at 8:00 PM
Friday, September 6th at 8:00 PM
Saturday, September 7th at 8:00PM
Sunday, September 8th at 8:00 PM

The Story of Claude the Cloud and Luc the Lake
By Fiona Ryan
A lonely lake and a cloud searching for home fall in love, but are torn apart by a vengeful wind. Can the sun and moon conspire to bring them back together?
Told with shadow puppets, live music, and a narrator who might remind you of a certain man from the neighbourhood (he even changes his shoes and sweater when he comes in), this is a whimsical little piece about finding belonging. (The end, on the other hand, is either a co-dependent nightmare of subsumed identity or something I'm entirely overthinking.)
The best part was when the puppeteers came out to do a show and tell at the end so we could peek behind the screen and see how the magic is made—the lake is very inventive.
Brief enough for kids with a short attention span but substantial enough to feel worthwhile for everyone. And hey, it's nice to see queer content presented for kids like it's no big deal—more same-gender earth/sky romance please! - NM
Neptune Imperial Studio
1589 Argyle Street
$5
Sunday, September 1st at 2:00 PM
Monday, September 2nd at 3:15 PM
Wednesday, September 4th at 7:00 PM
Sunday, September 8th at 11:15 AM, 3:45 PM
The World at Our Feet at Halifax Fringe
By LEGacy Circus
The performance of
The World at Our Feet
begins with April Hubbard (also the chair of Halifax Fringe) entering the stage in a wheelchair. She invites us to look at her. We do. She stands, walks to the trapeze, and wraps herself in.
The short intro performance is an amuse-bouche for the longer act of Erin Ball and Vanessa Furlong that follows, and perfectly sets the tone for what is to come. Not only a trapeze, circus, and stilts performance, but also a display of resilience and fortitude. Ball has been a circus performer for many years, and is also a double-amputee. She uses prosthetics, which are cleverly incorporated as props during parts of the show, but which are removed for the majority of the performance.
The show is highlighted with enhanced narration for blind and partially sighted audience, and also serves to add an element of simple poetry to the movements. "She looks at her hands", the voice says, and the performer looks at her hands. "She spins," the voice says, and the performer spins.
The World at our Feet
brought me and much of the audience to tears. When Ball's wheelchair was suspended in the air, and she hangs and swings and spins above it, there is unshakeable feeling of wonder and awe at the human body and its capacity to overcome life's obstacles. With only three performances, the run has sadly already ended, but keep an eye out for LEGacy Circus in the future. You will not want to miss them. - Michael Lake
Neptune Scotiabank Studio Theatre, 1589 Argyle Street
$15/$12
Friday, August 30th at 4:45 PM
Sunday, September 1st at 1:40 PM, 6:25 PM
Life on Flat Earth

By Nicholas Cox
Life on Flat Earth
is your typical Fringe fair. It is weird, wacky, and doesn't take itself too seriously. It's almost like someone got stoned, thought of a "really good idea", and then applied to the Fringe festival with it before they sobered up. That's not necessarily a bad thing, but it's not a thing for everyone.
The premise is this: David (Dan Bray) believes the earth is flat and so kidnaps his girlfriend Lucy (Audrey Eastwood) and brings her to a bunker at the ice wall that surrounds our planet. So she will believe him? So she can help him uncover the government conspiracy? Who cares. They first argue about the kidnapping, then about the earth being flat, and then about how to get out of the bunker, and then about other things that don't really make sense. The way the characters and situation are set up, I can't imagine anybody to be invested in the outcome
Flat Earth
, but it is still fun to watch. This is mainly due to the performances of Bray and Eastwood, who are funny, charming actors, who hold attention where the script does not.
I imagine this show is best served to the late-night-Fringe-goer, maybe with a drink in hand, or a toke in lungs.
Flat Earth
won't shake your world, but it'll probably make you chuckle. - ML
The Bus Stop Theatre Co-op, 2203 Gottingen Street
$10/$7
Friday, August 30th at 5:30 PM
Saturday, August 31st at 1:00 PM
Sunday, September 1st at 10:00 PM
Monday, September 2nd at 8:00 PM
Tuesday, September 3rd at 5:15 PM
Wednesday, September 4th at 6:30 PM
Thursday, September 5th at 5:30 PM
Friday, September 6th at 1:00 PM
Saturday, September 7th at 12:40 PM
Sunday, September 8th at 7:00 PM