Great Kettle for the People
By Troy Ginter
I wanted to like
Great Kettle
more than I did. Fussy old ladies speaking in that Maritime accent about what makes the best cup of tea makes me homesick. For those of us who grew up in certain rural Maritime towns at certain times, it is an achingly familiar thing.
Unfortunately,
Great Kettle
doesn't live up to my hopes. The performance I saw was the first one (there are only two) but it suffered from more than the usual number of opening night flubs. Even taking that into account, however, like many a first time Fringe production, the play seems unfinished, the plot points awkwardly timed, the structure uneven, and the dialogue unpolished.
The well-known Cathy Jones is in this production, and while her fussy old lady persona is legend, here she uses it primarily to cover the fact that she has not learned her lines. Other audience members seemed to find her winks to the audience and "in-character" calls for line reminders funny but to me it simply reinforced the incomplete nature of the play.
The second and final performance may go more smoothly (and Jones promised at the end of this one to learn her lines), but I think a lot more work is required to make this a functioning play. - Martin Wallace
2202 Gottingen Street,
PWYW
Saturday, August 31st at 2:50 PM
Saturday, September 7th at 6:35 PM
Sex Before Marriage?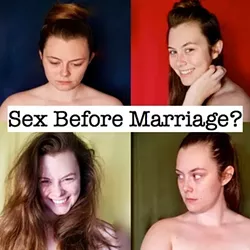 by Celia Rossiter
As I noted in a review years ago, there seems to be an emerging genre of one-woman confessionals, whereby a performer delves deep into their life story in front of an audience. Often, as is this case in this show, they reveal much about their sex lives, and about the joys, complications and traumas that make them up.
It's hard not to feel a bit voyeuristic watching these, as if one were somehow witness to a therapy session. (In fact Rossiter explicitly makes the connection between personal therapy and the writing of a fringe show.) The skill of the performer comes in making this material palatable to an audience, and that's why these shows almost always carry an element of dark or self-deprecating humour.
Marriage
is very much in this mode, and one of the more polished examples of this genre I've seen. Rossiter delivers her well-organized material with humour and charm, which is a good thing, because she reveals everything without filter.
Whether or not you should see this show, depends on how comfortable you are with deeply personal material. If you are prepared and want to experience this genre,
Sex Before Marriage?
is one of the better places to start.
(Note: One of the things Rossiter reveals about herself is that she laughs when she's in situations that make her nervous—leading to some extremely awkward situations. Charmingly, when the performance was over and the audience was leaving, you could hear Rossiter laughing uproariously in the background.) - MW
Neptune Imperial Studio,
1589 Argyle Street
$5/$3
Friday, August 30th at 10:40 PM
Saturday, August 31st at 9:55 PM
Wednesday, September 4th at 9:00 PM
Thursday, September 5th at 8:15 PM
Friday, September 6th at 9:25 PM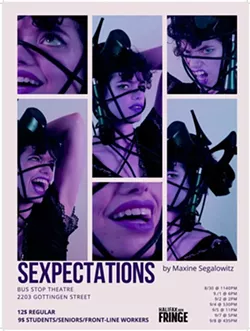 SEXPECTATIONS
By Maxine Segalowitz
Maxine Segalowitz's
SEXPECTATIONS
is billed as a "solo performance of stand-up, dance, and clown," but to be honest, I didn't find it funny—-instead I found it riveting, macabre, even a little bit frightening.
Dancing in high heels, sometimes on her feet, sometimes dangling from her heels by their straps, Segalowitz aggressively flings her limbs in all directions. Some of her choreography seems to be a bizarro replication of the "sexy" moves of exotic dancers, but they are altered to carry more wild energy than erotic charge. Other movements have her on her back, holding a mic stand by her toes alone. At times Segalowitz is in bright light; at others the lights are extinguished. Sometimes she loudly croons at us from center stage (emitting an impressively long "orrrrrrrrrrrrrrrrrrrrrrrrrrrrrrrrrrrrrrrrrrrr"), and sometimes she speaks softly, her face inches from an audience member.
Segalowitz's show is meant to make a statement about the sex work of stripping and to trouble the relationship it entails between sex, power, and money and that between performer and audience.. Regardless of how you receive that message, you will be caught up in the inescapable energy of Segalowitz's performance. - MW
Bus Stop Theatre Co-op
2203 Gottingen Street
$10
Sunday, September 1st at 6:00 PM
Monday, September 2nd at 2:10 PM
Wednesday, September 4th at 5:30 PM
Thursday, September 5th at 11:00 PM
Saturday, September 7th at 5:00 PM
Sunday, September 8th at 4:35 PM
Rogue: Contemporary Circus
By Breaking Circus
Having been wowed by Dawn Shepherd and Ryan Gray's
Nascent
at the 2017 Fringe,
Rogue
was top of my list this year and I was not disappointed. Shepherd and Gray are back with an expanded team of performers for their biggest show yet.
A circus is in decline after their site is contaminated in 1939. Signs warning of hallucinogens in the water hang next to portraits of the performers from glory days a decade earlier, when Silky the Happy Clown was less angry and the tiger was safely contained. Now, things are tense. The performers interrupt each other's numbers. The tiger is missing and so is Silky's nose.
There are lots of fun details for the sharp-eyed observer, and some bold choices that pay off. I don't think I've ever seen aerial done quite so angrily before, but Aiyana Graham fighting with the silks fifteen feet up was captivating even without a soundtrack. Watching Shepherd on the trapeze while
Strange Fruit
crackles on the radio is at once eerie, uncomfortable and triumphant, her dynamism a contrast to the grave lyrics.
There's also juggling, hoop diving, contortion and a chicken man (Gray) in an absurdly dramatic aerial strap number. This is the must-see circus show of the Fringe. - Nicole Maunsell
Halifax Music Co-op, 2164 Barrington Street
$15
Thursday, August 29th at 8:00 PM
Saturday, August 31st at 8:00 PM
Wednesday, September 4th at 8:00 PM
Friday, September 6th at 8:00 PM
Sunday, September 8th at 8:00 PM

The Encounters of an Adventurous Snail
By The Unnatural Disaster Theatre Company
I'm sure that the intersection of shadow puppetry, musicals and the poetry of Federico García Lorca (I have to admit to not being familiar) is extremely relevant to a very specific kind of person and I hope that person finds this play. For the rest of us, it's still worth inching along for the ride as an intrepid snail leaves the safety of the forest floor to find out what they believe, traveling through meadows, ponds and hills to meet a scheming spider, conformist ants, an elderly firefly and leering frogs.
The projected landscapes are simple and beautiful; the tinting with coloured gel filters is a nice touch. The performers, who act alongside the projected puppets, are skilled at physical theatre—my favourite was when the five chorus members create a storm with their bodies around the terrified snail. The plot is...perhaps beside the point, because each number has something to offer, from humour to whimsy. I was a little bewildered, but overall charmed. - NM
The Bus Stop Theatre Co-op, 2203 Gottingen Street
$10/$7
Friday, August 30th at 3:30 PM
Saturday, August 31st at 11:30 AM
Sunday, September 1st at 4:30 PM
Monday, September 2nd at 11:30 AM, 5:00 PM
Wednesday, September 4th at 1:00 PM
Thursday, September 5th at 1:00 PM, 8:30 PM
Friday, September 6th at 8:00 PM
Saturday, September 7th at 6:00 PM
The Other Mozart
By Silvia Milo
Nannerl Mozart was the sister of Amadeus Mozart, and a child prodigy in her own right. She travelled Europe playing the harpsichord and was praised for her unique talents. But why have most people never heard of her? How did it come to be that Amadeus Mozart's legacy overshadowed his sister's?
The Other Mozart
explores these question to somewhat satisfying results. The production is beautiful to watch (the light, sound, costume and set design are spot-on), the performance by Sofi Lambert is compelling, but Milo's script lacks the nuance to sustain the 70-minute runtime (opening night was closer to 85). By the play's end, it felt like we were told the same story several times over, and I was left feeling like I didn't know much about who Nannerl Mozart was, only who she was not: her brother. - Michael Lake
*For an added treat, this production is presented in both English and French.
Neptune Scotiabank Studio Stage, 1589 Argyle Street
$15/$12
Saturday, August 31st at 3:30 PM (English)
Sunday, September 1st at 9:45 PM (English)
Monday, September 2nd at 8:00 PM (English)
Tuesday, September 3rd at 10:30 PM (Français)
Wednesday, September 4th at 9:00 PM (Français)
Monster
By Daniel MacIvor
Monster
is the kind of solo play that is almost impossible for even the most skilled actor to pull off. It requires a kind of energy that both disarms the audience while threatening to pull the rug from underneath them. From the first few beats of the performance, it is clear we are in capable hands. Taylor Olson deftly navigates a web of stories and characters, switching between them at breakneck speed; his performance is astounding, or to use more technical acting terms: fucking bonkers.
The plot of the play doesn't need to be explained; it is better to be in the room with it. But the crux of MacIvor's compelling script, and this production (expertly directed by Julia Schultz), is right there in the title: there are monsters among us, maybe you know them, maybe they're your neighbours, or maybe it's you.
Monster
is a scary, elegant, and is perfect late-night Fringe viewing. Do not miss this one. – ML
The Bus Stop Theatre Co-op
2203 Gottingen Street
$10/$7
Friday, August 30th at 7:00 PM
Saturday, August 31st at 2:30 PM, 11:30 PM
Sunday, September 1st at 8:15 PM
Tuesday, September 3rd at 11:00 PM