Bubble Trans Pride & Holding Hands with the Awkward
By Hanlon McGregor and Syrus Marcus Ware
"We find out who our community is by going through the hardest times together."
Queer communities are struggling to address our racism and transphobia, and trans people of colour are affected twice over. At the centre of this story is Tyler (Tsholo Khalema), a trans artist and Black Lives Matter activist (as is co-writer Ware). He falls for Bob (Mihaly Szabados), a white cis man who turns out to be part of the problem. Where do you find solace when you can't turn to the people you love?
McGregor and Szabados brought their touching play
Unexpectedly Trans
to last year's Fringe, and it's great to see them back with an expanded cast tackling timely issues. Khalema is an excellent addition, providing an earnest and contemplative performance.
Bubble
gives us moments rarely seen on stage like tender queer intimacy and an intergenerational friendship.
The production had my heart from the beginning, when a video of Tyler's young child practicing chants for the trans march screens, providing a counter to the very real uncertainty that Tyler, and all of us feel in "these in between times." He asks: "What if we don't win?" We can,
Bubble
insists, but only if we figure out how to support each other.
Following the play is a screening of
Holding Hands with the Awkward
, a sweet film about the difference a cup of tea with someone who gets you can make. -
Nicole Maunsell
The Old Company Theatre, 2202 Gottingen St
$10/$7
Friday August 31st 10pm
Saturday September 1st 2pm
Sunday September 2nd 11:45am
Monday September 3rd 4:45pm
Tuesday September 4th 7:40pm
Thursday September 6th 9:10pm
Saturday September 8th 8pm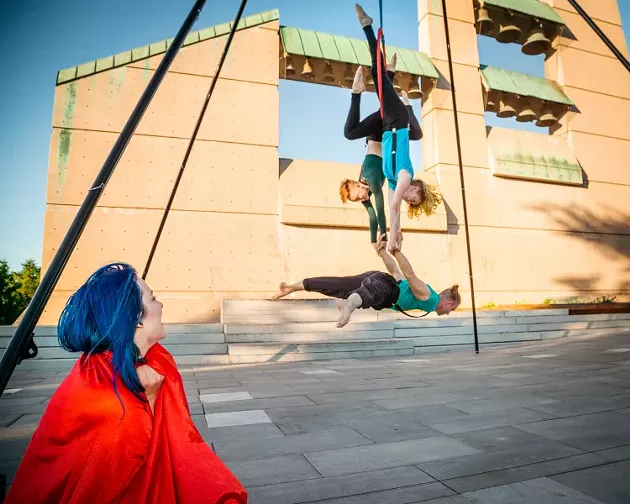 Liminal Flight
By Cait Anthony, Madelaine Higgins & Alex Smith
Halifax Circus instructors Dislocait, Mx. Mads and Apex bring an escape from the drudgery of everyday life to the outdoor stage at St. Matthew's Church. The acrobats invite the show's listless and dissatisfied protagonist (a performer that rotates each night) into their off-kilter world for a change of pace. At first they terrify and taunt with jerky contortions and an impressive acrobatic "dragon" (I gasped). They soon mellow into a light-hearted trapeze, delighting the protagonist, who joins them to give us an LED object manipulation display.
My tiny complaint about this show is that it's top-loaded: the most impressive feats were closer to the start, and my inner three-year-old shouting "Again! Again!" was not satisfied.
Bring your little ones: if they aren't captivated like the ones at my show were, there's plenty of room for them to run around in the enclosed courtyard making dragons on their own. -
NM
St. Matthew's Church, 1479 Barrington Street
$10/$7
Friday Aug 31st 7:30 & 8:30pm (FIRE)
Saturday Sept 1st 7:30 & 8:30pm (LED)
Sunday Sept 2nd 7:30 & 8:30pm (LED)
Wed Sept 5th 7:30 & 8:30pm (LED)
Fri Sept 7th 7:30 & 8:30pm (LED)
Sat Sept 8th 7:30 & 8:30pm (FIRE)
Sun Sept 9th 7:30 & 8:30pm (LED)
Shylock
By Mark Leiren-Young
Ok, let me get this out of the way first. I think that you should see this play. The writing and acting are at a professional level above most Fringe productions, and as a student of Shakespeare, I adored some of the historical and textual analysis and Lee J Campbell's performances of scenes from
The Merchant of Venice
are bone-chillingly good.
But let's get straight what this is: it's not a play, or even a monologue; it's a thinly dramatized opinion piece. And by its woeful reference to these "hypersensitive times," you know what set of opinions it's expressing.
The main character is an actor, who portrays Shylock in a production of
The Merchant of Venice
that is closing down due to complaints about the play's anti-Semitism. (To the author's credit, he wholly admits the anti-Semitism of the play, rejecting the special pleading of those who interpret it as a plea for tolerance.) He's sitting down now, exhausted and exasperated, to explain "art" to us.
And we're off! And all the usual strawmanning, mocking and oversimplification of the arguments of those concerned with the portrayal of minorities comes into play. They're censorious, they're simple-minded, they just don't "get" art. They should be fighting "real" racism. The actor can't be participating in anti-Semitism because he's Jewish himself. We also have mentioned the ignorant teenager who thinks racism is bad but doesn't know what a "Nazi" is, and the shrewish female professor with the exotic name who spits on the actor. (For bonus points there's also a reference to
Othello
. Why can't this White actor portray him? He's an actor isn't he?!)
If you think my reaction steps outside of the bounds of reviewing, let me respond by saying that's the main problem with this point of view. Anyone from a vulnerable population upset or harmed by a portrayal has no recourse to challenge it, lest they be accused of straying beyond the bounds of "art." With the unacknowledged power dynamics in play, for me that's a far more chilling and plausible example of censorship than the book-burning scare fantasies that this and similar arguments indulge in.
To use one of the play's own examples, when someone's child is bullied with anti-Semitic slurs after
The Merchant of Venice
is taught at their school, we've got to have better answers than a shrugging "Well, is that Shakespeare's fault?"or a sarcastic "Well, let's just burn every book then." We've GOT to. -
Martin Wallace
The Waiting Room, 6040 Almon Street
$12
Friday August 31st 10pm
Saturday September 1st 3:40pm
Monday September 3rd 7pm
Wednesday September 5th 7pm
Friday September 7th 9pm

The Road to Connamara
By Dusty Keleher
I recommend arriving at
The Road to Connamara
early. Before the show officially starts, you'll hear Dusty Keleher playing songs on a guitar in Celtic fingerpicking style. Once the show begins, the guitar is put down and never taken up again (my one slight disappointment with the performance).
The show proper is a collection of Irish tales and sean nós singing, an unaccompanied, highly ornamented Irish vocal style. The sean nós songs are themselves stories, and while the subject matter of all the tales is sometimes historical (events in the lives of Keleher's own ancestors) and sometimes mythical (the tale of legendary hunter/warrior Finn McCool), there's a thematic unity that makes it seem as if you're hearing one single narrative.
It's commonplace now to speak of the melancholy aspect of Irish culture, but it's inescapable. Even the most joyful songs here carry notes of sadness, of awareness of the inevitability and unpredictability of death. Even falling in love comes with the knowledge that at some sad day in the future, one of the lovers will die.
While this melancholy is leavened with absurd folksy humour ("the cow ate the piper"), it seems to me that the most hopeful note is not in the songs and stories themes or contents but in their very existence. The fact that they have been passed on, that Keleher has written new songs in the Irish language about his own ancestors, and that he can point to himself as the living breathing conclusion of one of his tales, reveals the songs as the embodied history of a culture that has persisted despite centuries of hardship and persecution.
The evening I attended, with two exceptions, the audience was a sea of grey hair. I'd hate to see a form that has survived attempts to wipe it out fade away simply from lack of interest.
The Road to Connamara
is not as flashy as some of the more exuberant productions, but it's well worth your time. -
MW
Plan B Co-op, 2180 Gottingen Street
$10
Friday August 31st 9:30pm
Saturday September 1st 7pm
Sunday September 2nd 2:30pm & 8pm
Tuesday September 4th 9pm
Friday September 7th 6:20pm
Saturday September 8th 1pm & 5:20pm
Sunday September 9th 9:10pm
Let's Make a Deal (with the Devil)
By Elspeth Bullock
Head down a dark alleyway, lit only by small red lights. Open a door and you're enveloped in loud bass heavy music with eerie strangled vocals. There's a pentagram on the floor. Look up and a horned woman in red clothes walks by with an evil smile. Where are you? Haven't you figured it out? You're in Hell, pal!
And what a hell it is!
Let's Make a Deal
is held at Kamphyre Creative, a visual media/circus arts space. In most cases one should review a performance, not a space, but Kamphyre with its sound system, corner stage, and high ceilings equipped with aerial apparati is an integral part of the performance. (It also has a bar and couches (couches!) for the audience.)
Deal
is a showcase of "circus arts" with the controlling conceit that each performer is acting out their side of a bargain they've made with the devil. Each performance is excellent and surprisingly distinct. Not only does each performer use a different medium (hoops, scarves, batons), they also move in ways that seem individual to them. It's mesmerizing, and one watches with a mixture of amazement and some envy of performers who seem in absolute control of every muscle in their body.
Apparently we're losing Kamphyre at the end of the month, as the building is yet another victim to Halifax's apparently unstoppable move toward "progress." The space owner tells us that Kamphyre will eventually arise from the ashes in a new space and be even better than ever. I hope so. I think it's a hell of a place to spend a Saturday evening. -
MW
Kamphyre Creative 6070 Almon Street
$15/$12
Friday September 7th 8:30 pm
Saturday September 8th 7:30 pm

She Wolf

By Gillian English
Gillian English returns to the Halifax stage for her newest Fringe show,
She Wolf.
Draped in purple velvet and wearing a golden crown, English is Queen Margaret of Anjou, wife to King Henry VI of England. She's also one of the most cursed figures in history. Armed with a book entitled,
Shit Shakespeare Put In My Mouth
, ex-Queen Margaret returns from Hell to address the damage done by Shakespeare in four of his plays. Did you know she's been Queen of England twice? I didn't— and there's good reason for that.
In the Shakespearian canon, English states that the majority of female characters fall into three categories: the naive virgin, the blood-lusting murderer, and the old maid. It's compelling to see how Margaret of Anjou falls in each of Shakespeare's arbitrary categories in the pages of his King Henry VI trilogy and
Richard III
. Forget that Margaret was a fifteen-year old shipped from France to marry and get knocked up by King Henry VI to amend years of warfare. Forget that she was ignored while defending the period's divine-right theory as male nobles around her made illegal moves to usurp the throne from her husband and son— and got away with it! Forget the pain of watching her loved ones die violent deaths.
With the mouth of a sailor and zero shits given, English is fantastic in her newest role, further cementing her status as my favourite Fringe performer. She's a force to be reckoned with and she's not budging for anyone. Listening to her tear Shakespeare a new one was unexpectedly satisfying and the fact that the patriarchy's strength hasn't dwindled that much since the 1400s isn't that shocking. English is angry as hell. There's no arguing when she says that history plays aren't history books and the injustices exacted upon Margaret are unrivalled by any other Shakespearean figures. Moreover, in true blunt English-style, she asks: does it really matter what someone did when all you remember is someone else's version? -
Carey Bray

Bus Stop Theatre, 2203 Gottingen Street
$15/$12
Thursday August 30th 7pm
Friday August 31st 8pm
Saturday September 1st 11:30am
Sunday September 2nd 7pm
Monday September 3rd 4pm
Tuesday September 4th 6pm
Wednesday September 5th 8pm
Thursday September 6th 5:30pm
Friday September 7th 10:30pm
Saturday September 8th 2:30pm
Sunday September 9th 11:30am
Oh, Crap, My Scarf!
By Kevin Hartford
When it comes to Fringe season, it's clear that playwright Kevin Hartford is a busy man. He's also one of the most inimitable. The proof is in the proverbial pudding with his newest energized caper, subtly entitled
Oh, Crap, My Scarf!
Featuring the acting talents of Lesley Smith and Garrett Barker, (veterans of his last Fringe show,
I The Greatest: The Dan Bray Story
)
Oh Crap
revolves around characters Ellen and Harold, a couple living in hiding in the picturesque Italian countryside after robbing a bank and stealing from the French Hell's Angels. However, when bodies start dropping around them they're forced to flee their idyllic setup. The result is a farcical twenty five minutes that offers up a lot of laughs but not much in the way of answers.
Smith and Barker have undeniable charm onstage together. Donning a silver wig, a hilarious transatlantic accent, and looking for any excuse to burst into a dance number, Smith is in her scene-stealing glory as Ellen. Barker complements Ellen's zaniness as the articulate, thoughtful Harold, yet watching him as the beard-stroking straight-man to Smith never drums up the laughs his costar achieves.
It's really in the last ten minutes of the show that
Oh Crap
starts fizzling. Kayla Gunn's brief appearance, although fun, doesn't make a whole ton of sense in a show already mired in insanity. I also wanted more in the way of answers regarding Ellen's and Harold's need to flee Italy. Hartford definitely holds all the necessary means to make his play a well-rounded piece of comic gold— I just wish he applied them more here. -
CB


Bus Stop Theatre, 2203 Gottingen Street
$7
Thursday August 30th 8:30pm
Saturday September 1st 2:30pm
Tuesday September 4th 9pm
Thursday September 6th 7pm
Saturday September 8th 5:30pm
Brunch! The Musical

By Carlos (Vitta) Morales and William Karras
Having experienced Halifax Fringe for four years now, I've noticed that musicals tend to be a rare commodity. So, suffice it to say, it was pretty fun to get the chance to check one out. Based on director Vitta Morales' experiences working in restaurants as a youth,
Brunch! The Musical
is story told within the confines of a professional kitchen. The result is a fun, energized musical outing, which thanks to the live band and orchestral supervision of William Karras, will check the boxes for many musical aficionados.
In terms of story,
Brunch
follows the arrival of the newly-hired dishwasher Jonas (an earnest Kenio Gilbert) for a restaurant firmly set in a downward state of decline. The reason for this tailspin can be traced to its surly owner Ralph (Director Morales) who, for reasons unknown, has lost all interest in keeping his business afloat. His apathy has infected the current staff, all of who see the job as a dead end. It's not until Jonas' bright-eyed, innocent personality enters the kitchen does the situation reverse itself and the musical numbers begin. Technical and volume issues aside (which is to be expected on opening night)
Brunch! The Musical
can offer a welcome break from some more dramatic and deeper Fringe fair. And just like real brunch, the jokes are cheesy and the play's satisfactory ending and talented cast helps the eggs go over easy… I'll see myself out. -
CB
Bus Stop Theatre, 2203 Gottingen Street
$10
Saturday September 1st 7pm
Sunday September 2nd 10pm
Monday September 3rd 7:30pm
Tuesday September 4th 10pm
Harbourtown
By Mark Foster
Harbourtown
is a drama about a sinking town on the eve of collapse. The plot involves political conspiracies, love triangles, murder, and more than a few monologues about destruction, utopia and the meaning of it all. Mark Foster's script is overflowing with plucky earnestness as it explores three interconnected stories that reveal the ways these characters behave in a crisis.
The framework of the play is an interesting one, but the writing often seems like the musings of undergraduate philosophy student. Which isn't necessarily a bad thing, but it is a particular thing. Despite a grandiose vision,
Harbourtown
doesn't succeed much farther than a cool idea that is more than a little overwrought. Clocking in at 70 minutes, the desired effect might have been achieved in half the time and with half the plot. There are some entertaining moments, and a few glimpses of beautiful lyricism in Foster's writing, but overall
Harbourtown
could use another edit or two. -
Michael Lake
The Waiting Room, 6040 Almon St
$8/$5
Thursday August 30th 11:10pm
Saturday September 1st 11am & 10:20pm
Sunday September 2nd 2pm
Saturday September 8th 7:30pm & 11:30pm
Sunday September 9th 8pm