Mind Games
By Jeff Newman and Hannah Rudd
If there's ever a show that made me scream "What's going on?" five million times (and quite childishly, mind you) it's the instantly likeable and talented mentalist Jeff Newman's aptly titled show,
Mind Games
. An immensely entertaining experience, I struggle to remember an event in recent memory that left me scratching my head in astonishment whilst coming up with absolutely no plausible explanations. It's a step up from a magic routine where you can at least hypothesize a somewhat possible theory for what's happening, Newman's audience-based participation performance is one of the most memorable, must-see shows you will experience this side of Fringe. –
Carey Bray
The Bus Stop Theatre, 2203 Gottingen St.
60 min.
$15/$12
Friday September 1, 6:45pm
Saturday September 2, 1:05pm
Sunday September 3, 8:35pm
Monday September 4, 7pm
Tuesday September 5, 11pm
Friday September 8, 8:40pm
Saturday September 9, 1:40pm
Sunday September 10, 5:30pm

Heritage Minutes Live
By Conor Purdy
Judging from the looks of enjoyment from audience members watching the adapted-to-stage performance and unexpected box-office behemoth, the nostalgic
Heritage Minutes Live
has been well worth the hype. For most people, Canadian history is not always the juiciest of theatrical materials, so kudos to writer/director Connor Purdy and his troupe of performers (Ian Sinclair, Jane Scott, Kathryn Reeves, and Christian Young) for undertaking and performing an idea, which under the wrong hands may have been repetitive and stuffy, into a minimalist format that manages to be amusing, approachable, and never boring.
Whereas the apparently very beloved Heritage Minutes come to a whopping total of 85 television spots, it's fun to see Purdy & Co. do their utmost to do as many as possible justice in a quickly fleeting hour. (The added challenge of ten separate moments in only one minute was a delightful bonus). For so many, the spirit of Fringe is to have as much fun as possible and it was great to see a show where the cast seemed to be having just as much fun as the audience. Full of classic quote-worthy favourites as well as more obscure ones for the less seasoned Heritage-veterans (in which I include myself), Heritage Minutes Live is an unabashedly patriotic time for all. –
Carey Bray
The Bus Stop Theatre, 2203 Gottingen St.
60 min.
$10
Friday September 1, 11:25pm SOLD OUT
Saturday Sept 2, 4:05pm SOLD OUT
Sunday September 3, 4:40pm (All-Ages) SOLD OUT
Monday September 4, 12:45pm (All-Ages) SOLD OUT
Thursday September 7, 10:15pm / 11:45 pm
Friday September 8, 7:10pm SOLD OUT
Saturday September 9, 6pm SOLD OUT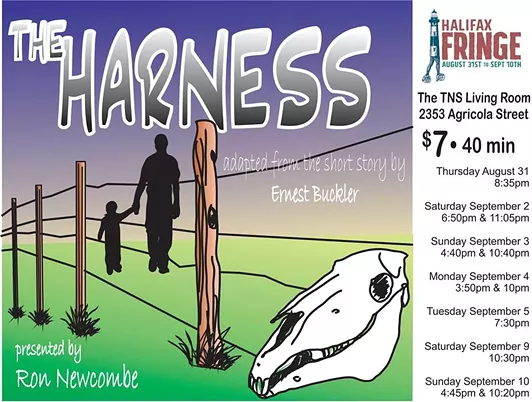 The Harness
By Ron Newcombe
Actor Ron Newcombe is back again in the Halifax Fringe with
The Harness
, a little gem of a play. Adapted from the short story by Ernest Buckler, Newcombe presents a one man show based upon the tests of fatherhood. Much like his prior 2014 Fringe show
The Wakowski Brothers
, Newcombe is engaging and affable. Making the most of The Living Room's limited space in his forty minute show, Newcombe switches between the role of father/narrator Art and his young son David, playing both roles with ample amounts of sincere conviction. Art is an almost overly verbose man (a bold statement coming from me, I know) constantly grappling with his patience while raising a boy he doesn't fully understand. David alternatively is filled with star-eyed innocence; he's trying his best to comprehend a mortal world around him that has habitually painted him as an outsider.
The Harness
keeps a steady-handed pace, taking time to build integral relationships and inspiring crisis for the audience when Buckler's work demands it. It is touching and a nuanced reflection on how the connections with those closest to us are ever changing. It's my understanding that this show has had a heartbreakingly low attendance turnout so please try to check out this performance before it's gone. -
Carey Bray
The Living Room, 2353 Agricola St.
40 min.
$7
Thursday August 31, 8:35pm
Saturday September 2, 6:50pm & 11:05pm
Sunday September 3, 4:40pm & 10:40pm
Monday September 4, 3:50pm & 10pm
Tuesday September 5, 7:30pm
Saturday September 9, 10:30pm
Sunday September 10, 4:45pm & 10:20pm


Somebody Dies! (Maybe): a Play With No Script
By Quentin Matheson and Jeremy Voltz
Amie Everett, Quentin Matheson and Jeremy Voltz are my new favorite improvisers: they told us at the start of the show that there would be no audience participation and they kept their word. The three friends use nothing but chemistry and trust, earned from studying improv together for 8 years, to perform a half-hour long-form scene that starts wherever they are onstage when the lights go up. It's not a spoiler, because it'll be different every night, so I can tell you that at our showing, somebody did die, and was resurrected, and died again, to lots of laughs from the audience. Definitely worth the $5. –
Nicole Maunsell
Plan B, 2180 Gottingen St.
30 min.
$5
Thursday August 31, 8:30pm
Friday September 1, 9:40pm
Saturday September 2, 2pm
Sunday September 3, 8:40pm
Monday September 4, 7:30pm
Tuesday September 5, 9pm
Wednesday September 6, 7:30pm

Carpe Noctem
By Kathryn Reeves
"Hearts are wild, what is stronger than a human heart?"
Two muses with flowers in their hair (Nikki Timmons and Dana Rhyno) guide us through a tale of two women trying to find the the light. Sarah (Kirsten Bruce) shows up to her friend's apartment with a suitcase and broom in hand, piping in a shrill voice: "You shouldn't leave a key under the mat... People can break in. It's really typical."
Thus begins Sarah's obsessive mission to "fix" the seemingly sad life of one very headstrong woman named Steph (Kathryn Reeves). But her lifestyle magazine-informed program for perfection is too suffocating for Steph's sensitive soul to bear. "I'm not spending the rest of my life on my knees, Sarah," she says.
Sarah claims she is the only one who really sees her friend for who she is, but it's soon revealed that her desire to help her friend fills an aching hole in her own heart.
The tight dialogue will strike a chord with anyone struggling with boundaries in a relationship embittered by personal or social demons – though it could have delved into the darkness a little bit more.
Reeves says she was inspired to write what is her first play "after hearing someone refer to their mental illness as a roommate they couldn't kick out."
"Too often I hear and see people who think of it as a friend or an enemy but with no in-between. In my own experience, mental illness is often a coping mechanism, a part of you that is doing the best it can in the situation it finds itself in. And valid. I think it's easy to forget that the pain people feel when they become overwhelmed by their own thoughts and voices is a valid pain."
This is Reeves' third Fringe in Halifax but first production for the Little Bird Theatre Company. –
Rana Encol
Old Pool Hall Theatre, 6050-6070 Almon St.
50 min.
$10
Thursday August 31, 11:50pm
Saturday September 2, 11:40am & 9pm
Sunday September 3, 12:40pm & 6:40pm
Monday September 4, 3pm
Wednesday September 6, 10:55pm
Friday September 8, 5:40pm