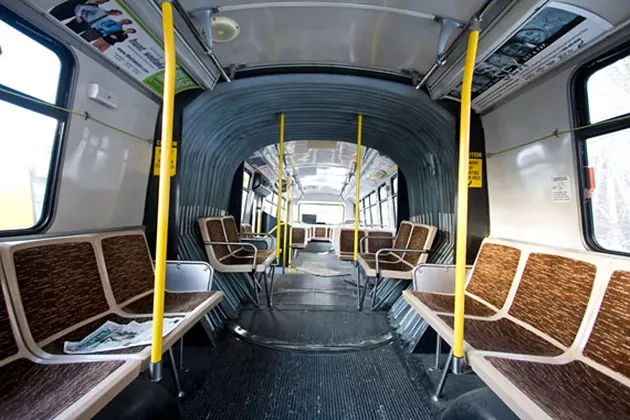 A supervisor at the Burnside bus garage has been terminated after a board of inquiry found him responsible for multiple instances of racial discrimination and harassment over the past 18 years.
The Coast has learned that Halifax Transit employee Arthur Maddox was fired last week, just days before
the scathing board decision
by barrister Lynn Connors was published online.
Connors' ruling involved multiple complaints made to the Human Rights Commission back in 2006, describing a poisonous and discriminatory workplace at the Burnside warehouse.
Maddox was named as the instigator in most of those events. Several former employees testified he would hurl racial slurs "six or seven" times a week and was the most vocal perpetrator of the discrimination and harassment experienced by African Nova Scotian and Indigenous employees.
"I find that he used his size and his voice and his demeanour in the workplace to intimidate, bully and harass those who were around him," writes Connors.
Maddox was fired once before in the early 2000s after telling a Black employee to "suck me, boy." On that same day, he was overheard at lunch staying "racism should be a law that you can shoot somebody and get away with it."
During a union meeting on whether to challenge the termination, a message was printed on the transit garage's bathroom reading "all minorities not welcome, show you care, burn a cross." It was signed by "a member of the Baby Hitler."
A year later, the grievance complaint was settled by HRM and Maddox was reinstated at his old job. Working conditions, according to those who testified, immediately worsened.
At one point, Maddox swerved a bus he was driving at one of the men who complained about his behaviour. The employee felt Maddox was trying to kill him. Connors said homicidal intent couldn't be proven but did call the incident a "cruel joke" meant to terrorize.
Throughout it all, even as those he harassed left due to the conditions at the garage, Maddox remained at his job.
"The irony does not escape the chair that Arthur Maddox, who was the perpetrator of most of the wrongdoing in the workplace of the respondent, is still the only one that continues to be employed there," says Connors.
But not anymore. City hall spokesperson Nick Ritcey confirms that Arthur Maddox no longer works for HRM.
In response to this morning's decision being released online, Halifax CAO Jacques Dubé issued a public apology to the complainant (whose identity is protected by a publication ban).
"While our organization has taken concrete steps to build a culture of diversity and inclusion, we have more to do," writes Dubé. "As
chief
administrative officer, I am committed to advocating for a harassment-free workplace where all persons are treated with dignity and respect."
It's the second time this month that the municipality has been
called out on widespread racism
within its workforce.
Just three weeks ago, members of the Black municipal employees' caucus protested outside City Hall in a demonstration against the discrimination and employment barriers they say they've faced working for HRM.
Several of the employees had to use vacation time to take part in the demonstration.
The protest was meant to pressure HRM for an update on its internal Employee Systems Review. Conducted in 2016, the ESR found an overwhelming culture of harassment and racism within HRM's operations team that city hall failed to effectively address. Departmental supervisors routinely dismissed complaints and blamed victims for coming forward.
Two years after it was completed, fewer than half of the 90 recommendations made in the ESR have been implemented.
"We do know we can do better than our past and we are committed to making it happen," Dubé said in that previous story about widespread racism. "We appreciate change isn't happening fast enough. But even if it's not happening as fast as we would like, we have the capacity and desire to change as an organization."
The incidents in the board of inquiry's Halifax Transit decision all took place prior to 2006, but one garage employee speaking to The Coast says conditions didn't improve after that.
"It all started from the top," says the worker, who left his job two years ago and asked to remain anonymous. "It gave people the sense of freedom to say what they wanted as they knew no one would get in trouble…Don't get me wrong. Tons of great, hard-working people there, but upper management knew more was going on and did nothing."
In the midst of this latest scandal, HRM is playing host to over 2,000 government politicians and staffers from across the country as part of the Federation of Canadian Municipalities conference and trade show.
Included on the agenda are tours of the Black Cultural Centre, where visiting dignitaries can learn all about "the evolution of Halifax's relationship with the African Nova Scotian community."