Halifax Regional Municipality has nearly doubled the amount of money it spends on consultants, according to an analysis of the
approved 2018-19 budget
, but whether the city is getting what it pays for is harder to determine.
Council earmarked $2.08 million for consulting fees this year, compared to the $956,600 it spent last year. It's not a true increase, says HRM spokesperson Victoria Martin, but simply money moved from the professional fees budget to consulting.
The increase, however, represents an effort from city hall to address its consistently underestimated use of external consultants. Last year's $956,6000, for instance, represents less than half of what the city projected it would spend that fiscal year.
That's not, by itself, unusual says DeGroote School of Business associate professor Catherine Connelly—nor is the practice of relying on external consultants instead of staffers.
Consultants usually back up a lack of expertise in permanent employees, says the Canada Research Chair in organizational behaviour. They assist where there is no internal expertise.
"No one in your household is a plumber, but if you have a really leaky pipe, then all the YouTube videos in the world aren't going to help you do as good a job," says Connelly.
Out of Halifax's 10 business units, only the clerk's office, external affairs, the fire department and Halifax Transit did not use external consultants in 2017 or have any plans to use them in 2018.
With the 2018 budget increase, Corporate Accounts will have $850,000 allotted for expense and contract negotiations. Planning and Development will receive the most money of the business units at $833,700, to be mostly used for background studies on development plans.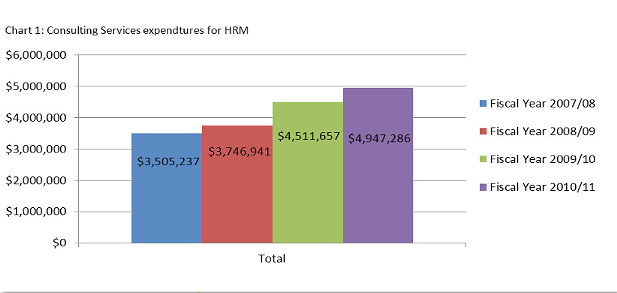 Determining whether to hire a consultant or increase the expertise of permanent staff remains a complicated question for municipalities, says Western University political science professor Andrew Sancton.
"It could be that spending money on consultants is actually a way of saving money," Sancton
says,
while warning against comparing Halifax's approach to other cities.
"Even if other municipalities of similar size spend less on consultants, it could simply mean that these other municipalities are spending more on their own permanent staff to do the same kind of work."
In 2012, HRM's auditor general released
a report on the use of external consulting
from 2007 to 2011. The audit found that in 2010-11 the municipality spent
$4.94 million on consulting
. Over half of the
projects
the audit reviewed ended up using a consultant.
The 2012 audit's recommendations—including annual business unit reports and increasing clarity between consulting and contract work—weren't accepted by city hall,
though
recommendations from a
separate audit
on tightening up procurement procedures were approved the same year.