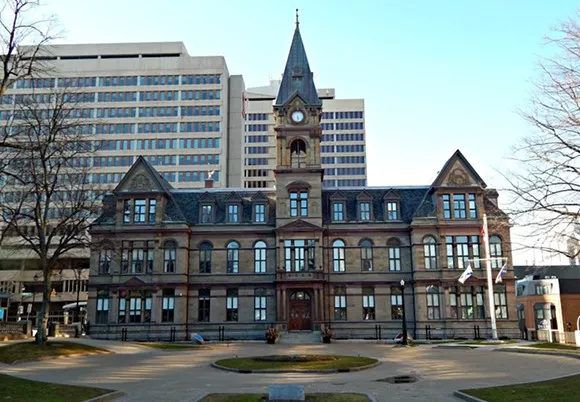 It's impossible to gauge the financial impact of HRM adopting a living wage policy, in part because right now the municipality doesn't know what its contracted employees are being paid.
On Tuesday, Halifax Regional Council voted on a
verbose staff recommendation
to explore including employee compensation, environmental impacts and social economic benefits when approving external contracts.
The municipality will now create a "cross-departmental working group to engage external stakeholders, conduct further investigation and recommend with respect to whether or not to adopt a policy framework for the consideration" of those ethical options.
Potentially the biggest impact out of the report will be if HRM adopts a living wage. But nowhere in the document is there an estimation of how much that policy shift might cost. Like a Nancy Meyers movie, it's complicated.
"These are complex situations involving many factors and requiring a multitude of assumptions to be made," writes staff.
Another major factor is we just don't know. Halifax has no clue what its contracted employees are being paid.
Municipal spokesperson Lucas Wide says the city works with hundreds of vendors and contractors, and it's "the responsibility of the contractor to hire the required number of employees to get that work done under the conditions of the contract."
Wide wasn't able to say how many of those contracted employees are being paid minimum wage or above.
"The municipality does not indicate or specify in [its] contract documents how much contractors pay their employees," writes Wide in an email.
The ignorance hasn't been without consequences. In 2010
it was discovered
that a janitorial contractor was illegally paying his employees just $7 an hour to clean multiple HRM-owned buildings, including City Hall. The municipality
said at the time
it wasn't aware of the pay practice until it was informed of an investigation by Canada Border Services.
Hundreds of municipalities across the United States and
Canada have
already adopted living wage ordinances
to allow employees to adequately feed, clothe and shelter their families. The Canadian Centre for Policy Alternatives (CCPA) argues increasing pay rates can provide a reduction in workplace stress, decreased turnover, lower absenteeism and stimulate consumer spending.
But make no mistake, it will also cost more. The question is, what value HRM is willing to put on that cost.
Only two months ago the city made
poverty reduction
a priority. Late in the meeting on Tuesday, while discussing the installation of surveillance cameras, several councillors spoke about how HRM needs to address wider societal issues—such as the challenges faced by low-income residents—if it hopes to reduce crime.
"This is not a left-right issue," Halifax West
Armdale
councillor Shawn Cleary said about a living wage. "This is a humanity issue. We need to pay people appropriately."
City staff seem to
recognize
the impact the new policies could have, but they still believe it's important to wait before "implementing any significant changes."
Peninsula North councillor Lindell Smith, who initiated yesterday's report back in February, agreed it's best to proceed with caution.
"From my understanding, this hasn't been done before. So if we rush it, we might mess it up," the councillor said. "I don't want to just do it because it's in front of us, and I know that frustrates a lot of people who have been dealing with these issues for a long time, but let's do it so we actually make an impact on the people in our city."
The "cross-departmental working group" will now try as hard as it can to
try
and get an update back before next year's budget is
finalized
. It will also examine the use of social and environmental benefits, along with a preference for buying local, in the scoring option for HRM tenders.
Any implementation of new procurement policies is likely at least a year away, and will still have to fight its way through what's bound to be a heated debate from the more conservative councillors at City Hall.
"The living wage is one of those issues that has no real true definition," Preston–Chezzetcook–Eastern Shore councillor David Hendsbee said on Tuesday.
A living wage is the amount two working adults with two children need to cover basic expenses. The CCPA
defines a living wage in HRM
at $19.10 per hour, which is $8.25 above the province's current minimum wage.
Regional councillors, like David Hendsbee, earn $85,443 per year.