Improvements are coming to the South Park Street bike lane, but what form they'll take is up for discussion.
The municipality is holding an open house next Monday to consider changes to the existing bike lane, which currently runs from Sackville Street to Morris Street and University Avenue. According to HRM, those potential changes could include an extension to Inglis Street and a painted "buffer" between parked vehicles and the bike lane.
But the Halifax Cycling Coalition would prefer the city make it a protected lane—with a physical barrier that would make it impossible for cars to park or veer into the lane.
Eric Jonsson, board member for the coalition, says he hopes HRM utilizes this chance to update the bike lane in a way that makes all cyclists feel safer on the road.
"We're hoping that they take advantage of this opportunity to show people what good bike lanes can look like and how safety can feel," he says. "We don't want them to take any more half measures."
Jonsson says protected bike lanes are the best way to get more people using active transportation. Right now, he says, many people don't feel comfortably protected from traffic.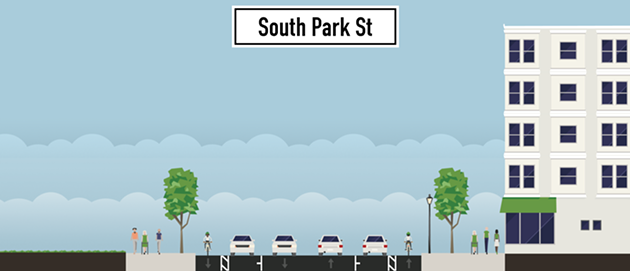 The coalition claims it would cost the same amount to make a protected bike lane as it would to provide a painted buffer in the car door zone (which leaves cyclists vulnerable to collisions with vehicles).
If the suggestion is approved, the South Park Street lane would be the second protected bike lane in Halifax, after a pilot project was installed on Rainnie Drive last October.
The Cycling Coalition also note that whether a parking-protected lane or a painted buffer is installed, either way HRM would be removing a total of 25 parking spaces. What's the point of removing parking, the coalition writes "if it's not done to provide safe cycling that is attractive to people of all ages and abilities?"
What do you think? The public consultation will be held at the Central Library on Spring Garden Road on Monday, April 25th from 7-9pm.