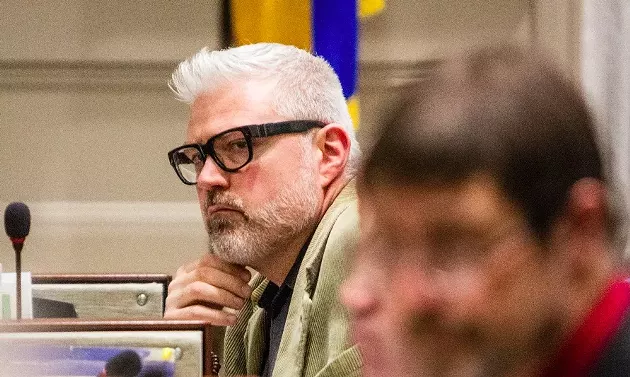 At the next meeting of Regional Council, councillor Shawn Cleary will
ask for a staff report
on the creation and maintenance of a municipal lobbyist registry to keep track of the people and businesses trying to influence HRM.
Currently, there's no record of the consultants, business owners, property developers or special interest groups who bend the ears of HRM's elected officials. Across Canada, other cities and municipalities have increasingly been using public lobbyist registries to shed some light on that problem.
"I can only speak to my point of view," says Cleary, "but the number of government contractors that call you up and ask to meet, the number of developers and anti-development groups that want to meet—I think if a group of company is meeting with elected officials or senior bureaucrats, the public has a right to know that."
Last year mayor Mike Savage
told The Coast
he didn't see lobbying as a pressing worry in Halifax but admitted the obvious difficulty is we don't know what's happening behind closed doors.
"I don't think it's a big problem, but none of us can know completely who everyone's talking to," said the mayor.
Cleary says he wants HRM to err on the side of letting the public know more, rather than less.
"I'm not saying anything untoward happens in those meetings, but you should have the right to know those meetings are taking place."
It's part of a "10-point agenda for cleaning up elections" the Halifax West
Armdale
councillor
campaigned on a year ago
. Along with throwing his support behind already-in-motion campaign finance reform, Cleary is also hoping to improve conflict of interest rules and "in the near future" will make a request to install cooling-off periods for HRM managers and elected officials. All in an effort to have a more open and transparent municipal government.
"People should know who we're meeting with," he says. "I think it's incumbent upon us to open up the doors and curtains and let that sunshine come into city hall."
Rather than setting up its own registry, one option the municipality could try is asking Nova Scotia to extend the provincial lobbyist registry down and have it cover HRM's activities. Doing so would be simpler procedurally, but would also come with its own challenges.
Opposition leaders
recently decried
the province's lobbyist registry as woefully antique and called on the government to bolster its legislation to include the recording of meeting dates and topics.
"Nova Scotia is still in the dark ages and I think it's time we shed light on lobbyists' activities here," Progressive Conservative leader Jamie Baillie
told the media
.
Premier Stephen McNeil was less inclined to discuss the issue,
telling CBC
the registry "seems like a pretty good thing that's working on behalf of the people."
There has never been a single reported violation from the province's nearly 1,000 registered lobbyists since the database was created in 2001. The number seems suspiciously low, but results aren't much better from other governments. The Federal Lobbying Act created in 1988 has only had one charge issued. As of
last year
the city of Toronto, which created its lobbyist registry in 2008, has had 30 infractions involving 16 lobbyists. Of those violations, the city was only able to hand out a single $1,000 fine.
But Halifax city hall is more nimble than Province House or Parliament Hill, counters Cleary. The municipality's lobbyist registry would only have to track 17 elected officials and a handful of executives. Any setup costs could also be offset by charging registration fees to business groups and individual lobbyists, he suggests.
"I'm not saying we're going to be the most open and transparent government in the world, but simply by having a registry, even if it's updated infrequently, is better than not having one at all," Cleary states. "Are we going to have the Cadillac of registries? No. But can we have a Chevy? Maybe."
Council will meet to discuss the idea on October 31.