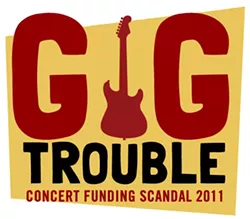 Halifax council Tuesday agreed to pay the outstanding $359,550 left over from city hall's concert scandal. Readers will recall that mayor Peter Kelly, former chief bureaucrat Wayne Anstey and Trade Centre Limited president Scott Ferguson had conspired to secretly funnel $5.6 million in loans through the Metro Centre to promoter Harold MacKay to put on a series of concerts on the Halifax Common; the last two of the loans, for $200,000 each, were nearly completely unpaid.
The loans violated the city charter and the city's financial controls; additionally, they were not approved by council, and Kelly's office, which handled the loan paperwork, did not send the loan contracts to the city's legal department for approval. In the wake of the scandal, Anstey retired three months before he had planned, but neither Kelly nor Ferguson have suffered any consequences.
When council learned of the outstanding bill in March of last year, it recorded the $359,550 as a liability to the Metro Centre. City solicitor Martin Ward told council Tuesday that insurance wouldn't cover the bill, and Trade Centre absolutely refused to pay even a token amount for its role in the scandal. There was little chance of success in pursuing legal action against Anstey, said Ward; no mention was made of bringing action against Kelly or Ferguson personally.
The money flow in this scandal is immensely complicated, and I've been somewhat remiss in saying that the city should refuse to pay the bill---I've been following this as close as anyone, and yet I forgot the details of how the loans were financed. Let me back up and explain.
Soon after the Metro Centre was built, the city entered into an agreement with Trade Centre Limited for operations of the facility---the city continued to own the Metro Centre, but TCL would manage it. This may or may not have been a good idea, but it worked as planned. The city continued to pay TCL a management fee, but the city also made good profit through what was then called Metro Box Office, which sold tickets for Metro Centre events.
But then in 2006, Fred MacGillivray, who was then president of Trade Centre Limited, unilaterally, and without any authority or approval of either the TCL board or of city council, simply moved the operation of Metro Box Office over to TCL's complete control, into a new operation called Ticket Atlantic. As I reported here:
The changeover from Metro Box Office to Ticket Atlantic was done so hastily, so sloppily, that MacGillivray didn't create a new TCL bank account for the venture. Instead, the new TCL Ticket Atlantic operation continued to use the old Metro Box Office bank account---that is, TCL funds were being placed in a city bank account, and TCL was writing cheques to pay TCL bills with a city bank account. The cheques have the HRM logo on them.
Fast forward to 2010, after MacGillivray retired and to when Ferguson, Kelly and Anstey cooked up their concert loan scheme, and that confusing old Metro Centre account suddenly plays an important role. See, the loan agreements said the advances to MacKay were to come from existing---and future---ticket sales, that is, from Ticket Atlantic, but were to be guaranteed by the Metro Centre. I sloppily thought that meant the loans came out of a TCL account, and if they went bad, were to be paid back through a city account, but I forgot that the Ticket Atlantic account
is
the Metro Centre account.
In other words, right from the start, Trade Centre was advancing MacKay money from a city bank account. When Trade Centre presented the city with an invoice for $359,550, it was not money to be returned to Trade Centre coffers, but instead a bill to back fill a city account that Trade Centre manages.
Got that? Yes, it's confusing. But what it boils down to is that Tuesday council was merely settling the city's own books---to be sure, the taxpayer is out the money, but the city was paying it to itself, not to Trade Centre.
That's why the concert scandal is by no means over. The co-mingling of TCL Ticket Atlantic money and ticket sales for events at the Metro Centre continues, all in a city bank account. That provincial auditors haven't stepped in and put a stop to this arrangement casts serious doubt on the fiscal oversight of Trade Centre Limited. Where's provincial auditor Jacques Lapoint in all this?
On the HRM side, city auditor general Larry Munroe will soon release a report detailing TCL's 2006 takeover of the city-owned Metro Box Office, and will presumably analyze the cost to the city and make recommendations for addressing the situation. My guess is that the city has lost millions of dollars over the past six years, money essentially embezzled by TCL.
Whatever Munroe says, his report will instigate the next round of the never-ending concert scandal.
Update, 5:30pm.
Trade Centre Limited spokesperson Suzanne Fougere sends the following points:
1. TCL does not receive a management fee from HRM for the operations of the Halifax Metro Centre.

2. The Halifax Metro Centre bank account is a separate account managed by TCL. Cheques from this account are marked with Halifax Metro Centre logos/marks. Similar to other entities such as the Halifax Water Commission, it is my understanding that the Halifax Metro Centre bank account is part of a money management services mirror netting agreement with HRM.

3. Since the report by the HRM Auditor General last June, a separate bank account for Ticket Atlantic under TCL was established as recommended. All ticketing activities now occur via the independent Ticket Atlantic bank account under TCL.
My response is:
1. Good to hear.
2. I'm not sure we're disagreeing here. If we are, it's such a minor point that I don't see how it matters---are we arguing about whether it's an HRM logo as opposed to an HRM-owned Metro Centre logo?
3. This is news to me, and also welcome. But we still have five years of co-mingled funds to account for. I sincerely hope that Munroe's report details how what should be city money was handled.