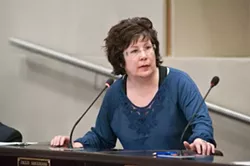 In Nova Scotia, the provincial government makes public its employees salaries over $25,000 and the cost of their travel expenses. As well, all payments over $5,000 to private companies is public. That information is easily accessible on the provincial
Public Accounts web site
(click on "Supplementary" links).
The New Brunswick government takes it one step further: the salary ranges for people making more than $60,000 working at provincial crown corporations like New Brunswick Power are also made public. In the United States, all federal, state and local government employee salaries are public information, as is each and every expense made by those governments, unless there is a security concern.
So far, however, such open and honest reporting of government expenses has eluded the city of Halifax. City contracts with private companies like Nustadia, which manages the four-pad arena in Bedford and The Oval, are secret, with not even the dollar amount made public. And while salary ranges spelled out in agreements with public employee unions are public, the overtime payments made to any specific employee are not. Moreover, salaries of the highest paid employees---non-unionized city managers---are completely secret.
But Halifax council Tuesday voted to ask the legislature for a change in provincial law that will take a small bite out of city secrecy. Councillor Jackie Barkhouse brought forward the proposal, which would amend the the Public Sector Compensation Disclosure Act. Currently, that act applies to about 120 provincially funded agencies like health authorities, school boards, universities and crown corporations, and requires that all salaries over $100,000 be publicly reported. Under Barkhouse's proposal, the city would become covered by the act, meaning most city managers' salaries would become public record.
Council passed the motion on a vote of 20-1, with only councillor Mary Wile opposing.
The legislature is under no obligation to adopt the changes. Or, alternatively, it could adopt stronger changes, requiring the city to match the provincial system of public accounts with its own.