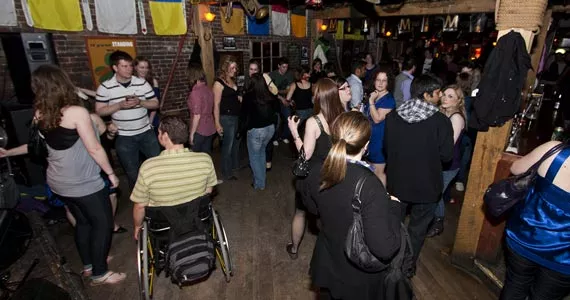 MONDAY
The kind bar owners of Halifax have made it quite easy to drink away your case of the Mondays. While the week looks long, the drinks are fancy, sweet, plentiful and cheap. Take two Advil and then hit this circuit. Start at Mexicali Rosa's (5472 Spring Garden Road, 422-7672) and sip on a $6 double margarita on their sweet, sweet patio when the sun's still shining. Next, skip up the street to Onyx (5680 Spring Garden Road, 428-5680) where their entire menu of mojitos (yeah, 16 mixes) is on for $7. Then hit The Fireside (1500 Brunswick Street,
423-5995) or The Bitter End (1572 Argyle Street, 425-3039) for martini Monday, where the highbrow drinks flow for $5-$6.25.
TUESDAY
Take it easy today, 'cause you're probably still nursing a sugar-induced headache. Hit Rogue's Roost's (5435 Spring Garden Road, 492-BEER) happy hour from 5-7pm, sip on their red ale before heading to The Foggy Goggle (1667 Argyle Street, 444-1414). Here grab a spot on their over-stuffed leather couches and enjoy a $2-off beer special.
WEDNESDAY
Drinks start with dinner at The Halifax Alehouse(1717 Brunswick Street, 423-6113) where from 4:30-10pm you can feast on 10 wings and a pitcher of Canadian for $11.50. Then head to The Loose Cannon (1566 Argyle Street, 407-8797) to cleanse your palate of that barbecue sauce. Wednesday is Scotch Appreciation Night and you can sip on a single malt for $5.50. For those of you who feel like you're living in the wrong era, head to G Lounge (1579 Grafton Street, 444-4777) for Retro Night where drinks are $3.75 and DJs Mathematix and Savory spin tunes with a video throwback. It's like a MuchMusic video dance, except this time...you can drink legally. And if you want to dance super late, drag your butt to The Dome (1726 Argyle Street, 422-6907), free cover for students and at this point, you may not even need another drink.
THURSDAY
If your head has healed from Monday's martini fiasco, try one of Niche's (1505 Barrington Street, 423-6632) many martinis for just five bucks from 4pm to close. And if you still can't look at a stemmed glass, draught is $3.25 during cocktail hour (4-6pm). Then take a jaunt up the street for karaoke and wing night at Oasis Pub (5675 Spring Garden Road, 422-2227) where as always pitchers of Bud and Bud Light are $10. Or, if singing isn't your thing, head to Argyle Bar & Grill's (1575 Argyle Street, 492-8844) Triple Threat Thursday, where deals are aplenty...including $3 domestic bottles and $9 triples.
FRIDAY
Grab a seat at the Pogue Fado (1581 Barrington Street, 429-6222) just in time for their happy hour (4:30-7:30pm) where you can warm up for Friday night with $3 well shots. Then head home and power nap before prepping yourself for a crazy night at Reflections (5184 Sackville Street, 422-2957). A student ID can get you into Refs for free on Friday nights, but anyone can indulge in their happy hour. For those who arrive ready to dance early in the night, well shots and draught are just $2.75 from 10pm-1am.
SATURDAY
Two words: power hour. On Saturday evenings Split Crow (1855 Granville Street, 422-4366) is home to a loud kitchen party-style atmosphere and damn cheap beer, two draught for $5 to be exact. This deal only lasts from 4:30-5:30pm but has a major draw, so be sure to show up early. Another Halifax must-do is Maxwell's Plum's (1600 Grafton Street, 423-5090) 80 ounce brewtender. They're $21.95 until midnight, with the beer on special changing daily; Saturday night gets you Stella Artois. Rekindle your power-hour love at The New Palace (1721 Brunswick Street, 420-0015) where before midnight you can get your hands on $2.50 drinks.
SUNDAY
Starting in mid-October are Signal Hill Student Sundays at The Lower Deck (1869 Upper Water Street, 425-1501), offering free cover to students, drink specials and one of the best party bands around. This place gets packed, with beer-sloshing, foot-stomping, party people. Then for god's sakes head south and put some food in your belly. After 10pm at Hamachi House (5190 Morris Street, 425-7711) the sushi, and the drinks, get cheaper.