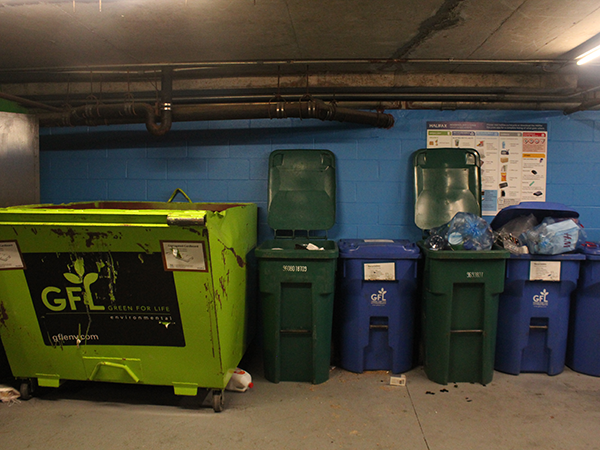 L iving in an apartment building can have its benefits. There's security, there are facilities and the buildings provide services for tenants.
For every residential building with more than six units in HRM, one of those services is garbage collection.
"Each apartment building is required to have five bins in the waste room in the bottom of their building," says the city's resident waste educator Chloe Kennedy.
All buildings smaller than six units are collected on local trash days by funds covered by tax dollars.
"Condos, apartment buildings six units or under, and unattached houses and duplexes, all of that is funded through the property taxes," says Kennedy.
But for the "commercial sector," which also includes all restaurants and businesses, building owners are required to pay for their own garbage services.
"Halifax doesn't have any of its own fleet when it comes to waste collection. All of the waste collection is subcontracted out," Kennedy explains.
Kennedy says HRM sees that as just one of the costs of doing business in the city, but sometimes they do get pushback about the extra expense.
"Sometimes they think if they're providing recycling bins they're going above and beyond for the environment, when really it's like that's the minimum," she says.
Bylaw S-600 regulates everything surrounding solid waste collection in the municipality. And boiled down, it requires that landlords and property owners keep a garbage room with five well-labelled bins (garbage, paper, plastic, compost and corrugated cardboard), to keep them all together, and to keep them clean.
Although the bylaw can be enforced by fines anywhere from $200 to $5,000, the city mainly sticks to an education approach and hasn't handed out any fines in the last five years. "A lot of the time superintendents and property managers don't realize that they're required to have all five bins," says Kennedy.
But for residents of some of these buildings, waste sorting—or the lack thereof—can be a pain.
"We had a period of time where everybody was putting plastic in the compost," says Courtney MacNeil, who used to live in a Killam-owned building in Clayton Park.
MacNeil says the building, which had about 40 units, did have proper bins, but people didn't always follow the rules.
"It was really disheartening to work so hard to sort all of your garbage and recycling and then not really have others do the same."
Madison Foley says when she lived in a building owned by Milestone Properties on Main Avenue, the property managers were unwilling to buy multiple bins.
"It's all in one bin and then they'll just haul it away for a couple hundred dollars," she says.
The Coast reached out to 10 different property management companies for this story, including Killam and Milestone.
The only company to respond was Olympus Property Management, which said it has a condition in each lease about garbage sorting.
"We can't control what they do, but most tenants are environmentally aware and do what they can. There is always the bad apple but not many," said a representative for Olympus in an email.
HRM says that any residents who are concerned about waste sorting in their building can call 311 to make an anonymous report.
Then, Kennedy or another member of the waste education team will pay the building managers a visit or two.
"The vast majority of superintendents are willing to cooperate, and they say 'Oh yeah great, I'll get those all in place,'" explains Kennedy. "Then we do a follow up inspection just to make sure that they're compliant."
The education officers sometimes set up booths in building lobbies to educate the residents about waste sorting.
"It all comes down to education. The tenants just don't know or there might be other barriers in place, so we just try to work with them as much as we can," Kennedy adds. "And for the most part, they're willing to do the right thing."