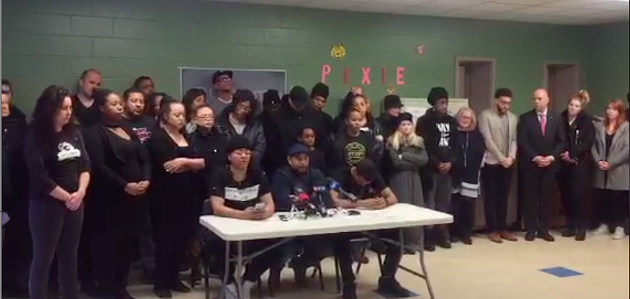 A
coalition of Black, human rights, labour and youth organizations held a press conference at the George Dixon Community Centre in Uniacke Square, Halifax today. Kate Macdonald, Marcus James and
Trayvone
Clayton spoke to their community and media about an incident of racial profiling that happened on Parliament Hill this past week.
Macdonald and Clayton were in Ottawa with Black leaders from across the country for the National Black Canadians Summit celebrating Black excellence and meeting with leaders "who had been through racism but got to where they are today," says Clayton.
The incident took place after the summit and involved a security guard on Parliament Hill racially profiling the group Macdonald and Clayton were with. Macdonald, a local community educator and activist explains at the press conference that the guard referred to a group near them as "dark-skinned" in response to a complaint that had been sent to security.
Clayton had just started a media interview nearby when he heard the guard say "I'm not trying to be racist, but," which stole his attention. The comments hurt Clayton and members of the group he was with. "It ruined my day," he says. "The parliament building is a place for everyone in Canada. It's not a place to create problems, it's a place to solve problems.
"I expected to be treated equally and fair. I was excited because I get to step in the most powerful building in Canada."
Clayton and Macdonald are speaking out because they want things to change for themselves and the kids in their own community.
"It is for all of us who are here now. But it's also for the generations that are to come that aren't here yet," says Macdonald. "Kick down a few of those doors. Blaze a few of those trails. And hopefully, things are easier for them. That's how we're here now, you know? Because people did that for me, people did that for us."
Over 15 organizations supported Macdonald and Clayton in denouncing the incident and over 25 people stood with Macdonald and Clayton as they spoke at the press conference. "I'm very proud of the African Nova Scotian people and folks and community that stood with me, and sat with me, and said their piece and sang with me," says Macdonald.
Andy Fillmore and Liberal MP Greg Fergus spoke about the incident in the House of Commons on Wednesday. There is currently an investigation to what happened underway, but Clayton says a piece of paper or a letter isn't enough for him. He wants to meet with Prime Minister Trudeau face-to-face.
"It's time for us to be heard. We need change and we need it fast," says Clayton. "Canada is supposed to be a safe place, but yet people are still walking about here in 2019 uncomfortable. Not knowing what to do with their head on a swivel."