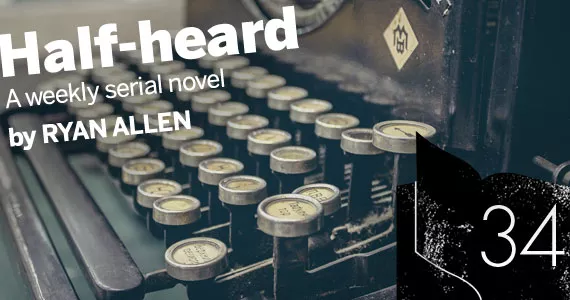 It wasn't until Trevor started crawling on the ground blindly, having an intense hand-covering-mouth crying fit and moaning "Ow, why would you do that" in step with his arrhythmic palpitations and sobs that the crowd became incrementally less and less interested in the scene and leisurely began wandering back into the hazy, strobing house. After Will struck him, the crowd's ardor for mayhem receded into a collective loud and cartoonish wince at what remained of Trevor worming on the concrete, and then to an intensely individual and personal connection with the splayed-out Trevor, and feeling like watching him writhe any longer made each of them solely responsible for his mutilation. When there were only a few people left smoking weed out of a pop can, he spittle-puked through the webs of his fingers and all over the street like an upset baby who's programmed responses to bodily distress are to hurl or shit.
Myles, having done his third beer, was psychologically twirling high above himself at his drunken zenith, feeling the agitation of his torso's curdling chunks and bits as the booze churned them to a toxic cream. He was sitting on the street now about 10 feet from an equally stunned, cry-blind Trevor who was edging sort of in the direction of his house, palming the ground ahead of him with an acutely pathetic level of caution. Myles' lips waved loose and his slack jowls had a drunkard's red hue. His thoughts entangled around each other hardly half-formed, staccato'd and abbreviated by the abrupt entry of other monosyllabic ape-ish observations and self-directed commands like Find Door, Get Up, Get Beer, Find Friends, Taste Dirt, Run Run, See Hurt, Eyes Hurt, Where's House, Why Alex, Why Trevor, Gert Drugs, Bad Drugs, No Sense, Sick Beer, Crawl Home, Help A., Hide Nude, Run, Run, Run.
With what felt like a few flashes of movement, Myles was suddenly upright and in the house with another full can of beer in his hand. Flash again. He is resting against the bass player's amplifier midway through an unrecognizable song and an older girl is beside him, yelling into his ear about how she plays guitar too but more acoustic than electric. His eyes open enough to see Alex and Welnot across the room talking to one another in a reasonable manner. He wonders what they could be talking about. Flash again. He's on the couch by himself and a cigarette is burning out into his left hand. He starts to wonder about Sarah and Gertraud, and if he'll get to talk to them or anyone who lives here tonight. He wonders what they think of him being there, but gets the suspicion that they have no idea at all. Suddenly he is walking numb-legged through the fogged hallway. He starts to think about how close he feels to all of them. How he'd just love to sit down and let them know that he knows everything they've all been up to. Flash again. What have they been up to? Are they really people that can be reduced to archetypal sketches of people? What pieces are missing from his ideas of them? What about Sarah thinking Gertraud was up to something weird? What about the bathrooms? What about Welnot writing in his room about Alex every night? What about the photographs? He's not so sure. He's never been claustrophobic much so he doesn't mind this. Flash again. Alex and Welnot across the room still talking, their sounds being sucked into the humdrum drone of party noise.
Alex rubs his eyes in vexation, struggling to remain courteous while Welnot yells in his ear.
"I think I get it, Welnot. But it's starting to seem like you're just—"
"—And it's not just the fact that the way you chew your food so unaware of how it sounds. Which by the way, Alex, man, I'm sure sounds exactly like what those psychos who axe their whole family say they hear before they black out and come to surrounded by police and neighbours on their lawn. That's just the nub of it. That's just the visible tip. I've let that go, I'm ready to forgive you for that. I'm ready to forgive you for being a pig. But how you've ruined every single roommate Dinner and a Movie night we have ever had is like this: When we're sitting at the table and your chewing goes clip-clop-smack clip-clop-smack until your KD is gone, you'll look around at the rest of us like we're these disgusting hogs snorting and shitting around your territorial bubble. And there's more, but I'm willing to let that go and confront myself on some of it. Because what I've begun to see is what I don't like about you is what I really, really don't like about myself. We're the same, you and I, and that's just what it is we—"
Alex waves his hands, "Whoa, we're not the sa—" Welnot puts Alex under the crutch of his arm and continues his inventory of Alex's character flaws.