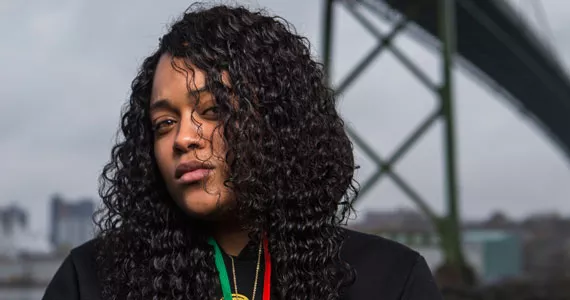 Expect the Unexpected book launch & meet and greet Thursday, November 10, 6:30pm Dartmouth North Community Centre 105 Highfield Park Drive
Guyleigh Johnson has penned poems about some tough subjects, including death and abortion. The Dartmouth-based poet sees writing as a path to dealing with challenging issues in a healthy way. "We all need outlets. We all need to be able to release energy that's built up," she says.
When a close family member died in a car crash, Johnson decided the outlet for her feelings would be something productive.
"There's different ways that people grieve—I know people drink, people smoke—so I just chose to write," she says. "I tell people all the time writing was something that saved my life, because it took me on a positive path."
Johnson has been living in the north end of Dartmouth since she was four. She hopes her new book, Expect the Unexpected, will challenge some of the stereotypes about her community.
"A lot of the time, we get trapped or we get stuck," says Johnson, "instead of thinking, 'Let me try and change this.'"
As a whole, the book is centred around the daily struggles of people living in her Dartmouth neighbourhood. Johnson wanted to see life from the perspective of other people in an effort to "share their truth." Pain is a common theme throughout the work.
"When we're going through pain, we feel alone in the moment," says Johnson. "I thought that if I was able to tell these stories, people would know 'I'm not alone' and maybe people would start communicating more."
One of those painful narratives is told through a poem called "Moment of Silence," a piece Johnson found especially emotional to write. It's about her best friend, whose brother was killed.
"It was in the new year, so right when we were getting ready to celebrate a new year, getting ready to make new goals," recalls Johnson. "It was a really traumatic experience, especially witnessing her go through that. It wasn't my brother, but it felt like it was my brother."
This was another instance in which Johnson could use her writing to grieve. She says she's "always been a writer," but didn't start writing spoken word poems until she was 16. Johnson remembers watching slam competitions from a young age and falling in love with the art form.
"I love how the voice is able to tell a story so well. The way words are able to articulate pictures," she says. "You're just able to be very creative with spoken word."
Johnson wants people who pick up her book to be inspired to find productive outlets of their own. "I wrote this just to break those barriers and stigmas, and just so they could see me as a living example that anything is possible."
"Lotus Flower" by Guyleigh Johnson
I am the significance to your heart Never falling apart I connect with your mind With both combined My soul bleeds your purity My mind craves your growth I emerge from the depth of dirt far from hurt I bloom Into a beauty unimaginable Almost impossible flower Though the soil I came from is in the slaying of a swamp Still I rise, I rise Into a soul that streams a great significance of spreading Strength spiritually The lotus flower I am The dirty seed I used to be Doesn't define me What defines me is the state I'm in after Surviving the struggle It's not where you come from It's where you end up Some of the ugliest places create the prettiest people from the inside out