QuinFun at the QuinFest
You can start your day off with a creamy latte, check those groceries off your to-do list, do your banking, then still have time to treat yourself to lunch. Quinpool Road has it all ready for you, and you don't have to go far—it's a straight shot! Don't forget, many businesses are pet friendly, so your four-legged friends can enjoy Quinpool too!
The business community is ever-growing, with our favourite staples expanding, plus new businesses introducing themselves to the neighbourhood. Quinpool Road Mainstreet District Association ensures that each new addition always receives a warm welcome into the Quinpool Road family.
QRMDA is celebrating their members with the 10th annual QuinFest: Family Fun Day on Saturday, September 23 from 11am to 3pm. Enjoy free food samples from some restaurants, a bouncy castle and carnival games for all of you kids at heart, and stay for the live entertainment. Whatever fun you like, Quinpool Road has got you covered!
Check out the full QuinFest events lineup at quinfest.com
Little heaven on Organic Earth
Organic Earth Market is your place for fresh, in-season fruits and veggies, where the aisles are filled with healthy snacks that you can't resist, and you're guaranteed to find an open kombucha bottle in your cart by the end of your shopping trip. Organic Earth is your local grocery alternative, and it won't break the budget.
Organic Earth satisfies your pre-shopping hunger with their open smoothie bar, has your vitamins available before flu-season hits and has ready-made food for you to take home when you're in a hurry. You've asked, and this one-stop shop has listened—it's increased its hours to 8am-9pm Mon-Sat, and 10am-6pm on Sundays.
The conveniences are endless, especially with the brand-new local businesses and products added to the mix, so now you'll practically never have to leave. When Organic Earth isn't providing you with an organic alternative, they're updating their outdoor signage. Stay turned for what puns and rhymes they'll come up with next!
Organic Earth Market, 6485 Quinpool Road
Handcrafted just for you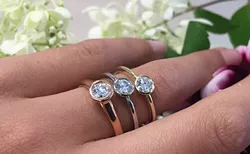 Bring in your inherited jewellery and let them craft a custom ring that you'll be able to cherish forever. Trinity Jewellers is here to re-purpose your family heirloom, and make sure that you never lose a piece of history. Trinity knows that classic jewellery never needs to go out of style.
Trinity Jewellers supports and carries Canadian-made and designed jewellery brands like BIKO, Sara Kelly, Plum & Posey, AM Chagnon, JewelleryByDuc and Foxy Original. Or stay hip with the trend, and pick up another Alex & Ani charm for your collection.
Trinity keeps busy during wedding and engagement season, but this local business will make sure that your ring is one-of-a-kind, just like you, and you'll always feel like a priority when you walk through their doors. This is why they are still the top place to go for any jewellery repair in the HRM.
Trinity Jewellers, 6226 Quinpool Road

I heart Heartwood

The smell of freshly cooked vegetables fills the air the moment you walk in, and you know that you're in for a treat. Heartwood restaurant appeals to the super-green active vegetarian, the cheese lovers and all the way to you meatless-Monday folk. You'll wonder how health could taste this good?
Close your eyes and check out the chef's surprise when you pick the "wild card pizza." This dish is perfect for all of you brave foodies who are willing to try anything. You may end up with a bean burger, tofu, spinach and artichoke mix on top of the kamut crust and homemade caesar dressing. Is your mouth watering yet?
Heartwood is the perfect spot to sit with a smoothie by the window, or to pair your first date with a bottle of local wine. Their combination of fun-loving staff and cozy lighting makes for the perfect ambiance, no matter the occasion.
Heartwood, 6250 Quinpool Road

Permanent impress
Are you itching to get a new tattoo? Have you had one on your mind and just haven't found the right artist for you? Adept Tattoos & Body Piercing Studio has a wide variety of resident tattoo artists who are happy to brainstorm one-on-one with you to suit the style that you're looking for. Or if you're feeling brave, you can go on and try one of their featured guest artists from out of town.
Adept's artists specialize in custom artwork, and know how important it is to get the perfect design ready to permanently ink. If tattoos aren't your thing, pop in for a piercing. The Quinpool location welcomes walk-ins everyday so you can afford to be spontaneous. The studio has been open since 2006 and continues to provide the HRM with state of the art equipment and ink, and large selection of jewellery.
Adept Tattoos & Body Piercing Studio, 6265 Quinpool Road
Social dining in the Six
They are new to the Quinpool area but this neighbourhood restaurant fits right in. Six303 Eatery's ambiance is chic and urban, and if you peek over to the green wall, you may notice some familiar Halifax street names to make you feel connected to your city, and with them.
Six303 is your new brunch spot, or your chance to test your painting skills on PaintNite Tuesdays. This eatery pulls out all the stops to make sure they're sending you home with your belly full of some of the city's best calamari, or their signature Six303 burger, and you can go ahead and book your reservation online. You'll never want to cook for yourself again.
Join them for Wine Tasting Wednesdays and live music with Jon Cyr on Thursdays, and football fans better keep an eye out for their Patriots-themed menu. So what are you waiting for? Six303 is waiting to get social with you.
Six303 Eatery, 6303 Quinpool Road
Top class in glasses
Tired of seeing double? Imagine walking out your door with a unique style that's all your own. That's what you'll get with Gaudet Optical. Gaudet attracts the curious with their distinguished eyewear, and Gaudet's unique clients wear their glasses with confidence. Swap out those gold earrings—glasses are the new statement accessory.
They have a wide selection from over a thousand frames in store, and no frame is the same, because everyone at Gaudet Optical feels that each frame is made for one face. Be curious and try on a pair that you wouldn't normally; the staff is experienced, friendly and they're all rocking many of their own styles of frames and are eager to help you find yours.
Glasses make a person stand out, and are a representation of who that person is. Are you soft...bold...colourful? However you need to express yourself, Gaudet has a frame.
Gaudet Optical, 6465 Quinpool Road

A slice of The Big Apple
We call them "Little New York" because it's the restaurant that never sleeps. Walk by at 1pm or 4am and you'll see the lights on, the hard-working staff making customers laugh, the smell of sweet cheesy goodness in the air. Freeman's Little New York has been satisfying our midnight cravings since 1956, and boy do they have us hooked.
At Freeman's you can pick it all, and at any hour. With them being open 24 hours, you can meet your friends at this popular community breakfast spot, or grab lunch on the go. Just can't get through the week without your dose of Freeman's signature nachos and pizza? Don't worry; they'll still be there. Can't go to them? Well, it's a good thing Freeman's delivers until 5am so that you never have to go without. The Freeman's vibe will transport you right into the heart of New York, and have you eating like a New Yorker too.
Freeman's Little New York, 6092 Quinpool Road
Total passion for local culture
Secord Gallery is one of the longest-established galleries and independent custom framing shops in the region. Part of the Quinpool family since 1979, the gallery is a source for both contemporary fine art and expert custom framing.
Secord is passionate about the importance of art and the contemporary Nova Scotian artists who create it. The gallery represents both well-known and emerging artists, including realist painters Alan Bateman, Paul Hannon and Steven Rhude, and ceramic artists like Alexandra McCurdy and Sally Ravindra. Secord also features sculptors, landscape and figure painters, printmakers, and interpretive and abstract painters who are showcased in Secord's series of exhibitions every year.
Secord wants to celebrate the remarkable talent found in Nova Scotia with you, and is always eager to discuss the artists, and to assist in your art purchases, including alternative payment methods such as leasing to buy. The gallery also provides experienced and creative framing consultation, an amazing selection of mouldings and careful, expert workmanship.
Secord Gallery, 6301 Quinpool Road
Welcome home to the Athens
Ever wish you were born into a Greek family, if only just for the food? Congratulations, we've found your perfect home! When you come through the doors at Athens Restaurant, the Panopalis family will adopt you for a meal or two. (Don't worry, they won't tell your "real" family.)
Athens is meant for the whole gang. They have something for the vegetarian in your family, or even a separate kid's menu for your picky eater. It's so easy to find something for everyone, and did we mention that everything is made from scratch? Their ingredients are locally sourced when possible, but can we really blame them for using authentic Greek spices?
Their menu has some overwhelmingly delicious options, but it's easy to pick when Athens offers sampler plates, serves breakfast daily and has endless options stretching beyond Greek food. Come hungry, and get your fix right on Quinpool Road.
Athens Restaurant, 6273 Quinpool Road

Find your swole mate
Everything should feel right, from the cushion to the handlebars, to the feeling that you get when you first see it. Take your time, look around and test-ride every bike in the shop if you'd like. Building a bike and finding its perfect match is what Long Alley Bicycles specializes in.

Even if you're in a committed relationship, you can bring your old flame in and the guys at Long Alley will have it looking brand new. They are passionate about what they do, and if they can salvage any part, they will.
Long Alley takes away the stress of bike maintenance, and their services menu makes you feel like you're visiting a restaurant. You can grab a "tall cold pint" with them—a flat tire fix. Or get a "side of poutine"—a drivetrain scrub. What more could you ask for when taking care of the love of your life?
Don't miss their end of season clear-out sale: Thirty percent off bikes and 50 percent savings on select helmets.
Long Alley Bicycles, 6164 Quinpool Road, Unit A

Order up!
Whether you're a Halifax local, or you've visited a time or two, you can't say you know the city until you've had a classic Ardmore Tea Room experience. Ardmore is where you go when you want an authentic diner atmosphere that takes you back into the '50s, right down to the portion sizes.
Ardmore invites you into its booths to indulge in that classic Canadian breakfast that your stomach has been aching for, and you can have it anytime with their all-day breakfast option. (Who doesn't love breakfast for dinner?)
Top your visit off with some blueberry pancakes or out-of-this-world milkshake, and if you feel like you're stumbling out, you did Ardmore right.
Ardmore is simple because it can be, and you'll be thinking about your breakfast here all the way home. Ardmore is the Halifax experience. You'll be sad to leave, but Ardmore will always be waiting for you when you return.
Ardmore Tea Room, 6499 Quinpool Road
An oasis of Oddfellows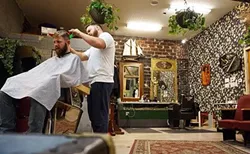 You wouldn't know it to see it. First you've got to make your way through the board boutique that is Pro Skates, then hop through some obstacles and voila! Once you find Oddfellows Barbershop, you'll be glad you went hunting.
This quirky living room-style barbershop likes the idea of being tucked away; it's part of their charm. When you happen upon them it's like a fun game, and if you make it through, you're in the club for life. Oddfellows intrigues you with its super-secret location, and totally delivers with that extra care to make sure your trim is just right.
This relaxing environment also offers you the full therapeutic shaving experience, with straight razor shaves, beard trims and men's grooming products. You'll walk in as a stranger, but leave feeling like a friend.
Oddfellows Barbershop, 6451 Quinpool Road
Hole wheat
You'll hear Gerry singing an ode to his unforgettable bagels, and as you start getting closer, you'll spot his spinning sign and infamous bagel song and dance. Once you've made it this far, there's no way you haven't smelled the intoxicating rising sourdough. If you are still resisting going inside East Coast Bakery on Quinpool Road, you've been eating the wrong bagels, friend.
This bakery has created a special hybrid bagel for all us east coasters by breeding local wild yeast with a flour-and-water mix, and thus their sourdough was born!
The bagels are baked in store every day, and to make your dozen you can mix and match between the onion-all-in, sesame, pretzel and more. You can also dress your bagel up by grabbing a bagel-wich at any of the 11 local restaurants that serve East Coast Bagels. Carb lovers have a special thing coming for them.
East Coast Bakery, 6257 Quinpool Road


A magic patty ride
Put your phone away, close your eyes and let your senses awaken to the ultimate burger experience. Relish Gourmet Burgers uses traditional French culinary techniques, all while using locally conscious ingredients, to bring you the best gourmet burger in town. Your taste buds will be thanking you.
From vegan to beef options, Relish likes to spice up the patty so that you'll never get bored. You won't be able to keep up with their ongoing burger specials like the famous Donair sliders, Chips n Dip burger, or the Big Wack. These guys are Burger Week champions for a reason.
Everything at Relish is made right there; try the kale Caesar salad's house made dressing with veggies from Common Roots Urban Farm just across the road. This way, you can finish your burger, and then walk over and see where the kale was grown! Just bite the burger already, and get ready to say hello to your new favourite burger joint.
Relish Gourmet Burgers, 6024 Quinpool Road