I scream, you scream
It may be getting crisp and cool out, but that doesn't stop us from screaming for ice cream. It's apple season, pumpkin season and, well, just about everything good season, and Dee Dee's Ice Cream has our favourite fall tastes ready!
Dee Dee's is doing autumn right by serving up a pumpkin spice flavour that will make our basic hearts happy, and is even experimenting with a new flavour using local sweet potatoes and roasted marshmallows. They are our go-to north end neighbourhood ice cream joint, and just about everybody else's. Go in to stay cool, or when it's that kind of day you can warm up with a burrito, or a nice steamy bowl of chili.
The line-up is always worth it, and the staff is speedy, friendly and happy. (How could you not be happy when you're working with this creamy goodness all day long?) Don't be scared to indulge even when the weather is straight-up frosty—just put your scarf on and grab a cone at Dee Dee's. Their flavours will give you shivers.
Dee Dee's Ice Cream, 5668 Cornwallis Street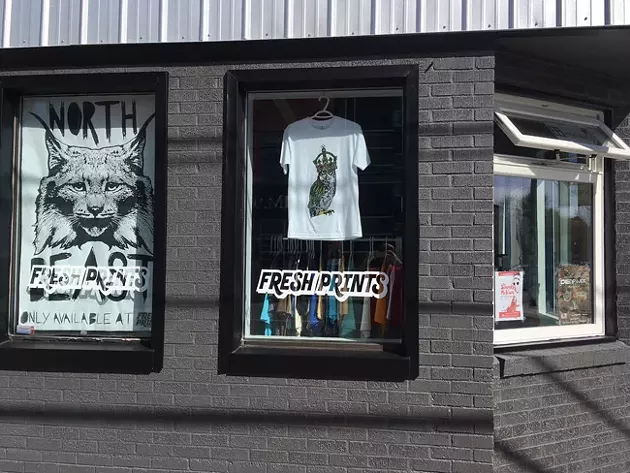 Clothes captioning
Need custom printing for your business, band or festival? Or maybe that embarrassing picture of your friend should really be immortalized for posterity. Does this sound like something you need? Problem solved! Fresh Prints Custom Screen Printing & Apparel is dedicated to helping locals recreate memories, celebrate and make any outrageous idea come to life.
Just think one up, and send it off. There's no design that's too far out. Fresh Prints has custom silkscreen printing, professional graphic design and supply only the highest quality merch for their friends in the HRM. Their t-shirt machine won't stop churning until you're walking around town smiling, and showing off your unique style.
Located in the north end for nearly a decade now, Fresh Prints has been serving clients all around the Maritimes, and beyond. The creative culture and dynamic lifestyles around Halifax keep them committed to do their best—they're always stoked to hear what's next.
Fresh Prints Custom Screen Printing & Apparel, 2411 Agricola Street
Natural balance
It can be easy to forget sometimes in the city, but humans are completely part of nature. As beings, all of us experience the world the same way through our senses, and we are reflective of the natural order of things. Just like our natural world is made up of the elements—fire, earth, metal, water and wood—so are we. Just as Mother Nature can get out of balance, our human elements can also get out of sync. And when that happens, we feel it!
Elizabeth Heffelfinger has been practicing Traditional Chinese Medicine and Classical Element Acupuncture since 1998. She is the past-president of the Nova Scotia Association of Acupuncturists. Elizabeth's focus is working with individuals in a holistic manner, correcting imbalances of the elements and body, mind, spirit.
Walking into her Cornwallis Street office is walking into a warm, friendly environment where you'll feel uplifted, and inspired. Elizabeth works with her clients personally, with one-on-one sessions, where she takes a hands-on approach to healthcare to help keep you in balance.
Elizabeth Heffelfinger, Registered Acupuncturist, 5663 Cornwallis Street, Suite 305
Celebrate with Makenew
Makenew Curated Thrift | Unique Essentials is celebrating seven years of business!  It all started with a curated vintage collection for an online pop-up shot in Anna Gilkerson's backyard. Now her shop sells more than 30 Canadian brands including AKG—Makenew's in-house line of basics, jewellery, accessories, skincare, homeware and art—edited alongside multiple pairs of high-rise '90s jeans, hand-knitted fisherman's sweaters, soft jersey tees and cashmere turtlenecks.
For her Halifax-made line AKG each season, Anna introduces fresh silhouettes while also bringing back customer favourites she may tweak from season to season. AKG Fall 2017 includes heavy knit jumpers, raglan mock neck dresses, soft intimates and cozy gender fluid pieces perfect for Maritime mornings. 
To celebrate seven years of Makenew, "We want to thank all of our customers, neighbours and friends," Anna says, "and give everyone 10 percent off for one entire year and a chance to win a $250 holiday gift basket!" Present the ad in the October 12 issue when making a purchase, get 10 percent off at Makenew for the entire year, then you will be entered to win a holiday gift basket.
Makenew Curated Thrift | Unique Essentials, 2698 Agricola Street
Where there's smokehouse
This old-fashioned deli is a Nova Scotia legend. You know them for their pepperoni, their pride and their family tradition. Brothers Meats and Delicatessen has our mouths watering at the mention of their smoked meats, so you won't want to miss their world-famous smokehouse treats, fresh out of the smokehouse each afternoon.
Brothers Meats is a family-run business that has been in the heart of the north end of Halifax for over 60 years. Their preserved-meat tradition was brought to Halifax from Poland, and the city was instantly hooked. Thankfully, the original family has stayed with the company, so the products are as delicious as ever.
Brothers Meats specializes in the art of smoking, and have six wood-fired smokehouses that serve up house-made deli meats, meatloaves, bacon and pork chops. At Brothers Meats, you can grab a slice of smoky, scrumptious history.
Brothers Meats and Delicatessen, 2665 Agricola Street
Thirst level: quenched
Let's start with what has always been true: You can always count on Propeller Brewing to be open, even when the other guys aren't. Unless it's Christmas morning, there is no way they're letting you go thirsty. That's one of the reasons they've been our go-to "OG" beer store for 20 years, and now, they've just one-upped themselves.
After that long day at work, you can come into Propeller and they'll pour you a nice, tall pint—which is a lot more refreshment than the typical four-ounce sample! You can order a beer, grab some food from anyone along Gottingen, plop down, and enjoy that same dog-friendly, people-friendly, safe space right in your favourite diverse neighbourhood.
Start here to kick off your night before heading to The Local for some pizza, or let Propeller be your nightcap at the end of it all. Accept the invite, and head on in—this is a north end dream come true.
Propeller Brewing Company, 2015 Gottingen Street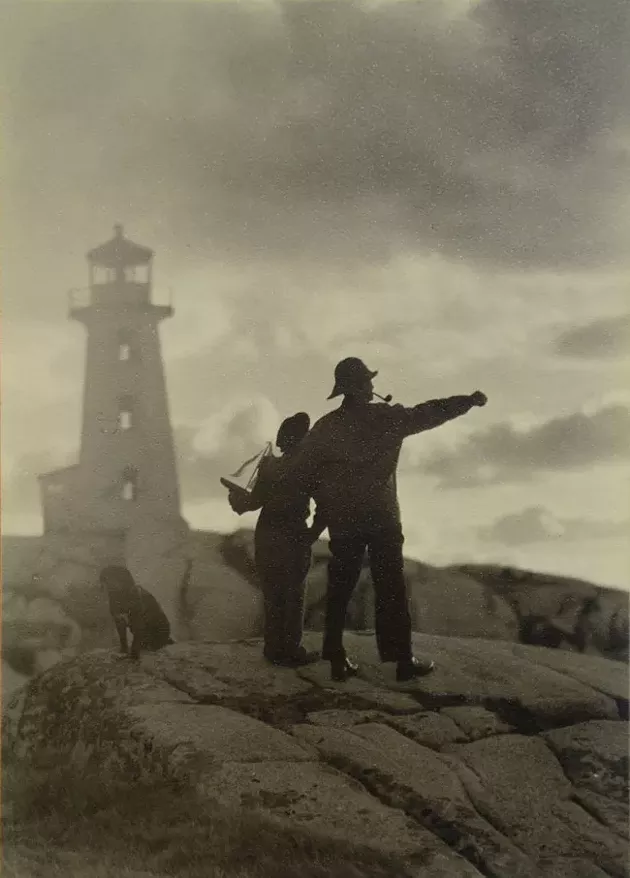 Pieces of history
Photos taken by W.R. MacAskill, born 1887, are a part of Nova Scotia's history. These beautiful photographs use light and reflection to highlight key moments and local scenery, and although they haven't been available on the market for a while, that's changed thanks to Studio 14 Gifts & Gallery. In scenes of Citadel Hill, the Northwest Arm and the original Bluenose, Studio 14 now lets you take home your favourite slice of the province.
Originally MacAskill's images were printed in black and white, using glass negatives, then hand-tinted with oil colour inks or sepia tones. Now, Studio 14 owner Jennifer Jacobson will be taking on the task, and teaching herself to hand-tint.
These are must-own pieces—even Andy Warhol couldn't resist getting a copy of "Grey Dawn," and neither should you.
And if you're looking for something else to brighten up your home, Studio 14 has an eclectic mix of artwork from Alex Colville, First Nations and Inuit artists, along with framing options to perfectly match your personality. You won't be able to leave with just one piece.
Studio 14 Gifts & Gallery, 2393 Agricola Street
Your daily Deli
They're not pretentious and they may not be the prettiest, but they have great taste and great value. Hali Deli has been open five years, and they just can't keep us away.
We're drawn to the smell of sweet caramelized onions that hits us the second we walk in, and we demand their house-made hollandaise sauce on the regular. Everything on the Hali Deli menu is made from scratch, and we're not sure what makes our mouths water more: the soups, the desserts or just the thought of their special Deli Benny. Throw some smoked turkey, smoked meat or smoked salmon on crisp potato latkes and consider us more than satisfied.
Hali Deli welcomes everyone to enjoy brunch, lunch or breakfast. They've been featured on the Food Network and You Gotta Eat Here!, and as much as we'd like to keep Hali Deli our best-kept secret, it's time to share it with the world.
Hali Deli Old World Delicatessen, 2389 Agricola Street
HRM in the NYC
Your hair should only be handled by the best. Which is good news for Halifax, because we've officially got access to the best. Since award-winning FRED. expanded to open a location in New York's Lower East Side, it has been repeatedly named by Time Out New York for being in the Top 20 salons in a city of 10 million people. Fred Connors' local team has benefited from this expansion, as his travel between the two locations has brought top-notch advanced hair painting techniques and contemporary, edgy haircuts back to the HRM.
The professionals at FRED. are longtime north end pioneers, and in their latest boutique on Agricola Street, they offer a full range of salon and makeup services to help you feel elegant and effortless. This collaborative team has evolved into a family, and customers will instantly feel the love as they walk through the door. They problem-solve together, and co-consult to the point where the client feels like they're being cared for by the entire FRED. family, instead of just an individual.
FRED., 2606 Agricola Street
Local knowledge
Sip on a pint and listen to some tunes in this non-judgmental, relaxed and perfect-for-anyone environment. This place isn't just for the "cool kids"—The Local aims to serve as the neighbourhood's local gathering spot.
The Local surprised us as it shows off the broad HRM musical community. You can pop in for Wednesday Jazz Night, or their Sunday Night Blues and Family Dinner, and catch some wholesome fun for all where the parents can waltz, and kids are free to dance too!
When it's time for a night out, you can keep it casual and stay at The Local, or all you party animals can head downstairs to The Seahorse. Just don't forget to put your best costume on, because they've got lots of theme nights happening.
The Seahorse will have us rockin' to a special Alice Cooper Tribute concert the Friday of Halloween weekend (or catch some spooky fun with S.O.S. upstairs in The Marquee that Saturday). The Local isn't just a special group's place, it's everybody's vibe.
The Local, The Seahorse Tavern and The Marquee Ballroom, 2037 Gottingen Street
Style is forever
Sattva is a Sanskrit word describing a state of mind of feeling light, clear, connected and content. In other words, exactly how you'll feel when you walk into this beautiful boutique on Agricola Street.
The collection at Sattva Boutique is curated through four principles: ethically made, eco conscious, locally sourced, socially aware. The products give back to the community, without sacrificing on being modern and fashionable.
Inspired by the saying "less is more," Sattva offers you a new way to refresh your wardrobe. The beautiful selection of "modern classics" is full of essential pieces that are timeless, comfortable and high-quality. The kind of pieces you will reach for again and again, wearing them for years to come.
These Canadian-made designs are carefully chosen for the modern, sophisticated woman by a kind and passionate team of women who love bringing people together through fashion. Sattva helps you to feel connected to your clothing and promotes a joyful relationship between you and your wardrobe. A must visit if you haven't been!
Sattva Boutique, 2453 Agricola Street
Tony's, Tony's, Tony's
After a night on the town or a long day, there's a hunger in your belly that nothing else can satisfy. You'll walk aimlessly, until finally it clicks. That's when you can practically taste the sweet sauce even before it reaches your tongue. Nothing says Halifax like a midnight donair from Tony's Donair & Pizza.
Tony's has been welcoming Haligonains for 40 years to his same Robie-at-Cunard location in the north end. And even if you don't live close by, you'll find yourself making the trek for this local goodness. Tony's is one of Halifax's original pizza and donair shops, and they've never let us down.
"Tony's Corner" is a phrase known to all, and shared with only the most special of tourists. So here's your key to the real Hali experience: the neighbourhood place to get an original and famous donair.
Tony's Donair & Pizza, 2390 Robie Street
Work hard, play hard
When Local Source market first opened at the corner of Agricola and Charles Streets, its goal was to give people the opportunity to eat local food, and take part in in the local living economy. Growing to start the attached Lion & Bright Cafe Wine Bar is an evolution of that food philosophy. Lion & Bright is a space for people to gather, participate and connect.
The Bright bar is the early morning cafe that starts our day. It's where bright ideas are conjured up, and bright minds come together in a creative community to have conversations in a cohesive environment. Once we can get things done, the space transforms into a celebration of the art of the hustle.
The Lion bar comes to life in the night. Our lion heart and sense of pride emerge through drinks in this sanctuary where we can talk about workdays, and our hopes for the future. The lion lets us connect on a social and human level over food and drinks. There are two sides of this creative coin: working hard, and then playing even harder.
Lion & Bright Cafe Wine Bar, 2534 Agricola Street
What dreams are made of
We all love to feel our best, so don't we deserve to look like our best, authentic selves? For everyone who answers "yes" to that question, Boutique Zekara is a dream come true. With their constant search for new brands, there's always a unique treasure to be found at Zekara.
Zekara offers fun, fashion-forward lifestyle pieces, footwear and accessories to add to your wardrobe, completely geared to enhance your individual personality. Founder Donna Williamson uses her innovative vision and creativity to find brands like In Wear, Repeat, Spanner, Joseph Ribkoff, Sandwich and more. Coming into Zekara is an unforgettable experience where you'll build a relationship with Donna and her team, and receive the best possible products and services. After launching Zekara in Rothesay, NB, Donna chose Agricola Street as her next adventure.
As if having a trend-setting boutique wasn't enough to send us to Zekara, nestled inside is a Merle Norman Cosmetic Studio. Merle Norman is a brand of makeup and skincare that's been loved and trusted since 1920, proving to be a product that excels in price and performance. Stop by and put some on before you make a purchase. Donna believes in the "Try before you buy" philosophy. If you're not happy, she'll make sure you get something that you love and that will work for you. She's here to serve you, Halifax.
Boutique Zekara, 2698 Agricola Street