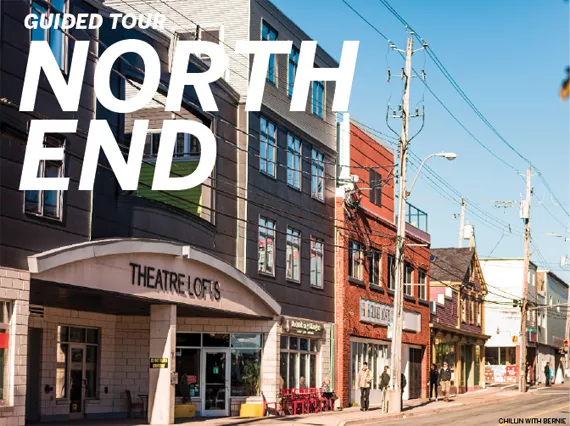 For more than 12 years, Foxy Moon Hair Gallery has been doing things just a little bit differently. One of the first locations in Halifax to join the Green Circle Salons, Foxy Moon works to be a sustainable salon, with green principles in dealing with the waste a salon produces. Eveyneia Dexter also stresses excellent customer service, ethical practices and, above all, incredibly high-quality services. A further example of Foxy Moon's commitment to being a green salon is the explicit use of eco-friendly products such as Aveda and, exclusively at Foxy Moon, Davines, promoting the concept of sustainable beauty. Foxy Moon has also recently opened a small boutique in the shop, which only carries eco-friendly beauty and home products. Foxy Moon Hair Gallery, 2725 Agricola Street
---
A combo package of small independent record label and vinyl-only retail store, Black Buffalo Records is all about local music. The label focuses on short-run limited seveninch 45s from local artists, while the store has a large collection of new and used records from a wide variety of genres.
Believing in the atmosphere of the north end, and its strong affinity for arts and music, Kevin Beal's space also affords touring and local bands a venue to perform, and he organizes record fairs twice a year. The next one is this Saturday, October 8 at the Halifax Forum Maritime Hall, 10am-4pm. Black Buffalo Records, 5576 Cornwallis Street
---
When you're looking to create incredible custom team jerseys, shirts for a group event, or you just have a cool design you want to put on a unique t-shirt for yourself, more often than not Fresh Prints is where you end up. Locally owned and operated for six years by Nigel Lutes and Joseph Fischer, Fresh Prints can do anything from an individual garment to a shipment of over 1,000 pieces.
Every staff member at Fresh Prints is an artist; whether it's a graphic designer, sketch artist or graffiti writer, everyone at the shop has a keen eye for design, and they are willing to share their knowledge.
They don't simply take your design and print it. Rather they are able to offer suggestions (if they have any) to improve a customer's design and introduce new brands and print applications/options to truly make your desired project stand out. Customer service at its finest. Fresh Prints Custom Screen Printing & Apparely, 2411 Agricola Street
---
A variety store that ties music, art and fashion all together, Lost & Found is essentially a vintage wonderland in Halifax's north end.
Launched by Jay Melanson and Sherry Lynn Jollymore, the store has spent years offering unique clothing items, local pieces and hand-picked handmade goods. Managed by Melanson's wife Anya Nordeen, the staff at Lost & Found are equally as creative and ambitious as the designers you'll find inside.
Lost & Found doesn't try to follow trends, but rather aims for the unique items—be it their ever-rotating line of unique dresses, locally made jewellery or music records—that will truly call out to you. Lost & Found, 2383 Agricola Street
---
Specializing in midcentury modern and Scandinavian designs, Abode is a furniture and home decor boutique that offers authentic, original pieces, reflecting an era that focused on quality materials and craftsmanship. Modern production from Normann Copenhagen, Dansk, Herman Miller and Mezzaluna Studio complement these original ideals of the 1950s and '60s.
A north end resident for more than a quarter century, Daun Windover has created a space with extensively researched products (with an effort to have many Canadian and local items as well), leading to an unparalleled level of quality and unique items, plus top-rate customer service, including plenty of parking and access to other design shops, solidifying the north end as a Halifax destination for furniture and design. Abode Boutique, 5881 Almon Street
---
Locally owned and operated with a staff comprised entirely of passionate cyclists, Cyclesmith offers the widest selection of products, with a focus solely on bicycles. Whether you're a commuter, road, hybrid, rails to trail, leisure cyclist or a mountain biker, Andrew Feenstra and his staff take great pride in offering great customer service and expert advice to help their customers get the most enjoyment out of their cycling experiences.
Halifax's north end is a very tight-knit community, and those ideals extend to Cyclesmith, where there's great cycling and awesome products available; they've created one of the strongest cycling communities in Atlantic Canada. Cyclesmith, 2553 Agricola Street
---
It started out as a weekend pop-up inside the venerable Gus' Pub, but Ace Burger became madly popular and took over Gus' kitchen permanently. It was a bold—but great—move, as one of three of Leo and George Christakos' eateries, it became one of the premiere burger shops in all of Halifax.
Inspired by big city street food stands and old-school burger joints of the late '40s and mid-'50s, Ace Burger puts an emphasis on tasty, handcrafted eats made from fresh, local ingredients—Slow Food Done Fast. The menu is simple and well-tuned, allowing customers to experience the flavours of each carefully constructed burger creation.
Go with the Classic or DeLuxe, or try a more adventurous creation. Have it solo or with a side, and grab a beer from the bar at Gus'—easy, simple and delicious. Ace Burger Company, 2605 Agricola Street
---
If you're looking for a cozy coffee shop in north end Halifax, look no farther than The Nook. Open seven days a week, the staff at The Nook don't just serve; they share your love for coffee, food and drink! Originally opened in November 2013, The Nook was taken over by Kathleen Healy, Adam Healy and Liesl Mulholland in June of 2015. Offering a variety of baked goods and freshly made food items, The Nook takes great care to have something to accommodate any dietary restriction.
More than just a coffee shop, however, The Nook also hosts fast-paced trivia nights, laid-back open mic events and more gatherings.
Grab a homemade raspberry Nutella square and locally roasted coffee, or share some of its wildly popular nachos. Whatever route you decide to go, your favourite little north end coffee shop has you covered! The Nook, 2118 Gottingen Street
---
A neighbourhood pub where you can go for a lunch break, after-work beer, casual evening dinner, weekend brunch or even late-night karaoke on Fridays and Saturdays, the Lion's Head Tavern is flexible enough to suit any social need.
Boasting friendly service, good food and a great variety of beers on tap, Lion's Head has been a north end mainstay for a long time, playing a key part in the recent growth and development of the area. Be sure to check out their incredible Tuesday wing nights, but visit anytime—the entire menu is loaded with options that are delicious every day of the week! Lion's Head Tavern, 3081 Robie Street
---
Opening on October 13, Halifax will have a new place to find delicious, fresh seafood, when Hooked Halifax officially opens its doors. Focusing on small-scale, sustainable seafood from Nova Scotia and all over Canada, the selection at Hooked Halifax will be based on what has landed that week.
Nova Scotia was built on smaller-scale, family-run fishing operations, and Hooked Halifax will stick to those partnerships, with all their seafood provided from reputable partners they know and trust from across the Hooked network, all of which practice sustainable fishing and fair trade.
Owned and operated by Dave Adler, Hooked Halifax works closely with chefs, and is even managed by local chef Annie Brace-Lavoie. So not only will you be getting the best quality of seafood such as local haddock, oysters, shrimp and wild BC salmon, but you'll also be also to get on-the-spot advice and suggestions on the best ways to prepare your seafood when you get home. It's the ultimate ocean-to-table experience! Hooked Halifax, 5783 Charles Street
---
Living up to its motto "REAL GOOD FOOD SERVED HERE," Hali Deli is a north end institution. Known for large portions, great value and 100 pounds of caramelized onions a week, Victor Fineberg offers a menu that is hard to replicate anywhere else. Preparing most items from scratch (thanks in part to his wife Sybil—the best cook he knows), Hali Deli strives for authentic flavours in a relaxed atmosphere.
Whether it's onions caramelizing for hours, sweet pickled brisket in a special brine for days (then steam for more than five hours) or potato latkes, expect incredible flavours when you walk through the door. And don't even think about going to Hali Deli and not having the matzah ball soup—made from scratch using stewing hens, it's just that good. Hali Deli, 2389 Agricola Street
---
FRED. is an affordable, boutique luxury destination, focusing on beauty and delivering the best possible customer experience. Opened by Fred Connors as a cafe, salon and art gallery in the north end 12 years ago, FRED. quickly became more more. It turned into a community gathering place, at a time when the area lacked one.
FRED. developed programs to open our doors to the community, and to those who had not experienced all the diversity the north end had to offer. A breakfast program for inner-city girls, community partnerships with Leave Out ViolencE, Adsum House and Stepping Stone, participation in neighbourhood festivals, events and more—FRED. is proud to have been an anchor in the north end.
Having moved from its flagship Agricola location, FRED. is now focusing its passion on beauty. With a feel more like the salon Connors created in New York City two years ago, the new FRED. is intimate, unexpected and extraordinary. FRED., 2713 Agricola Street
---
Halifax's north end is a one-of-a-kind community. You won't find many standard chain stores here, as the streets are filled with a vibrant, eclectic mix of small businesses, which focus on championing local food, drink, art and culture.
"What separates us is our diversity, history and community spirit—north enders are a special bunch," says Patricia Cuttell, executive director of the North End Business Association. "The north end is home to a lot of artists—musicians, poets, painters—and you can definitely pick up on that artistic, creative vibe when in the north end, especially as it has transformed into Halifax's design district."
The area has seen tremendous growth the last 10-plus years, and a big role in that was played by the North End Business Association. The association has advocated for better conditions to enhance economic growth—such as increased parking, improved cycling infrastructure and overall improving the aesthetics of the streets—and also hosts events that not only support the community, but expose others to everything the north end has to offer.
The growth isn't stopping either. With recently opened businesses such as Fibres of Life, LF Bakery and Agora, plus the construction of the Compass Distillery and renowned furniture and design shops Attica and P9 moving to the area, it still is—and will continue to be—exciting times for Halifax's north end. North End Business Association, 206-2099 Gottingen Street
---
Originally a staple of downtown Halifax, when it opened in the late 1940s, The Seahorse Tavern moved to the north end on New Year's Eve in 2014.
And then—just like now—what makes the Seahorse so iconic is that it doesn't adhere to any one style. From loud bands and dance parties to quiet concerts, comedy shows and any special event in between, the Seahorse has (and always will) embrace it all. The premier venue for live music and dance parties in Halifax, the Seahorse holds monthly dance parties ranging from Motown and Soul to '90s jams and its famous retro night, Halifax's oldest and original retro-themed party.
The Seahorse also has its sister venue upstairs—The Marquee Ballroom—which only enhances the atmosphere with additional great events and shows. The Seahorse Tavern, 2037 Gottingen Street
---
When Sarah Bannerman Andrews opened her own retail store in April, she was offering more than simply women's clothing and accessories and natural beauty products—she created a modern example of conscious consumerism,
Everything you'll find at Sattva Boutique was chosen based on four principles: Eco-aware practices or eco-friendly fabrics, ethical production, locally made (95 percent of its clothing is made in Canada) and socially responsible companies.
While the focus is on items that are modern that are comfortable, versatile and high-quality, such as Miik, Yoga Jeans, Jennifer Glasgow, Des Petit Haus and Province Apothecary, SattVa has created a social community that provides much, much more. Sattva Boutique, 2453 Agricola Street
---
The Alliance Française in Halifax has been in Nova Scotia since 1903, and is part of an international network founded in 1883 in Paris, France. A not-for-profit organization, Alliance Française Halifax serves as a French cultural centre (ranging from showings of French movies, guided tours and many other cultural events), an official examination and resource centre for DELF-DALF diplomas and, most important, a location to learn French as a second language.
Alliance Française Halifax offers French classes for every age and level. From toddlers as young as 19 months, to high school students, people looking for additional professional development and those looking to keep their mind sharp and acquire another hobby, Alliance Française Halifax combines small class sizes with expert instructors and a total immersion process, offering the highest-quality French language instruction available. Alliance Française Halifax, 5509 Young Street
---
Set to open January 2017, the Hydrostone's newest location for growing families and businesses alike is ready for north end residents to call home. St. Joseph's Square will boast roughly 6,000 square feet of commercial space, with 106 residential rental units—including suites and townhouses.
Developed by Dexel Developments and managed by Paramount Management, St. Joseph's Square is also acknowledging the history of the land it will be standing on—the building at one point in time was a church, and the old stained glass and reclaimed limestone will be incorporated into the building, mixing historic elements with modern comfort.
With interior amenities such as a fitness centre, residents' lounge, entertainment kitchen, resident workshop and an outdoor green space, St. Joseph's Square will only further the renaissance that north end Halifax is undergoing. St. Joseph's Square, 5450 Kaye Street