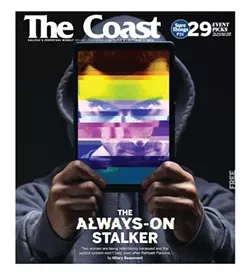 The Canadian Journalism Foundation just announced the finalists of its 2015 Excellence in Journalism Award, and the news has Coast headquarters reeling. In a good way.
As well as naming the short-listed outlets in the "large media" category—the Globe and Mail, Global TV, L'actualité, the Toronto Star and Winnipeg's Free Press—the CJF announced the winner in the "small media" category. Not a group of finalists, but the straight-up winner. And it's The Coast, riding on the strength of Hilary Beaumont's feature story "The always-on stalker".
In notes about why The Coast won the Excellence in Journalism Award in the small media category (which I've got to admit is a thrill to be typing), the CJF says:
"The topic of cyberbullying could not be more topical, but it is also one rife with inaccuracies and misinformation," says Antonia Maioni, a professor in the Department of Political Science at McGill University's Institute for Health and Social Policy and a member of the jury. "The Coast uses its deep local connections in Nova Scotia to bring accuracy and thoroughness to its research, and in so doing reveal the underreported stories of stalker victims -- bringing their voices out clearly and credibly in a very noisy and messy news environment."
The CJF defines small media as outlets with fewer than 50 full-time employees. There's no indication why The Coast is the outright winner of the Excellence in Journalism Award in the small media category (still thrilling!), but the win marks the first time a Nova Scotian organization—large or small—has ever received the prize.