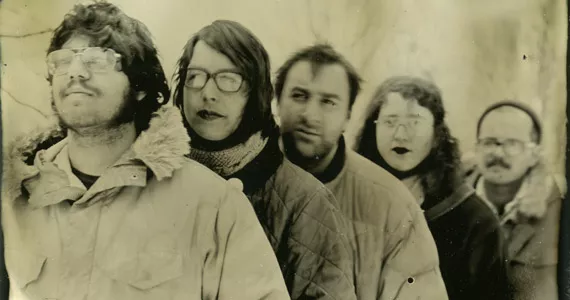 Montreal band Fakes insists it fell into punk: "We were not really familiar with our instruments when we started," says guitarist Frankie Burge, "so it seemed like the most accessible genre to us. We just wanted to have fun and do something cathartic."
After talking about starting a band with singer Hilary King, the two were compelled to make their ideas a reality by drummer Chris Cameron.
"She's aggressive like that," says King. "I think it translates into her drumming."
Eight months later, Fakes is playing a show at Menz Bar with fellow Montrealers Lungbutter, Halifax's Old and Weird and Sackville's Kappa Chow, which formed with similar goals and skill sets as Fakes. "The intent was to play fun punk music and learn our instruments while hanging out," says Kappa Chow frontperson Joe Chamandy.
With Montreal band Harsh Reality, Fakes recently released another touchstone of punk---a split cassette, what King calls "part of a larger DIY punk culture." "Tapes are a cheap way to get music to the masses," says Cameron. "Even in the age of the internet there is still a tape-loving community, which I think is really rad." Chamandy agrees: "Cassettes are always a good time."
Lungbutter singer Grace Brooks, whose band shares a jam space with Fakes and has "similar politics and similar approaches to making music," wouldn't necessarily label her band punk but does concede it has "punk elements and a punk approach, definitely. We really value DIY."
Another element of punk? Mutual admiration. "We are stoked to share on such a stacked bill," says Chamandy, and Old and Weird bassist Hannah Guinan recalls her response to show organizer Megg Cooper's proposed lineup: "We were so excited."
Lungbutter will play an all-ages show with Fakes at the Halifax Common Skate Park the following day. "It makes sense to tour with people you like," says Brooks.
---
Fakes w/Lungbutter, Kappa Chow, Old and Weird
Saturday, May 3 at 9pm, $5
Menz and Mollyz Bar, 2182 Gottingen Street
Fakes w/Lungbutter
Sunday, May 4 at 5pm, Free, all ages
South Commons Skate Park