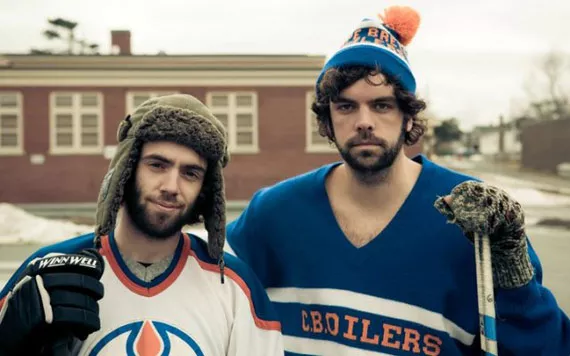 "This festival is a cool thing to be part of because everything to do with it is local," says Mike Ryan, vocalist/guitarist of The Town Heroes. On Thursday, Friday and Saturday, the band's label, Groundswell Music, is putting on one heck of a festival. "The music, the food, the beer, wine and cider, it's all from Nova Scotia," says Ryan. "There's even going to be lobster mac-and-cheese, so that's a win-win for everyone."
With a host of local food and beverage producers, plus music by Rawlins Cross, The Stanfields, Hillsburn and The Mike Bochoff Band, the fest is going to be a party. The Town Heroes are adding to the fun by celebrating the release of Please, Everyone.
Recorded "during the winter from hell with 6,000 feet of snow and ice," Ryan says they faced some challenges. "But it points out a number of things that some consider wrong with society in the modern age," he says. The award-winning Cape Breton rock duo uses Orwell's classic novel 1984 as a thematic backdrop.
"It's a wake-up call for people to be aware of what's happening to ourselves and the world around them," Ryan explains. "Ultimately it says be OK with who you are. You don't have to give in to the pressures of the world or society. Being who you are, no matter what that may be, is cool. That's all that matters."
It's appropriate that The Heroes bring this message to Groundswell Music Festival, which is designed to highlight the best of our local communities. They'll also have a number of friends joining them onstage.
"We'll have a small choir, some guest musicians, it's gonna be a blast," Ryan says. "And supporting local means a lot to us. It keeps the community going and strong. If we don't have that, we don't have anything."
---
Groundswell Music Festival
Thursday-Saturday, November 19-21, 7pm
Olympic Community Hall, 2304 Hunter Street
$40/$65