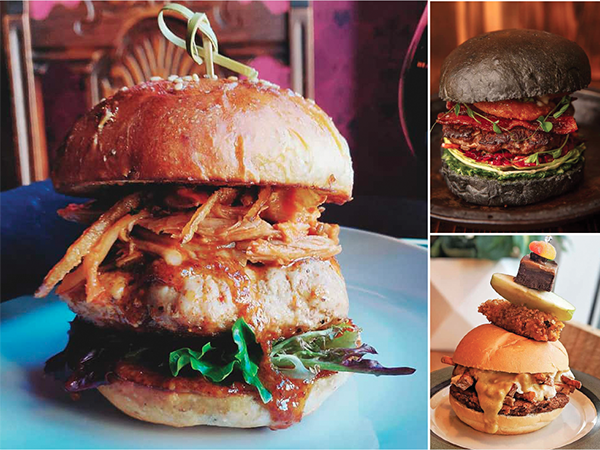 Halifax Burger Week
March 28-April 3
burgerweek.co
---
Unless you've been hiding under a rock, on a social media cleanse or avoiding this newspaper, you probably know its officially Burger Week. The annual event (presented by your pals here at The Coast) is back for its seventh year and once again its lineup of burgers (there are more than 140 of them across town) has taken it to a brand new level of over-the-top flavour.
While options for gluttony and experimentation abound this week, here we've zeroed in on some of the more unorthodox burgers on offer. If you're more of a bacon, cheese and ketchup kind of diner—clickity click your way to burgerweek.co for every sloppy detail.
The Kilted Camel
If you're thirsty for a little exotic protein this Burger Week, here's a weird one: Argyle Street's Scotch-loving watering hole is serving up the hump-backed mammal in between two buns. The desert-dwelling creature—which is said to taste like a lean red meat, a little bit beefy and a little bit lamby—finds itself with roasted veg, onions and beer cheese on a focaccia bun. Sorry, Sally! The Loose Cannon, 1566 Argyle Street, $16
---
Jumping Jack
Looking down under for novelty meat inspiration is The Press Gang, which has dabbled in kangaroo meat for the last couple of Burger Week cycles. This year's roo is topped with tomato bacon jam and Monterey Jack—with the option to add foie gras or butter confit mushrooms, which sounds hella fancy. The Press Gang, 5218 Prince Street, $25
---
Squid Pro Quo
Calamari isn't necessarily an alternative seafood, but a squid burger isn't something you see every day. Mappatura—which has showstopping calamari every day of the week, FYI—piles the squeaky squid high with provolone fondue, olives and slaw and smashes it into a milk bun. Mappatura Bistro, 5883 Spring Garden Road, $16
---
The Black Widow
A black bun and onion ring top this hunk of the most primal pig in the mix—the furry mf that is the wild boar. Said to taste a little like pork, a little like venison and really rich, this boar patty is slathered with a slew of portmanteau'd sauce and garnish: "Gochubang slaw, chimilantro, stout beernaise" to be exact. Primal Kitchen, 1463 Brenton Street, $15
---
The Dork Burger
RumbleFish isn't serving fish. It's also not afraid to mix meats. Good Robot's kitchen connoisseur combines the greasy goodness that is duck meat with Oulton's pork to come up with "dork," a burg sure to be packed with flavour. Simple condiments (beer mustard!) take it to the next level. Get quacking on this one. RumbleFish Food Co., 2736 Robie Street, $17
---
Mangalitsa Burger
Inspired by the Vietnamese banh mi, with all its pate, daikon and lemongrass goodness, comes this saucy burg. With a patty made with mangalitsa pork—or so say some, "the Kobe beef of pork"—that's been raised by the restaurant's farm, this towering meat sandwich is as ethical as it is unique. Studio East Food + Drink, 6021 Cunard Street, $12
---
The Jiminy Cricket
A more unlikely pairing than Kate Beckinsale and Pete Davidson, this cricket-beef hybrid takes the form of a regular old cheeseburger (think pickles, tomato, lettuce) with a little added protein. This burg's bun is also bugging—it's made using cricket flour.
The Local, 2037 Gottingen Street, $7
---
The Overflow
This Burger Week newbie gets a nod despite the fact its "meat" isn't meat because it's just plain wild. Chef Lauren Marshall doesn't shy away from plant-based excess, and tops her seitan burg with vegan cheese string poutine (pardon?), apple, pickle, a sour candy and "peanut butter raisin thingy." Real Fake Meats, 2278 Gottingen Street, $12 —AS