Whit Stillman hasn't made a movie since 1998—The Last Days of Disco with Kate Beckinsale and Chloe Sevigny—which I was able to see at Empire Bedford, that's how long ago.
He's back now with Damsels in Distress, a quirky, mannered comedy about a quartet of girls (led by Greta Gerwig, The Future of American Acting TM) who have decided that they would live as if they were going to college in more refined times, all sweater sets and primness. When not studying, they run the campus suicide prevention centre. The tone is equal parts whimsy and wicked, a modern-day 30s comedy complete with tap-dancing and a closing musical number. The journalist crowd really dug it, but it's a marketing nightmare, unless they hang it on Gerwig's performance, which is unlike anything we've seen from her—known for her naturalistic turns in Greenberg and Hannah Takes the Stairs, her Violet is mannered, curt, precise—the opposite of mumbly. She's going to be a star; see for yourself at the Atlantic Film Festival on September 23.
A note on Jennifer Westfeldt: She co-wrote and starred in Kissing Jessica Stein, a high-concept-sounding indie about a woman who can't find a man in New York so she turns to a woman. Her performance is great, neurotic and endearing, like how Woody Allen used to be, and she was poised to be the next big thing in indie film. Then she wasn't, but she got a TV series—Notes From the Underbelly, cancelled in its first season. She wrote another movie, Ira & Abby, and nothing happened, again. She was on 24 somewhere in there too.
This whole time, she's been dating Jon Hamm—he appears in a couple scenes early in Jessica as a generic handsome prospect—whose star has been rising steadily for five or six years. My first night here, I was hanging out in front of the Ryerson checking out the shitshow, and a car pulled up. Jennifer and Jon got out. The assembled autograph seekers and paparazzos started yelling "Jon! Jon!" and he stopped and posed and signed. Not one "Jennifer" was uttered, so she ran the gauntlet and started chatting with publicist types. This is after people were screaming at Brian Austin Green, ffs. The point? IT WAS HER FUCKING MOVIE.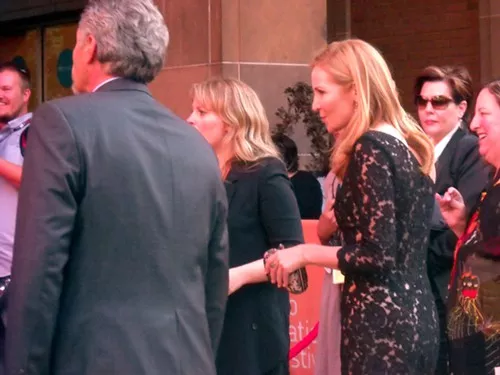 Long yellow hair, that's her. (Not pictured: Jon Hamm.)
Westfeldt has written—and, for the first time, directed—a nice little comedy called Friends with Kids, in which she stars with Parks and Recreation's darling Adam Scott as best friends in their mid-30s who are losing their other friends—a Bridesmaids reunion of Hamm, Kristen Wiig, Chris O'Dowd and Maya Rudolph—to parenthood. Eventually they decide to have a child and share it in their current platonic situation—what could go wrong? Ed Burns and Megan Fox show up as respective love interests, and even though the end drags a little, it's mostly a very successful indie-world romcom, and it's because of Jennifer Westfeldt. Please remember. It opens with a Regina Spektor song, you guys! Jenny Lewis is in there too! Westfeldt is good people! Westfeldt is good, people!