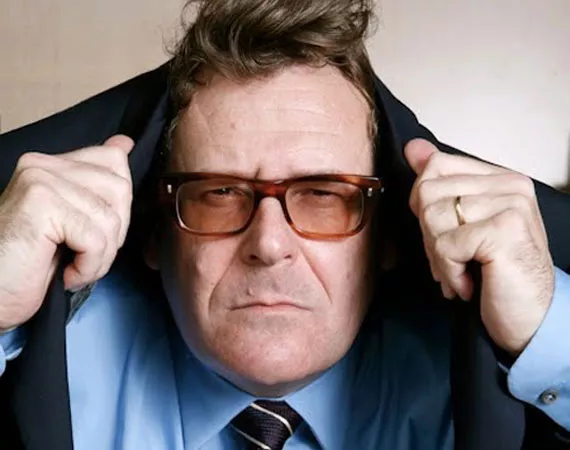 There are many times you've seen Greg Proops: a regular on Whose Line Is It Anyway?, a voice actor in films including Star Wars I: Phantom Menace, his podcast The Smartest Man in the World, a 2010 Casino show or the 2012 Ha!ifax ComedyFest Smartest Man taping. Now you can add 2014 to the list.
"I also appeared in disguise at the first Ha!ifax Comedy Fest in 1977," Proops jokes. For the annual celebration of international and local comedy, Proops will again record his popular podcast, The Smartest Man in The World, at The Company House, between stand-up showcases.
"The podcast is the most important thing I do live," he says of his decision to tape a second episode in Halifax. "It was a must, like lobster." For those unfamiliar, he says the tapings are "tears and raving, drinking and apologies, and then we begin. It is a comedy show with some facts, and some opinion backed up by facts." After decades on the Hollywood grind, the San Francisco-born Proops began the podcast a few years ago and has totally embraced the medium. A solo impromptu performance of ranting and riffing, he records all over North America.
"There are no disadvantages to podcasting," he says. "There are no corporate meetings or outside control or interference. The freedom of expression is absolute and that is a gift for the moment. Yes, it's not about money, and that is an important lesson for every artist. Art is for art."
The podcast is a genre that has increased in popularity in the digital age, and it provides an opportunity for comics to reach wide audiences with no cost. The flip-side is low to no profit.
"When someone new starts a podcast, they are jumping into a big pool with Maron, Rogan, Hardwicke, Corolla and so on," says Proops, whose podcasts are available to stream on his website, gregproops.com. "I try to do as many new podcasts as I can squeeze in."
He says he's "chuffed beyond measure" with the success of his podcast, adding that it's changed his life and his wife's life, as well. "We are connecting with loads of people."
It's a change of pace for Proops, who spent years on the American and British versions of improv-games show Whose Line. His nasal impressions, nerdish wit and trademark style animated the series. In the US, host Drew Carey moderated the off-the-cuff craziness of live improv with comedians like Colin Mochrie and Wayne Brady. "I love them all," says Proops. "But Ryan Stiles is a magician. We've worked together over 20 years and we're all sympatico."
And what's Carey like in real life? "A gentle lover," Proops answers. His Whose Line time equipped Proops with a versatility that propelled the rest of his diverse comedy career.
"My versatility is like my humility," he reflects. "Huge! I have never planned, as I am terrible at business. It all just happened." And that makes sense, especially for an improv comic.
While he lives in LA, Proops is a San Francisco Giants fan, his hometown team. He says the rivalry between the Giants and the LA Dodgers is like "Abbott and Costello, and San Francisco is Costello, the funny one. No predictions for the season, they only cause pain."
As for comedy, he says the future looks brilliant. "Women and non-white guys are dominating and it's about time," he says. "And we don't need TV, except for the CBC. The smartphone changed the ballgame. We now deliver direct to fans and that is beautiful." And who does the Proopster think is really the smartest person in the world? "My wife, Jennifer."
---
All Star Show
Thursday, April 24 at 6:30pm, $45/$38
Casino Nova Scotia, Schooner Showroom
The Smartest Man in the World taping
Friday, April 25 at 10:15pm, $15
The Company House, 2202 Gottingen Street
Gala of Laughs finale
Saturday, April 26 at 7pm, $38
Spatz Theatre, Citadel High