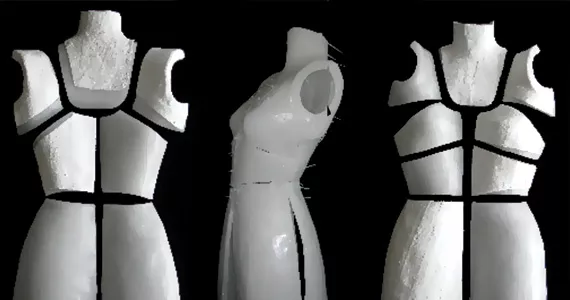 On the south side of the ancient Greek temple The Erechtheion, on the Acropolis at Athens, is the famous Porch of the Maidens. Six sculpted female figures, or Caryatids, act as supporting pillars for the porch roof. The maidens have individual poses and facial expressions, their large hairstyles balancing out slender necks to permit them to be structurally sound, gracefully holding the roof aloft.
It was these iconic figures that inspired Jacqueline Riemer's exhibit Six Low-Cast Maidens in Search of a Porch, opening at Saint Mary's University Art Gallery Friday, January 6. Riemer, who works out of a studio in Bayside, says, "I was struck by the attitude of those female figures, so relaxed and confident. I couldn't remember ever having seen that in art or in my experience. I remember wondering, throughout my years at NSCAD, how a modern porch of the maidens might look."
In her interpretation, the maidens are relieved of their architectural function, free to wander through the gallery. The possibilities for them are endless. "The Low-Cast Maidens, because they have no notion of being elsewhere, are open so anything can happen. It's not mysterious," Riemer says. "Everyone has had the experience of no reference point, but usually we find that moment so unnerving we instantly categorize, codify, label it good or bad." Riemer is interested in a less rigid way of seeing. "We really don't have to believe everything we think, make it so solid. We could allow a little bit of space."
The process of constructing the modern maidens was "difficult and long," Riemer says, evolving organically to eventually include 18 sculptures. Riemer began with a set of 12-foot Sonotube forms. Then, she explains, "a friend who was doing a body of work involving casting the figure told me she was having trouble getting family and friends to let her cast their body parts. I offered her my whole body, and when she was done with the forms she gave them to me." Another set of maidens was cast from these forms, and another from a dress form Riemer had in her studio. Some playing with materials was required for the final product.
"Originally, I planned to cast my body in wax," Riemer says, "but working with wax is like working with metal. It's got attitude, is brittle, deforms and is fragile to boot, and needless to say it didn't work. So I finally did the cast of my body in plaster and the cast of the dress form in wax." The result is three types of sculpture, variously abstract in their representation of the female form.
Riemer brings a Buddhist perspective to her displacement of Greek architecture, finding the two go together quite naturally, "not because I had any profound theories about it, but because I followed my heart." It seems apt that a video of Riemer's own heart beating will be projected on the window of the gallery, in an installation that ultimately speaks to universal human themes.
"The Low-Cast Maidens create an environment where the viewer is invited to think about how to live in space and time, the meaning of material and form, how the past has created the present and how we are now creating the future, and the question of what it really means to be present," Riemer says. "These are contemplations not only undertaken by students of Buddhism or of Greek philosophy, but by all of us all the time."