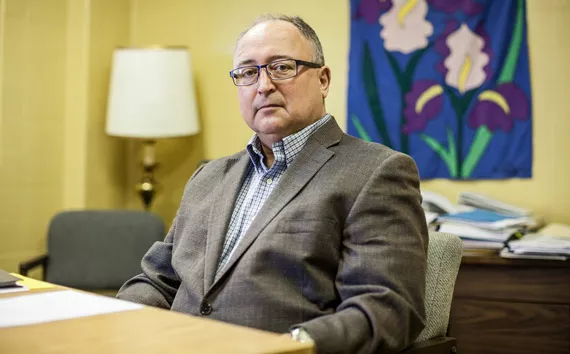 "Who else is helping them?" Stephen Ayer asks. He pauses briefly before answering his own question with a quiet intensity. "No one. We are. That's why we have value."
Ayer is executive director of the Schizophrenia Society of Nova Scotia, one of many groups to have their grant budgets slashed this year. He's referring to the community of people affected by the mental illness that he helps every day.
The organization was on track to receive $50,000 from the ministry of health and wellness this year, but when Ayer saw the new Liberal budget this month, he was surprised to find they were getting 23 percent less.
This money, the last of a three-year grant, would have gone toward programs helping family members who have loved ones with schizophrenia better understand the illness. The end goal is an accessible network of support for those who need it.
This year the Nova Scotia government dropped community grant funding for mental health and addictions from $1 million to $600,000, and they aren't looking to fund any more grants for the rest of the year.
"We made every effort to reduce funding that would have the least impact to programs, services and communities," says Leo Glavine, minister of health and wellness. "The need to reduce funding is in no way a reflection of the service they provide to Nova Scotians."
The government has set aside a million dollars for youth mental health services that will go towards "trauma informed care training" at the IWK and in schools. Ayer is glad to hear this, because 75 percent of all mental illnesses have their onset before the age of 25.
"Putting money into mental health services for youth and adolescence is a good choice for the government."
Still, the schizophrenia program is way too valuable to call it quits, says Ayer. The SSNS is going to have make up the difference by fundraising. Although Ayer is sure the organization is able to reach its goal, that route comes with fundamental pitfalls.
"It takes away from what these organizations do really well—which is service delivery," says Jeff Karabanow. He's a professor at the Dalhousie School of Social Work, where he co-directs the community clinic and organizes the Out Of The Cold emergency shelter. Putting time and energy into fundraising takes focus away from what makes community service so valuable to the public—services that Karabanow describes as immediate, accessible and caring. Each service is one-of-a-kind.
As grant opportunities dwindle, Ayer and his team must step back a re-evaluate their entire fundraising strategy. If they choose to rely more heavily on fundraising, "It starts to limit what they can offer," says Karabanow, "and then all of a sudden all services start to look alike. They're not as unique anymore."
The Canadian National Institute for the Blind, another group whose grant got the axe, is dealing with the cuts in a different way. The organization wants to sit down with community service minister Joanne Bernard and ask her to reconsider. Catherine Keiran, manager of communications for CNIB, says the reasoning behind the decision is "simply not accurate." The national endowment money Bernard suggested they had access to is, at the request of the donor, going toward accessible library services and research—not the rehabilitation therapy the slashed grant funded.
"We can not redirect the funds from those donors to fill the gap the government cut," says Keiran.
Ayer believes his organization is a shining beacon for those who suffer from schizophrenia. But like the people it helps, the Schizophrenia Society will need the right resources in order to prosper.
It's possible to lead a normal life despite mental illness, says Ayer, as long as you have the right resources at your disposal.
"I live with the diagnosis of bipolar disorder," he says, "and I live well with that."