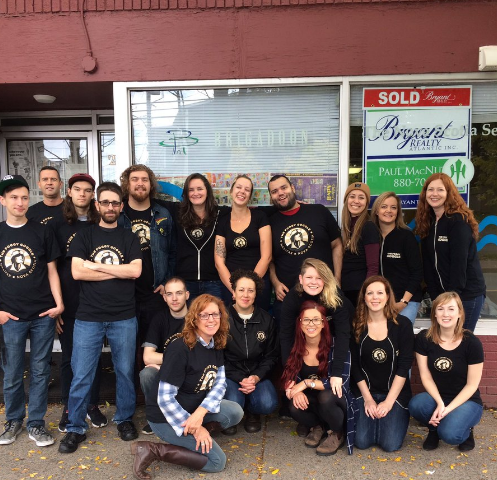 After eight years hanging its oversized pair of goggles at 1667 Argyle Street, deep-fryer-free pub, The Foggy Goggle, has announced it will be pouring beers from Gottingen Street come early 2017.
The Goggle's owners Natalie Dugie and Julie Streight shared via social media today that their downtown location will sign off on December 20 to make the move to 2057 Gottingen Street, a new home flanked by other food-focussed businesses like jane's next door, EDNA and the also new in the neighbourhood LF Bakery.
Streight says is was the opportunity to buy the building, not the much discussed Nova Centre construction, that prompted the Goggle to dig up its Argyle roots. "We're going to be our own landlords, that's the big reason. We're investing in ourselves and the community," she says. "That doesn't really have anything to do with it—we've loved it here, but we're excited for what's next."
The Gottingen location will allow the restaurant/bar the space for a private room, and the capacity to expand upon its catering offerings, while staying true to what its built a reputation on downtown—good service, late night comfort food, long lazy brunches and friendly vibes. The north end location aims to renovated and ready for business by mid-January. "It'll be the same Goggle that we are now." says Streight. "We're going to retain that same feeling."