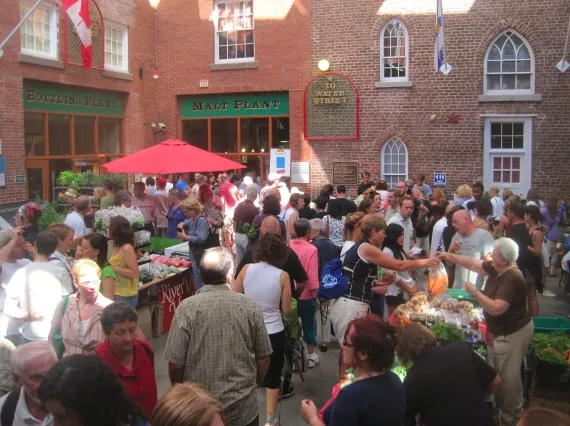 Now that it's history, I can confess: I've always hated the Brewery Market.
Don't get me wrong; I've loved the idea of the market. On paper, thousands of people trekking to a historic building to buy locally grown food and crafts, people watching and socializing is all a grand thing. But the reality is that the market was one humungous claustrophobic pain in the ass. After the eighth time someone stepped on my foot, after the 120th elbow in the gut, the 23rd coffee spilled on me, the proud-of-myself-for-supporting-Farmers'-Markets feeling was replaced with Get-me-out-of-this-firetrap!
I mean, I've been to the most successful markets on the planet--Barcelona's Boqueria, Seattle's Pike Place, the casbah in the old city of Jerusalem--and none were as jam-packed as Halifax's Brewery Market was on any given Saturday. And there was no relief from it. Not in any of the rooms...
Not in the courtyards...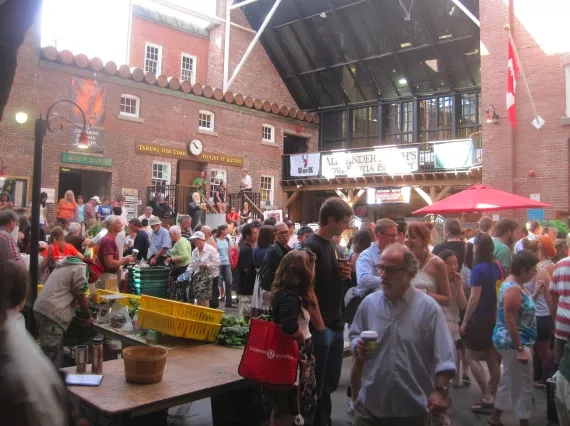 Not on the stairs...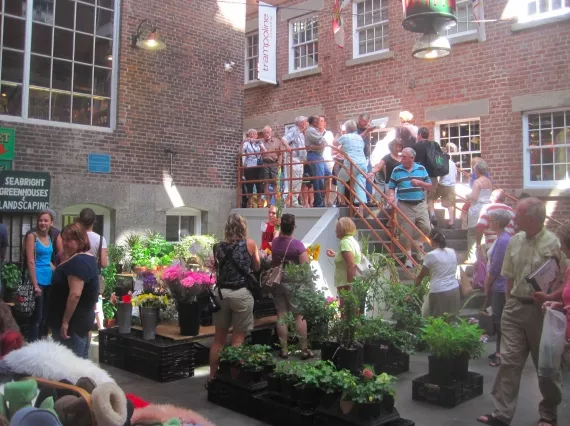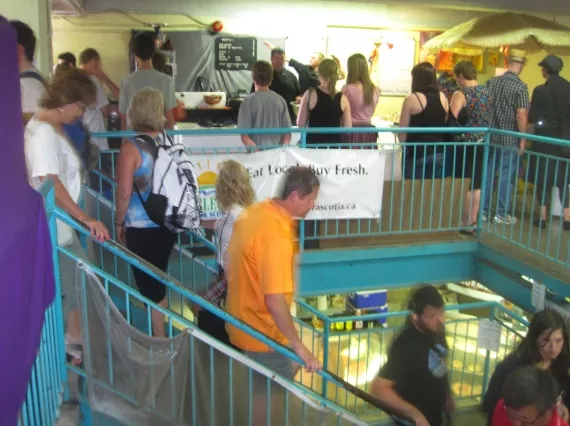 You couldn't even get a good look at the musicians playing in hallways, much less actually stop and listen to them:
Truly, I stopped going to the Brewery Market a couple of years ago, because of the crowds. I would bring out-of-town guests by the market as part of my tour of Halifax, because it was the kind of thing that we're supposed to show off, ya know? But then one of those guests told me he had enough of it, and would wait for me outside while I shopped. It's then that I realized we had a sort of collective insanity in Halifax, a weird group-think thing that insisted this annoyingly cramped space was actually the coolest thing in town.
Still, I headed over this morning for one last look. I figured I'd play reporter, interview a couple of the vendors, stop by and talk with market manager Fred Kilcup. But it didn't quite work out that way. I took a few pictures, then ran into former Halifax councillor Patrick Murphy carrying a bottle out from the wine room downstairs, and he cornered me in front of the Lebanese stand, recounting his past encounters with drunken councillors. As you can imagine, this was a lengthy conversation, if you can call a Murphy monologue a conversation, and dozens of people started backing up behind us as we blocked the pathway. I kind of nudged Murphy out of the way and mumbled something about having to meet someone, and then squeezed past several hundred people and ran like hell away from the place. Ironically, I then went over to the tiny, relaxed Dartmouth Farmers' Market to pick up a few things on the way home.
All of which is to say, I'm really, really looking forward to the opening of the Seaport Farmers' Market next week. If the space proves as expansive and commodious as it's billed, I'll be a regular customer. As for the Brewery Market: good riddance!