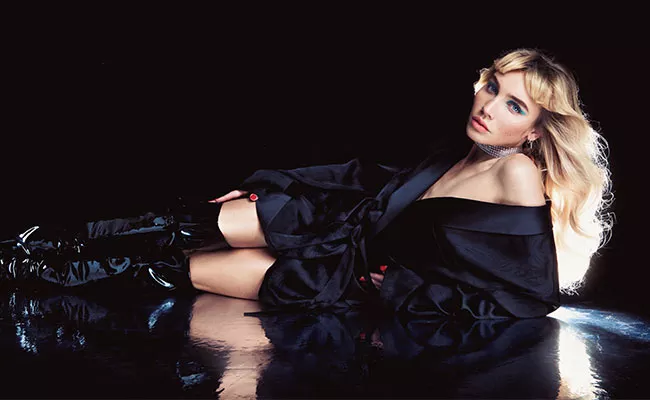 "In 2018, Goldilox found herself thrown back into time—into a far-out and colourful world where disco was in the air and everyone was getting high," reads an old-school radio announcer's voice in the singer's Instagram story. "Recorded at Studio 108 in Paris, France, this new album witnesses Goldi's path to
Very Best
. With her frequent collaborators Maxime Tribèche, Kyle Mangels, The Picard Brothers and TheonlyG, Goldilox invites you into her queendom where disco reigns supreme. Ladies and gentlemen, Goldilox presents:
Very Best
."
Described sonically as "Madonna having a baby with Daft Punk," Goldilox's
Very Best
is not a record filled with the commercially successful repertoire of a famous singer, but rather a collection of super-fresh and glamorously groovy 70s-inspired dance floor tracks by a vivacious pop diva who just released her first LP on July 31. "I guess that's narcissistic of me but it's my very best," says Goldilox. "I liked the idea of a 'very best' album—except these are songs no one has ever heard before."
However unfamiliar the songs may be, the voice that glitters and floats weightlessly atop the lush instrumentation on the seven-track period piece is instantly recognizable as that of Cape Breton-born, Paris-based singer Kristin Boutilier. Releasing music from 2011-2013 under the moniker My Name is Kay she's worked with well-known artists including Steve Aoki, Diplo, Pusha T and Ryan Tedder. "It's always been my dream to be a singer—I don't know why. I think I must be an old soul because it was really definitive at such a young age," says Boutilier. "I've been doing music my whole life and I could write a book—I've done it all."
And that's no lie. Having worked in the music industry for over 10-years, she's familiar with the business—for better and for worse. As an artist who serves high fashion looks as well as slick music production, she cites the financial boost that record labels can provide artists as a benefit, but there are downsides.
"If you're an artist, you're already super-emotional and you think they're invested in your life, but you're really a product," says the singer. "When I was signed to Interscope, from the day I got signed to the day I got out of my contract, I had a completely different team. I was moved around a bunch, half of the label was gone, the presidents left. Once you're signed it's too late, you can't go into the building and reintroduce yourself because they're not concerned about you, and they've found a new girl they're interested in."
After being dropped from/escaping numerous major label deals, Goldilox had her fill and decided to go independent, breaking away from Sony following the release of her debut EP
Skin
in 2016. Having moved to Paris from Los Angeles, the part-time model and DJ says she found her place in the French art scene. "Paris is endless inspiration and I feel like if you're weird and different, they love it, whereas places like LA people want you to conform to whatever's cool," she says. "In Paris the people are like 'Oh you're weird and different? I love it.'"
Leaving years of music business drudgery behind, starting her own label and finding new inspiration, Goldilox is finally letting her long blond hair down and entering a new era of euphoric dance frivolity. Linking up with main producer who she calls her "special little diamond" G, she's giving listeners her very best.
"The whole concept came after writing the song 'Very Best,'" says Boutilier of the titular track about heartbreak and being infatuated with someone who treated her more like a quick fling. "The song only took an hour to write, it was effortless…I feel like it's not even me who's doing it, writing this project I felt like more of a vessel—it's been pretty magical."
A Studio 54 coffee table book set off her '70s disco inspiration. "I saw all these pictures of people having fun, dancing, laughing, drinking champagne and hanging with people I wish I could have met; Bianca Jagger riding into the club on a white horse—I wanted to capture that energy," she says. Accompanying the opulent decadence of the time was also an excess of freedom which obviously resonated with the newly independent businessperson. "People were claiming back their freedom through music and dance," she says. "Women had never been so strong and idolized than during that period in music. And on top of it, the revolution was all about fun."
And fun is what she came through with on lead single "I Love You." A luxuriously sexy and dreamy number encapsulating the moment when one hears those three magic words, it sets the tone for the album and is inspired by her idols both past and present—think Marvin Gaye and Pharrell. Keeping with the '70s aesthetic, the song received the music video treatment and was filmed with an era video camera and features a huge-haired Goldilox performing alongside a band in a live performance-styled production. "I should've worn a wig because that shit was really hard to get out—definitely not my day-to-day look," says Boutilier. "I wanted the whole thing: the hair, the dress—I'm very happy with it."
Aside from the lead single,
Very Best
is non-stop disco excellence. Opening with the cinematic and dialogue-heavy intro track "Ouverture," Goldilox pulls listeners into her world and positions herself at the centre of attention, ending by saying "This is my stage and I will perform tonight!" Album highlights include the beautifully vicious and chaotic "Sex Paranoia" and "Candy Girl"—a lively and driving song with a feminist message. "I don't believe in being a bitch—at least not without a little wink," she says about "being as sweet as candy yet calling the shots," adding that she's "no sucker."
Rounding out the album are the come-up-inducing Italo disco sounds of "At the Moon," featuring high-soaring ethereal vocals and nearing six minutes long. Overall, it's an album that's anything but plain and simple and models itself after music's grooviest decade. "The music was rich; keyboard, bass, guitars, strings—you name it," says the singer. "Producers went all in and tried everything that was available to them—visuals were extravagant and sexy."
With plans to tour soon and partnering with brands during fashion week in Paris, Goldilox will continue to push her current disco phase even further with new inspirations, visuals and performances that will engage, entertain and give listeners the "kiki" they need—her ultimate goal as an artist.
"There's a special feeling when you listen to music, and you forget about anything that's going on, and there's that little space between where you stop thinking and you start to feel," she says. "I would love for people who listen to the music to have a moment like that."